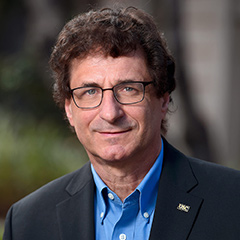 A message from Dean Cutietta about the Fall 2020 semester
Dear Thornton Students:
I write to you today with an update on the Thornton School's plans for the Fall 2020 semester. Many details have yet to be fully confirmed, but progress is being made. I want to keep you as informed as possible.
Many of you will have read the Provost's message to the USC Community that was sent on Wednesday, July 1. If you have not reviewed the Provost's message, please do so as soon as you can. As you will notice in the message, the Provost recognizes the importance of on-campus activities for performing arts students. Based on our most recent communications with the Provost's Office, all students pursuing a major in the Thornton School will be given priority as performing arts students, both for in-person instruction and for USC housing. (You are encouraged to review yesterday's letter from USC Housing about the status of housing contracts and applications for fall 2020, available here.)
Revised Semester Dates
As you know from previous messages, the fall semester will begin on August 17th, one week earlier than originally scheduled. Instruction will end on November 13 with finals ending November 24. Fall Break and Thanksgiving Break will be eliminated. These changes were made to add instructional days and to avoid students needing to leave campus for Thanksgiving only to return to campus for the one week of classes that traditionally follows the break.
Revised Schedule of Classes
We anticipate that you will receive notice from the USC Registrar around July 8 that the Fall 2020 Schedule of Classes has been revised. This revision will reflect the necessary adjustments in the time, location, and format of many classes due to the ongoing COVID-19 pandemic and related public health restrictions. The adjusted schedule may result in time conflicts for the courses for which you are already registered. Once the university's revised schedule is available and you have been able to identify any resulting issues with your schedule, you are encouraged to contact the Thornton Student Affairs office at thornton.studentaffairs@usc.edu for assistance.

Modes of Instruction
Our overall philosophy on how to proceed has been to determine what classes could be offered effectively online and mount them as such. Our classes that inherently involve music making would be offered in-person or in a hybrid fashion. Therefore, one new detail that will be noted for each course in the revised Schedule of Classes is whether the course will be in-person or online.
If a course is to be offered fully online, the location of the course will be listed as "ONLINE." If a course is to be offered in-person, the day(s), time(s), and room location will be listed as usual. Many in-person classes will be offered in a hybrid format, with some elements of the course taking place in-person and other elements online. (For example, in order to abide by social distancing guidelines, some courses may have different groups of students meeting in person on alternating weeks, with other assignments and online interaction for students not meeting in person during a particular week.)
Details for how each course is to be structured will be provided in the course syllabus once available. Students will have the opportunity to take all of their fall courses entirely online if they so choose, though this may require consideration of course substitutions in order to ensure appropriate degree progress.
Community Expectations
The health and safety of all members of the Thornton community is our top priority. To that end, all Thornton students, faculty, and staff will be required to wear face masks, keep at least six feet of social distance from others, regularly wash hands, report COVID-19-related symptoms according to protocols to be established by USC, adhere to USC-approved guidelines for cleanliness and disinfection of public spaces and equipment, and follow the instructions of TSOM faculty and staff designated for enforcement of those guidelines.
An update on these and other campus-wide community expectations was sent to all USC students on Monday, June 29 by Dr. Sarah Van Orman, Chief Health Officer for USC Student Health, and Dr. Winston Crisp, Vice President for Student Affairs. Please be sure to carefully review this update, available here.
Scheduling Expectations
All Thornton spaces will be scheduled with one full hour between all activities including classes, lessons, rehearsals, and practicing to allow for air exchange and necessary cleaning and disinfection. Some longer ensemble rehearsals will be broken up with more breaks than usual per health recommendations.
Individual Instruction
Individual Instruction courses that are required for your major will likely be offered in a hybrid format that will include substantial in-person activity, but probably also some online elements. Any elective Individual Instruction course that is not required for your major will likely be offered in a completely online format. Please note that you will receive your full 15 lessons during the fall semester.
Thornton faculty members have been exploring various online platforms for remote music performance instruction to ensure that all online elements for Individual Instruction courses will be supported by a high level of audio and video quality.
Practice Rooms
The Thornton practice facility at University Gateway will be open and operational in the fall, though with reduced hours. To ensure all recommended standards, all activity in the facility will be strictly scheduled in "practice slots" followed by breaks to allow for air exchanges and necessary cleaning and disinfection. The specific hours of operation and system for scheduling individual students is still being established.
Programs that Do Not Require Music Performance
Particular courses in each of these programs are being identified for in-person experience, which will be indicated in the revised Fall 2020 Schedule of Classes to be published around July 8. Other in-person activities may be scheduled as possible in order to facilitate networking and connection with peers.
Ensembles
As mentioned in my last message to you, there is significant (though not yet fully researched) concern about the potential for spread of coronavirus through the respiratory aerosols produced by singing and wind instrument playing. After significant discussion over the last several weeks with USC public health officials and medical experts, it has been decided that ensemble work involving singers and wind players can proceed, though with strict guidelines, reduced numbers (generally no more than 8 singers and/or wind players in an ensemble), and in some cases the need to take place in an outdoor location.
Groups of faculty throughout the school are now making innovative plans for all of our ensembles (including pop, jazz, and classical programs) to ensure that high-quality music-making and meaningful learning experiences are maintained, while also following these important public health guidelines. Faculty will communicate directly with students as these plans are finalized.
Performances
As mentioned in my last message to you, ensemble concerts and degree recitals will proceed in the fall, but without audiences. Some performances will be live-streamed, others recorded for later broadcast.
International Students
The COVID-19 pandemic has made the enrollment of our international students especially challenging and unpredictable. US Embassies abroad remain closed and many restrictions on travel remain in place.
If you are an international student who plans to take your USC courses in person this fall, and you are currently in the United States with a valid student visa, we encourage you to stay in the United States until the fall semester begins. You will be advised to take a sufficient number of in-person courses during the fall semester to ensure that you meet the requirements of your student visa.
If you are an international student who plans to take your USC courses in person this fall, and you need to obtain a student visa, it is very possible that you will not be able to obtain your visa in time to start your fall courses at USC in person. In this case, you can choose to pursue your courses online until you are able to obtain a visa.
If you are currently outside of the United States, be advised that you will be required self-quarantine for 14 days upon arrival to the United States before you can be permitted on the USC campus or into USC campus housing.
All international students are strongly encouraged to consult with the USC Office of International Services (https://ois.usc.edu/) about travel restrictions, visa processing, and other guidance related to their status as international students.
Your Health, Wellness, and Continued Progress
The current global pandemic has challenged us to rethink virtually everything we do. It has caused confusion, distress, and isolation, and has disrupted (if not halted) many of the activities we hold most dear. It has also inspired innovations in how we make and present music, and has spurred deep reflection and discussion about what is most important in our lives and in our world. As a music school, nothing is more important to us than to continue in every way we can to support you, your personal wellness, and your progress as a student of music. Continuing to develop your artistic craft is important. Being mindful of your physical and emotional health is equally important, as an untreated mental health condition or a severe respiratory illness contracted today could have irreversible negative impacts on your personal and professional life for years to come.
With all of these important issues in mind, we are committing together to take all reasonable steps to promote and protect one another's health and wellness during these unprecedented times. But we also recognize that each of us needs to make informed decisions about what will be best for us as individuals. For you as students, we encourage you to carefully consider the inherent risks of social engagement in a pandemic, with your own health concerns and current goals for learning and artistic growth.
Based on these important personal considerations, you will need to decide which of the following options for Fall 2020 will seem best for you:
1. Pursue your USC studies in residence.
Many courses would still be pursued at least partially online, but you would be living in the Los Angeles area and attending some courses in-person.
2. Pursue your USC studies entirely online.
You would not relocate to the USC campus in person, opting to stay at your permanent residence or another remote location. All of your courses would be taken online. Any necessary course substitutions could be considered to ensure you can maintain progress in your current Thornton program.
3. Request a Leave of Absence.
This request is a formal process that must be initiated through your Thornton academic advisor, and only applies to continuing students. This is an option that should be carefully discussed with your primary faculty mentor(s). It is important to also have in mind that though every effort is made to facilitate a student's smooth return after a leave of absence, the current availability of courses and amount of financial aid and/or scholarships cannot be absolutely guaranteed upon their return.
We have been working non-stop this summer to create a semester that we feel is both safe and up to the educational standards you and the faculty expect. We encourage you to contact your faculty mentors and/or the Thornton Student Affairs office (thornton.studentaffairs@usc.edu) with any questions you may have.
Stay safe and be well.
Rob Cutietta
Dean, USC Thornton School of Music