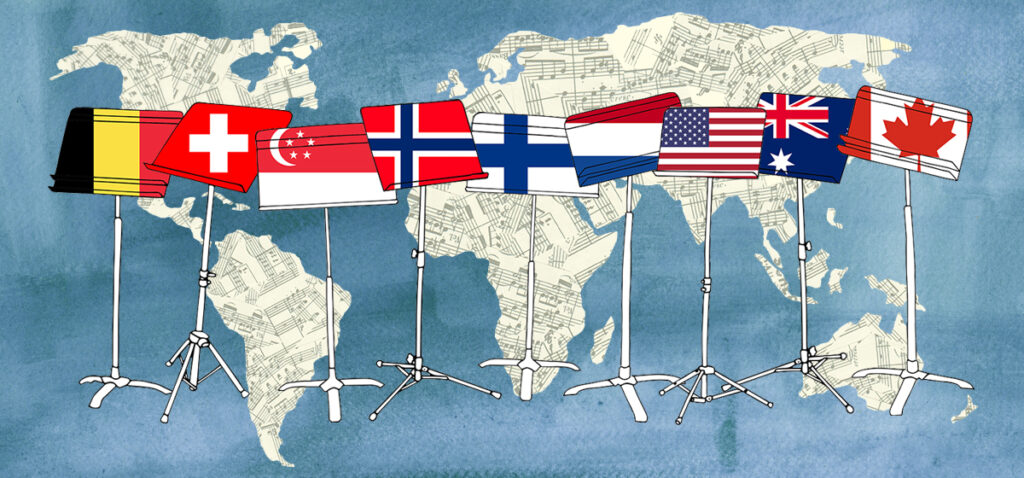 We at USC Thornton believe that our international network is a strategic tool to prepare students for life in a multifaceted globalized environment, and that music transcends borders, race, religion and politics. It is one of the most effective ways for intercultural engagement.
To help fulfill this vision, the Thornton School belongs to several organizations of higher music education internationally and partners with the most prestigious schools of music and conservatories in the world.
USC Thornton is a member of the Association of European Conservatories (AEC)
The Association of European Conservatories (AEC) is the leading voice of colleges and university schools of music in Europe, which was established in 1953. AEC sees professionally focused arts education as a quest for excellence in three areas: artistic practice; learning and teaching; ­­and research and innovation. It seeks to foster these elements and to encourage the diversity and dynamism with which they are pursued in different institutions, countries and regions.
USC Thornton is a founding member of the Pacific Alliance of Schools of Music (PAMS)
The Pacific Alliance of Music Schools (PAMS) is an international network that creates closer ties between institutions in the Pacific Rim and builds the region's strength as a driving force for music education and culture. It also aims to enhance multilateral exchange and deepen opportunities for international development.
The PAMS network comprises the following members:
Beijing Central Conservatory of Music
Faculty of Victorian College of Arts and Melbourne Conservatorium of Music
Hong Kong Academy for Performing Arts
San Francisco Conservatory of Music
School of Music, Taipei National University of the Arts
School of Music, Tokyo University of the Arts
School Of Music, University of Auckland
Shanghai Conservatory of Music
Sydney Conservatorium of Music, University of Sydney
The College of Music, Seoul National University
University of Southern California Thornton School of Music
Yong Siew Toh Conservatory of Music, National University of Singapore
The USC Thornton School of Music is a member of the ConNext Network
ConNext is a movement for excellence and relevance in 21st century higher music education, centered upon an embrace of change, open noncompetitive connection, trust and fellowship, and a guerilla spirit. From a position of mutual respect, member institutions commit to exploring issues that are central to student, faculty and institutional growth, together.
The ConNext Network comprises the following members:
Geneva University of Music
Norwegian Academy of Music, Oslo
Orpheus Institute, Ghent
Queensland Conservatorium Griffith University, Brisbane
Royal Conservatoire, University of the Arts, The Hague
Schulich School of Music of McGill University, Montreal
Sibelius Academy, University of the Arts, Helsinki
University of Southern California Thornton School of Music
Yong Siew Toh Conservatory of Music, National University of Singapore