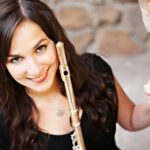 June 28, 2013
Thornton alumna Gina Luciani was interviewed recently as a featured artist with Miyazawa Flutes. An active freelance musician, Luciani has performed with a diverse array or artists, from the Golden State Pops to famed hip hop icons the Wu Tang Clan. learn more
---
April 1, 2013
Doctoral student Christopher Bartz was highlighted in a Sierra Madre Weekly article on his upcoming performance in the Burbank Philharmonic's "Mostly Mozart" concert. Read teh article.
---
March 27, 2013
The Double Reed recently interviewed bassoon faculty Judith Farmer, along with composer Gernot Wolfgang, on their relationship as collaborators. Read the article.
---
December 27, 2012
Broadway World reported that Winds and percussion faculty Allan Vogel and strings faculty Margaret Batjer will participate in LACO's concert series exploring the legacy of J.S. Bach and his sons. Vogel will host the concert, while Batjer will serve as concertmaster. Read the article.
---
November 1, 2012
MM student Emily Frances Lawyer was featured in the Topanga Messenger's preview of the Topanga Symphony's winter concert. Read the article.
---
October 30, 2012
Percussion faculty Joseph Pereira is featured in Symphony Magazine's profile of orchestral musicians who compose for their ensembles. Read the article.
---