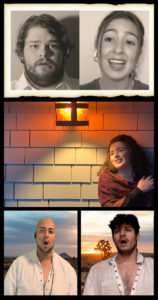 The 2020-2021 USC Thornton Opera Workshop is meeting the challenge of a unique year with a series of ten Opera Shorts and an assemblage of scenes from Pelléas et Mélisande in a season of diverse composers and librettists telling timely stories
In the fall of 2020 the Opera Workshop presented three opera short videos as part of a streamed presentation, Virtual Voices: New Chamber and Unique Dramatic Works in the Virtual Space. This presentation was part of the USC Thornton/Live Fall 2020 festival. Featured were "Lilacs," from the musical Preludes, Dave Malloy composer and lyricist; "His Name is Jan," from the opera Breaking the Waves by Missy Mazzoli, librettist Royce Vavrek; and the "Ave Maria" duet from the opera Costaso by William Grant Still, librettist Verna Arvey. In addition, audio recordings by Thornton vocalists and instrumentalists were prepared for an animated short of the overture from The Night Flight of Minerva's Owl, by Thornton alum Guang Yang, librettist Paula Cizmar. We're very excited to share the final animation in the spring of '21.
In the spring of 2021 the Opera Workshop continues with 6 more opera short video projects. These include various scenes from L'amant anonyme by Chevalier de Saint-Georges, libretto by Desfontaines after Mme. de Genlis; two scenes from As One by Laura Kaminsky, librettists Mark Campbell and Kimberly Reed; a scene from 27 by Ricky Ian Gordon, libretto Royce Vavrek; "O Yemanja" from Scourge of Hyacinths, Tania León composer and librettist; a scene from Patience and Sarah by Paula M. Kimper, librettist Wende Persons; and Pepito a one act work by current Thornton DMA student Nicolas Benavides, librettist Marella Martin Koch. Finally, the Opera Program will be presenting a video presentation of scenes from Claude Debussy's Pelléas et Mélisande with a libretto after the play by Maurice Maeterlinck.
Keep an eye on the USC Thornton/Live  virtual stage for presentations of all our short videos from this year and many more offerings from the USC Thornton School of Music. Or join our email list to receive announcements about the USC Thornton Vocal Arts & Opera department.