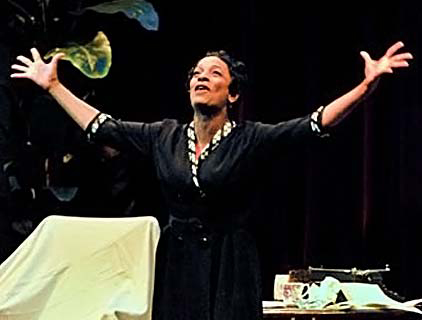 Ronald McCurdy, Professor of Jazz Studies, had his music featured in the one-woman play, Letters from Zora. Presented at the Pasadena Playhouse on August 15-18, 2013, the play celebrated the life of author, playwright and anthropologist, Zora Neale Hurston.
"Letters from Zora showcases a life that was both filled with artistic and literary triumphs and stagnated by abject poverty and self- doubt," said USC Dornsife lecturer and playwright Gabrielle Pina, who provided the script for the play. "Her prose, her life, her distinctive array friends and foes, as well as her unique view of a jazz age world permeate this work."
Letters from Zora featured stage direction from a third USC faculty member, Anita Dashiell-Sparks. The trio was initially brought together in a public forum sponsored by USC Visions and Voices – the Arts and Humanities Initiative, to speak about Hurston and the impact of her life during the Harlem Renaissance as a legendary author, playwright and anthropologist. The event ignited a spark among the artists, and a new play was born using Hurston's letters as a platform and turning her powerful voice into an extraordinary story of the African American experience in the 1920's.
Pina first viewed the letters of Zora Neale Hurston on a visit the California African American Museum, and was moved by the sight of words in Hurston's personal manuscripts. When she shared this with McCurdy, he "immediately realized that this was a very powerful story that needed to be told."
"Pina and I had many conversations on how to present Letters From Zora knowing our challenge was to expose the tragedy and triumphs of a life that was lived to the fullest rather than present simply a history lesson," McCurdy said. "This collaboration with Pina has also allowed me to transform my scholarship into performance art."
Letters from Zora starred stage, screen and television actress Vanessa Bell Calloway, the recipient of eight NAACP Image Award nominations. Calloway is best known for her roles in the box office smashes Coming to America with Eddie Murphy, and What's Love Got to Do With It starring opposite Angela Bassett and Laurence Fishburne.
For more on Letters from Zora, click here.