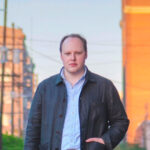 September 19, 2023
USC Thornton Composition program alumnus and faculty member Dan Caputo (DMA '19, BM '13) was a Composer-in-Residence for the 2023 Cabrillo Festival of Contemporary Music, held July 30–August 13. His work Liminal, which premiered with the USC Thornton Symphony in 2018, was performed by the Cabrillo Festival Orchestra on August 13 under conductor and musical… Continue reading Dan Caputo invited as Composer-in-Residence for Cabrillo Festival of Contemporary Music
---
September 14, 2023
Seth Parker Woods, a celebrated cellist and USC Thornton Strings faculty member, was included in a major grant from The Pew Center for Arts & Heritage, alongside artist Barbara Earl Thomas. As part of a major grant won by the Arthur Ross Gallery, Woods and Thomas will present a new collaborative work for the Philadelphia… Continue reading Cellist Seth Parker Woods included in Pew Grant
---
May 2, 2023
Emily Sung is a Chinese American conductor, scholar and teacher from Lawrenceville, New Jersey. Before her appointment at USC Thornton, Sung previously served as the associate director of Choral Activities at Princeton University, the director of the Chamber Choir and Choral Society at the University of Pennsylvania and a member of the conducting faculty at… Continue reading Emily Sung
---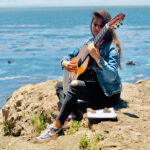 November 23, 2022
USC Thornton Classical Guitar program graduate certificate alumna Pardy Minassian was featured on USC Shoah Foundation's website for discovery of lost Armenian testimonies and songs from the Armenian Genocide. Last year, the Armenian guitarist was awarded a project grant from the Calouste Gyukbenkian Foundation for her multimedia series focused on unpublished Armenian folk songs that… Continue reading Pardy Minassian finds lost songs in Shoah Foundation archive
---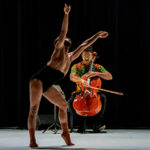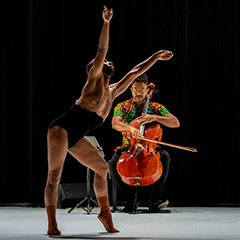 November 22, 2022
"Difficult Grace," by USC Thornton strings department faculty member Seth Parker Woods, has been named a Critic's Pick by The New York Times. An evening-long multimedia program at the 92nd Street Y's Kaufmann Concert Hall, the performance featured Woods performing a series of works with the choreographer and dancer Roderick George. "Woods was already a cellist of… Continue reading "Difficult Grace" by Seth Parker Woods named a Critic's Pick by The New York Times
---
November 21, 2022
Thornton Department of Choral & Sacred Music master's student Kyra Stahr (MM '23) has been selected to present in two sessions at the California All-State Music Education Conference February 15-19, 2023 in Fresno, California. The sessions are titled "Programming with Purpose: Repertoire to Support the Developing Secondary Choral Program" and "Bridging the Gap: Creating an… Continue reading Kyra Stahr to present at California All-State Music Education Conference
---
November 16, 2022
USC Thornton strings department faculty member and cellist Seth Parker Woods has announced the world premiere of his multimedia concert, "Difficult Grace," which features film, spoken text, visual artwork and original choreography by Roderick George. According to Broadway World, the performance will premiere at 92NY's Kaufmann Concert Hall in New York City on Nov. 19… Continue reading Seth Parker Woods announces world premiere of multimedia concert tour "Difficult Grace"
---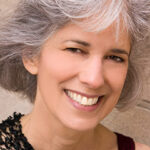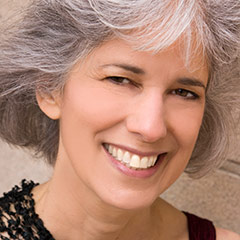 November 14, 2022
USC Thornton Keyboard Studies faculty member Antoinette Perry released "Moments Musicaux" on Navona Records in July. The album of solo piano music, which was recorded live in USC Thornton's Newman Recital Hall, features a blend of German, Austrian, Russian and American music.
---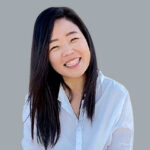 November 11, 2022
USC Thornton Choral & Sacred Music program alumna Rina Seo (DMA '19) performed her Carnegie Hall debut as a composer, conductor and pianist in collaboration with the Elite Chorus on Oct. 8. She conducted her choral composition "Now" and the English premiere of "Death Will Be Vanquished."
---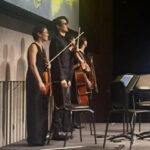 November 7, 2022
The Argus Quartet will accompany Jeanna de Waal and Cree Carrico's performance of "Insomnia", a new musical work composed by Blake Allen at Carnegie Hall's Weill Recital Hall on Nov. 8. The Argus Quartet, founded by USC Thornton alumna Clara Kim (DMA '15) includes violinist Giancarlo Latta, violist Maren Rothfritz and cellist Mariel Roberts.
---