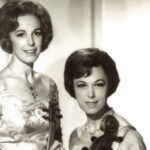 May 29, 2014
In honor of the upcoming Alice & Eleonore Schoenfeld International String Competition, we're sharing this 1950s photo of the beloved USC Thornton professors.
---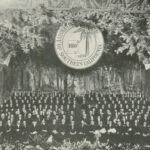 May 15, 2014
Congratulations to the USC Thornton Class of 2014! See how USC celebrated Commencement at the turn of the 20th century.
---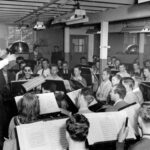 May 8, 2014
The University of Southern California Concert Band was led by Clarence Sawhill beginning in 1947, when Sawhill was named Director of Bands at USC.
---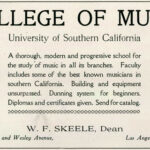 May 5, 2014
Even though this advertisement for the University of Southern California School of Music is from 1908, it doesn't sound too far off from the world-class education and incredible faculty USC Thornton offers in 2014!
---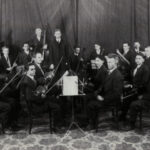 May 1, 2014
Founded over a century ago, the USC Thornton Symphony is one of the school's oldest student performance ensembles.
---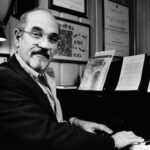 April 29, 2014
The influential choral conductor known for his work with the Los Angeles Master Chorale passed away on Thursday, April 3. Services will be held in Los Angeles this weekend.
---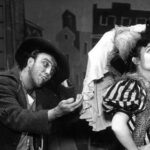 April 24, 2014
USC Thornton's 1953 production of "Volpone" was the second time a world premiere had been staged by the school.
---
April 17, 2014
The celebrated conductor will return to his alma mater as Judge Widney Professor of Music in Fall 2015.
---
April 12, 2014
There's so much University of Southern California and USC Thornton history in this photo featuring former faculty and celebrated musicians Jascha Heifetz (violin) and Gregor Piatigorsky (cello) from 1972. Perhaps you recognize current Keyboard Studies faculty Daniel Pollack at the piano!
---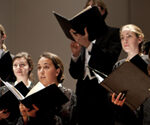 March 27, 2014
Now in its 65th year, the USC Thornton Chamber Singers remains one of the oldest performing ensembles on campus. As the group prepares for a tour of Asia, we look back on their history.
---