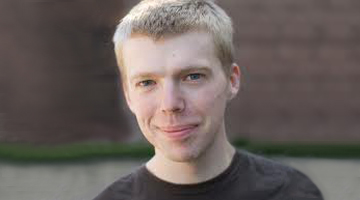 USC Thornton recently appointed new faculty member Andrew Norman, '02, MM '04, as assistant professor of composition. A USC Thornton alum, Norman cultivated his commitment to music education through a number of residencies including one at the Des Moines Symphony. He currently serves as composer-in-residence with the Los Angeles Chamber Orchestra (LACO).
"I am excited and honored to be joining the USC Thornton School of Music's esteemed faculty," Norman said. "My experiences as a student at the Thornton School were and continue to be absolutely invaluable to my formation as a musician, and I look forward to helping other young people along their paths of musical discovery."
He added: "I look forward to fully rejoining the vibrant musical community that nurtured and inspired me for many years."
Jeffrey Kahane, music director of LACO, said: "All of us at LACO were deeply delighted by the news of Andrew Norman's appointment to the composition faculty at USC. We are so fortunate to have this preternaturally gifted artist as our composer-in-residence, and knowing that he will literally be residing in Los Angeles will not only broaden and deepen the already significant impact he has made on our organization, but is yet another brilliant feather in the cultural cap of Los Angeles."
Along with Norman, the Composition program also hired Ted Hearne, who will begin teaching in the fall 2014. Hearne brings a multidimensional voice to the composition program as his work draws from a variety of genres and influences, from orchestral and choral music to experimental rock, hip-hop and noise. His work has been performed and commissioned by the Brooklyn Philharmonic, Minnesota Orchestra, New York City Opera, the Calder Quartet and Present Music in Milwaukee, among many others.
"Andrew Norman and Ted Hearne are two of the finest composers of their generation — both write vivid, original music and have compelling ideas about music education," said Donald Crockett, professor and chair of the school's composition program, which is part of the Division of Classical Performance Studies. "Following a very competitive international search, I couldn't be more pleased to welcome Andrew and Ted to our composition faculty here at USC Thornton."
For more information, click here.