A Message From Our Dean
Musicians in today's world practice their art in an environment that is evolving more rapidly and dramatically than ever before. The blurring of borders between peoples and cultures in our increasingly global society has inspired spectacular fusions among musical genres. Technological advances are changing the way music is made and how people receive it, yielding exciting new modes of artistic expression. Unlimited opportunities await those with the talent, the artistic integrity, the imagination, the resilience and the sense of adventure to seize them. It is truly an exhilarating time to be a musician.
And there is no place like the USC Thornton School of Music to nurture that sense of musical adventure. Internationally recognized as one of the top-tier conservatories and music schools in the United States, USC Thornton is an anchor institution in Los Angeles — often billed as the "Creative Capital of the World" — and a magnet for gifted students and faculty from all corners of the globe. For more than 125 years, we have prepared our students to excel as composers, industry leaders, educators, and performers in studios and on stages around the world.
As we look to the future, we know that we must provide our students with even more innovative and wide-ranging opportunities to hone their craft and express their unique musical language. We must make greater efforts to cultivate the artistry and intellectual vitality of our renowned faculty. We must continue to explore and help define the amazing advances in our discipline that will influence and inspire the next generation of musicians. And we must find new ways to leverage Los Angeles's rich cultural resources.
To realize these aspirations, the USC Thornton School of Music is launching the most ambitious fundraising initiative in our history, with a goal of raising $75 million to support students, faculty, programs and infrastructure. Success will ensure that we can help fulfill the potential each one of our students has to become an individual of great talent, expression and vision — and make USC Thornton a leading force in music for the 21st century.
Robert A. Cutietta
Dean, USC Thornton School of Music
Fundraising Goals
USC Thornton's fundraising initiative is a crucial part of the Campaign for the University of Southern California, which seeks to raise $6 billion to fuel USC's success and impact far into the future. The campaign will touch and transform every aspect of the university.
We invite you to join us in ensuring the USC Thornton School of Music's continued leadership as a vital cultural resource, an exciting source of innovation across the entire musical spectrum and the perfect place to launch a music career. With your generous support, and the support of other alumni and friends, we know we will make this ambition a reality.
Your investment in the USC Thornton School of Music's $75 million fundraising initiative is an investment in:
The Right People — students with exceptional promise and drive, faculty who are consummate musicians and music professionals, and relationships that inspire both to achieve their highest potential
The Right Places — state-of-the-art spaces for music teaching, learning and research, drawing from the resources of a world-class research university located in heart of the world's most vibrant music industry hub
The Right Programs — pioneering initiatives to create a rigorous, stimulating, relevant and uniquely diverse culture of music teaching and research
$25 million

The USC Thornton Fund for Student Scholarships

At USC Thornton, the greater the diversity of our student body, the richer the educational experience for everyone. But not all have the resources to pay for a USC Thornton education. We are committed to recruiting the top performers and music industry leaders of tomorrow, regardless of their financial situations. To ensure that we continue to attract and retain the highest potential student talent, we must dramatically increase our endowment for scholarship support.

$20 million

The USC Thornton Endowment for Faculty, Teaching and Instruction

Outstanding faculty are the foundation of any first-rate music school. To accelerate USC Thornton's ascent into the ranks of the world's preeminent schools — especially in the face of increasingly fierce competition for internationally renowned faculty — we must generate resources that enable us to recruit, retain and support a critical mass of faculty who are at the pinnacle of their fields. These teacher-scholars play an essential role in developing innovative programs, nurturing the creative spirit and providing an unsurpassed educational experience for our students.

$15 million

USC Thornton Capital Projects

Our aspirations play out in our classrooms, rehearsal spaces and performance venues. Our facilities must both reflect and define the constantly evolving nature of music education. Continued investment in USC Thornton facilities will ensure the students and faculty of today and tomorrow the opportunity to fulfill their creative promise, and help catapult the school to the ever-higher levels of achievement.

$15 million

USC Thornton Student Academic Programs and Priorities

USC Thornton is committed to providing our students with an exceptional range of educational experiences. Increased financial support will sustain the extraordinary programs already in place, expanding their reach and increasing their impact. It also will enable us to create new programs to advance knowledge, develop talent and challenge students to realize their unique artistic vision for music in the 21st century.

$75 million

Total
USC Thornton Music Professor Increases Campaign Gift to $10 Million
Longtime violin professor Alice Schoenfeld of the USC Thornton School of Music has increased her campaign gift to the school by $7 million to establish the Alice and Eleonore Schoenfeld Endowed Scholarship Fund for Strings Students. The new campaign commitment follows a $3 million commitment Schoenfeld made in October 2012 to renovate the school's main symphonic rehearsal space for student-musicians. Her total campaign gift is the largest ever made to the University of Southern California by a longtime faculty member.
Schoenfeld, who is holder of the Alice and Eleonore Schoenfeld Endowed Chair in String Instruction, has directed that the new gift be used for scholarships in her name and that of her sister, Eleonore, a longtime professor of cello at USC Thornton who died in 2007. As the Schoenfeld Duo, the sisters were internationally renowned classical performers and toured the world's great music halls for decades. Between them, they taught for more than a century at USC Thornton, and Alice Schoenfeld continues to instruct violin students.
Alice Schoenfeld's $10 million donation is second in size only to the school's naming gift in 1999 from philanthropist Flora Thornton. Schoenfeld's contribution serves as the lead gift in USC Thornton's $75 million fundraising initiative that kicks off today. The initiative is part of The Campaign for the University of Southern California, a multiyear effort to secure $6 billion or more in private philanthropy to advance USC's academic priorities and expand the university's positive impact on the community and world.
"Alice Schoenfeld's new commitment to establish a scholarship fund for string musicians at USC Thornton reflects her profound dedication to her students," said USC President C. L. Max Nikias. "Her students have gone on to brilliant careers in orchestras around the world, creating a legacy of excellence that will grow in perpetuity thanks to her generous gift. This scholarship fund will further enhance USC Thornton's ability to attract the finest students, regardless of their financial circumstances, and ensure that new generations of aspiring musicians receive a first-rate music education at USC."
USC Thornton Dean Robert Cutietta said that competition to recruit music students of the highest caliber is fierce, and noted that many of USC Thornton's peer institutions offer attractive scholarships that extend well beyond traditional financial aid or merit-based packages. "To be truly competitive, music scholarships must go above and beyond usual support to provide benefits such as artistic and scholarly projects, tours, and travel to national and international festivals and competitions," Cutietta said. "Alice, as a teacher and performer, knows this well. Her generosity will ensure that USC Thornton continues to attract and support strings students of extraordinary talent and potential."
Alice Schoenfeld said she hopes her gift will allow future students to focus even more of their time and energy on study and practice. "True excellence in performance requires long hours, and the more support students can receive, the more they will able to excel," she said. "Performance and competition opportunities around the globe are invaluable in honing their craft and teaching them about the demands of a professional life."
USC Thornton's strings department, with 74 students, has a rich history. Its past faculty includes such legendary performers and teachers as the violinist Jascha Heifetz, the cellist Gregor Piatigorsky and violist William Primrose. The current department chair is Midori Goto, world-renowned performer and holder of the Jascha Heifetz Chair in Violin. Other department professors holding chairs include Ms. Schoenfeld, Ralph Kirshbaum, holder of the Gregor Piatigorsky Chair in Violoncello; and violinist Glenn Dicterow, holder of the Robert Mann Chair in Strings and Chamber Music, who will join USC in the fall. The highly regarded USC Thornton Symphony, USC Thornton Chamber Orchestra and many chamber ensembles offer professional-level experience for strings students. The new scholarship fund will support violin and cello students, in a nod to the instruments played by Alice and Eleonore Schoenfeld.
Alice Schoenfeld's October 2012 campaign commitment of $3 million created the Alice and Eleonore Schoenfeld Symphonic Hall, a 3,700-square-foot space on campus that serves as the main symphonic rehearsal hall for USC Thornton's student-musicians. The facility was redesigned with the aid of an acoustician and has complete audio and video recording capabilities, as well as new lighting and suspended flooring for sound isolation.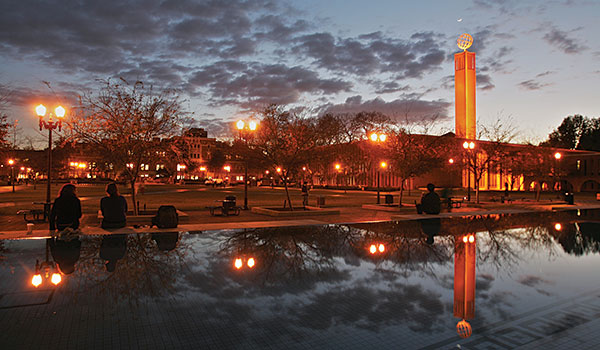 Contact Us
Office Of Advancement
USC Thornton School of Music
840 West 34th Street, MUS 408
Los Angeles, CA 90089-0851
Tel: (213) 740-6474
Fax: (213) 821-1860
Email: music.advancement@usc.edu