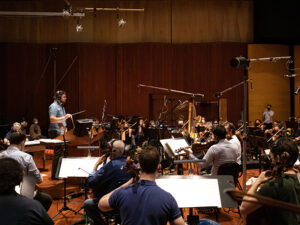 The USC Thornton Screen Scoring program is widely recognized as one of the world's finest for musical composition in visual media. In its annual report comparing offerings from universities and professional schools throughout the globe, The Hollywood Reporter consistently has ranked our screen scoring program as first or second. With a faculty comprised of working professionals in the film, television and video-game industries paired with a legacy that includes such luminaries as Buddy Baker, Elmer Bernstein, Bruce Broughton, Jerry Goldsmith, Morten Lauridsen, David Raksin and Jack Smalley, the USC Thornton Screen Scoring program offers its participants unrivaled practical experience and industry connections. Partnered with the USC School for Cinematic Arts, the screen scoring program provides student-composers the unique opportunity to collaborate with student-filmmakers and game designers in creating music for more than 100 annual film, television and game projects. These projects generally are created "in the box" or are scored on USC's John Williams Scoring Stage with Thornton student-musicians. Additionally, as part of their course work, our student-composers record approximately 10 scoring projects with professional studio musicians and engineers on Hollywood-area scoring stages. These include the Georges Delerue Memorial Scoring Session (52 players) and the capstone recording session (64 players), both of which normally take place on the Clint Eastwood Scoring Stage at Warner Bros. Studios. To learn more, go to the website for the USC Thornton Screen Scoring program.
Graduate Programs
Master of Music
Screen Scoring
---
2 semesters | 36 units
This two-semester master's program focuses on the art and craft of composing, orchestrating, programming, conducting, producing, recording, mixing, editing, copying and integrating music for screen-based media, including motion pictures, television programming, video games, Internet fare and other new visual media. Classes are also offered in technology, entrepreneurialism and the business of making movies.
Refer to the USC Catalogue for complete course descriptions and degree requirements here.