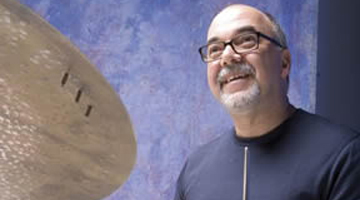 Peter Erskine to receive USC's highest faculty award for artistic expression
"That's the beauty of what we do. It's always just beyond our reach – you could always play better. That's the fun, and that's what we're chasing after." – Peter Erskine
Peter Erskine has, for lack of better words, always marched to the beat of a different drum – his own, that is.
The multi-Grammy Award-winning drummer and USC Thornton School of Music jazz faculty member was recently featured by KCET, a public television station in Southern California. In a short documentary, Erskine's 55-year-long love affair with percussion is featured, along with his thoughts on the current state of the recording industry, the continued vitality of music education and the inherent beauty of making music on the drums.
"I always knew I was going to be a drummer," says Erskine in the 10-minute video, which includes a then-7-year-old Erskine performing on the Ted Mack Amateur Hour in 1961, showing an early rhythmic passion and instinct for music-making.
"As drummers, we get to make up a whole lot of what we do, but in every part of playing the beat, we have choices," explained Erskine. "It's all about making choices – that's the very definition of freedom."
That artistic freedom led him to join the famed Stan Kenton Orchestra at the tender age of 18, following studies at the Interlochen Arts Academy and Indiana University.
Erskine went on to play for bands including Weather Report, Steely Dan and Maynard Ferguson, and singers Joni Mitchell, Diana Krall and Kate Bush. He has appeared on more than 600 albums and film scores, including more than two dozen solo albums..
"To me, it's just so much more interesting making music with other musicians," said Erskine, who has been the director of Drumset Studies at USC Thornton for the last 10 years.
Associates Award for Artistic Expression
As a longtime USC Thornton faculty member, Erskine has mentored hundreds of young musicians. His dedication to music education led to him being honored with the 2015 Associates Award for Artistic Expression, the highest honor the university faculty bestows on its members for significant artistic impact.
Erskine will receive the honor at the 34th Annual Academic Honors Convocation in mid-April.
In his nomination letter, Chris Sampson, vice dean of the Contemporary Music Division, detailed Erskine's many accomplishments, including the world premiere of Mark-Anthony Turnage's Erskine – Concerto for Drumset and Orchestra with the Beethoven Orchestra in Bonn, Germany, in November 2013. It was performed by the Los Angeles Philharmonic last fall.
Sampson praised the singular work of a musician who has forged a half-century-long career in the percussive field.
"Peter Erskine is one of the world's most revered and iconic jazz drummers," said Sampson. "His artistic advances on his instrument will inspire players for generations to come."
When it comes to influencing his students at USC Thornton, Erskine recognizes the mentor relationship that exists in every aspect of music making, and hopes to continue to improve as a musician and educator.
"That's the beauty of what we do. It's always just beyond our reach – you could always play better," said Erskine. "That's the fun, and that's what we're chasing after."
Never miss a story
Subscribe to USC Thornton's e-newsletter
Subscribe