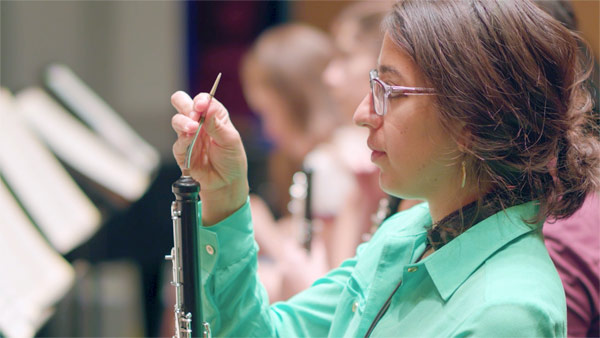 Theodosia Roussos: The New Classical
"Today, being a classical musician means something very different than it used to," says Theodosia Roussos.
She should know. After arriving at USC to earn a Master's degree in oboe performance, she quickly added a second Master's degree in Vocal Arts while working professionally around Los Angeles as both a singer and oboist.
While at Thornton, Roussos has traveled to Cyprus to perform traditional Greek music at the European Capital of Culture's Pafos 2017 Festival. She has performed as a member of Thornton's celebrated new music ensemble. Last Spring, she auditioned for a role in West Side Story, a collaborative production of the USC School of Dramatic Arts, USC Glorya Kaufman School of Dance, and USC Thornton. In her first foray onto a theater stage, she won the role made famous by Natalie Wood, playing Maria for the sold-out production.
This week, on Sept. 13, she joins the oboe section of the Los Angeles Philharmonic at the Hollywood Bowl in a concert of Spanish music led by Placido Domingo.
After that? She's preparing for her Master's oboe recital on Oct. 24, which will largely focus on new music. She's rehearsing for her role in USC Thornton's Opera production of Ravel's L'enfant et les sortilèges, which opens on Nov. 14. She's practicing for a performance with the USC Thornton Symphony later this semester, and she's looking towards landing another theater role—this time on Broadway.
"I don't have a model," she says. "The way that I view it is that I'm an artist who does these different things and they inform each other. When I'm working hard at one, it helps the other."
In August, USC Thornton announced a radical new approach to classical music education with the goal of allowing musicians like Roussos more opportunity to pursue diverse interests and create a career that is right for them.
"I feel like I'm more in control of my artistic vision of life, and this is one of the only places you could do that," Roussos says. "The USC Thornton School of Music has allowed me to delve deep into classical music while also maintaining a very eclectic career."

---
Click here to learn more about USC Thornton's new, cutting-edge curriculum for classical music education.
Never miss a story
Subscribe to USC Thornton's e-newsletter
Subscribe