Admission and Venue Information
We are pleased to welcome you to the USC Thornton School of Music to attend an event on the University Park campus. To ensure the health and safety of all guests and performers, these attendance guidelines have been created in observance of state and County of Los Angeles guidelines. The school is following the following guidelines:
All attendees must conduct a self health screening prior to attending. If they have any symptoms or are currently in their isolation period due to a recent infection, they may not attend. Attendees with a recent close contact exposure (in the last 10 days) are required to wear a well-fitting mask at all times.
While masks are not required for this event, we ask that attendees, vaccinated or unvaccinated, consider wearing them for their own protection and the protection of others.
Based on shifting health and safety considerations, our guidelines may change in the future. Please be sure to check this page before attending an event at USC Thornton for the most recent announcement.
---
Campus Map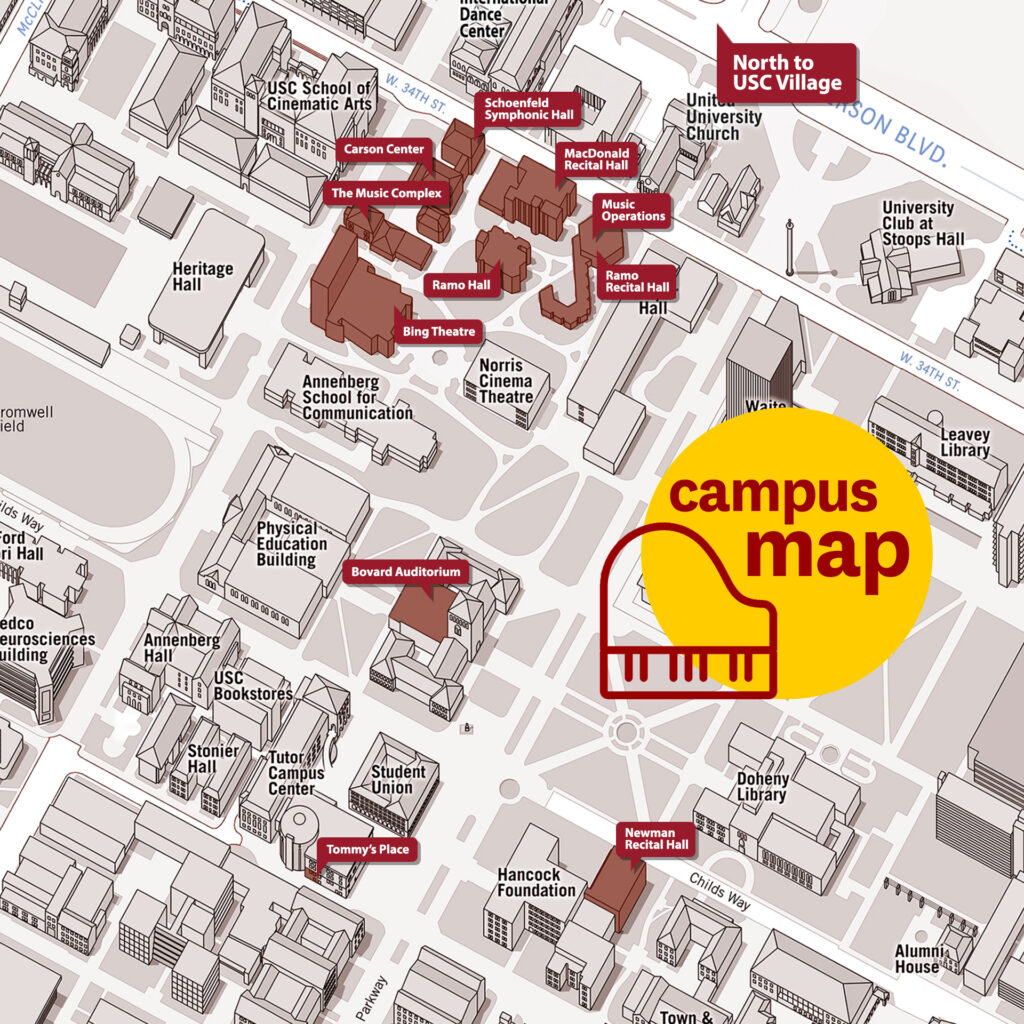 Performance Halls & Studios
Bing Theatre is a traditional proscenium house hosting both theatrical and musical performances, including those given by the USC Thornton Opera. >> Show on campus map
Bovard Auditorium is the largest performance space on campus. The USC Thornton Orchestra Program ensembles perform in the historic venue, opened in 1921. >> Show on campus map
Carson Center features performances from the Jazz Studies, Music Industry, Studio Guitar, and Popular Music programs, including student recitals, ensemble concerts, and showcase events. >> Show on campus map
Joyce J. Cammilleri Hall at the USC Brain and Creativity Institute is used for Thornton masterclasses and recitals. This intimate and beautiful space was designed by Yasuhisa Toyota, the acoustician responsible for the famed Walt Disney Concert Hall. >> Show on campus map
MacDonald Recital Hall provides an intimate venue for student recitals, masterclasses, and choral ensemble performances. >> Show on campus map
Newman Hall Recital was designed to provide outstanding acoustics for all kinds of music and is home to many of Thornton's ensembles, student performances, and faculty recitals. >> Show on campus map
The Simon Ramo Recital Hall first opened in 1964 and was renovated in 2008. The 90-seat hall hosts chamber music, masterclasses, student recitals, and other intimate performances. >> Show on campus map
The Alice and Eleonore Schoenfeld Symphonic Hall is named for longtime USC Thornton faculty members Alice and Eleonore Schoenfeld. The 3,700-square-foot space is the first dedicated orchestra rehearsal hall in USC Thornton's long history. >> Show on campus map
Tommy's Place, located in the Ronald Tutor Campus Center, features concerts, comedy shows and other campus events. >> Show on campus map
Zaro Family Songwriters Theater is an intimate space devoted to the art of songwriting. Adjacent to the school's contemporary recording studios on the lower level of The Music Complex, the acoustically designed venue offers a perfect space for students to showcase their craft. >> Show on campus map