Argus Quartet Concert Program
The USC Thornton Composition program presents the Argus Quartet, founded by alum Clara Kim (DMA '15). The noted ensemble will present two works by Donald Crockett, chair of the Composition program, String Quartet No. 1, Array, and String Quartet No. 2.
Based in New York City, the quartet was founded in Los Angeles in 2013, where its members shared many meals at their favorite taco truck on Argus Drive. In addition to violinist Kim, the ensemble features violinist Giancarlo Latta, violist Maren Rothfritz, and cellist Mariel Roberts.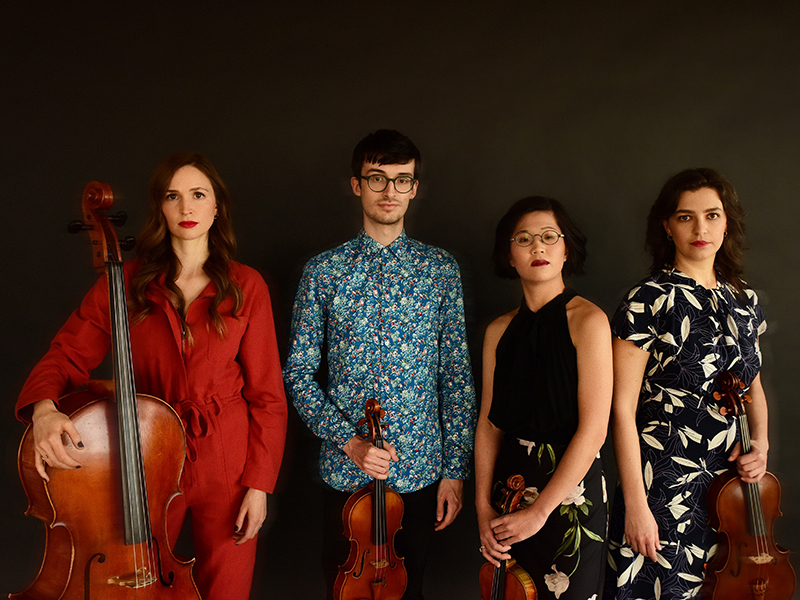 Program
String Quartet in D major, Op. 1, No. 6 (1770-1771)
   Allegro assai
   Rondeau
Joseph Boulogne, Chevalier de St. George (1745-1799)
String Quartet No. 2 (1993)
   Allegro vivo, giubilante
   Adagietto
   Allegro vivo
Donald Crockett (b. 1951)
String Quartet (1919)
   Modéré
   Intermède
   Final. Vif — Très rythmé — Un peu plus lent
Germaine Talleferre (1892-1983)
String Quartet No. 1 Array (1987)
Composer Notes
String Quartet No. 2
Dedicated to the Stanford String Quartet in celebration of their tenth anniversary, by the Friends of the Stanford String Quartet.
When the Stanford String Quartet asked me to compose a work for their tenth anniversary season in 1994, I wanted to write a piece that was in some way a celebration of their achievement: in other words, a vibrant, energetic, joyful, gutsy piece, which I set out to do.
The first movement is full of outgoing gestures: noisy chords, bustling thematic material and a joyous melody sung by the first violin and cello in widely separated octaves. Virtuosity in all four instruments is featured. At the end of the movement the energy dissipates, and the music ends quietly, spent.
The second movement unfolds a quiet melody (a lullaby) which begins in muted cello. After a small chaconne with solo first violin singing above it, the cello lullaby returns in a version for string trio.
The third movement features pizzicato in the first large section, then moves to an additive, mechanical ostinato with twelfths in the viola as the single unchanging element. This ostinato coalesces into a grazioso melody in the cello before returning to another version of the pizzicato music, ending with the in-your-face chords of
the first movement.
I had another reason for composing this celebratory piece: my dear friends Stephen Hartke and Lisa Stidham were expecting, and I wrote this piece as an imaginary character study of their boy, Alexander (Sandy), and their new life together. Sandy's birth and the completion of this quartet occurred, not too far apart, in late 1993. String Quartet No. 2 is a double celebration and is, you might say, program music squared.
Composer note by Donald Crockett
***
String Quartet No. 1 "Array"
Commissioned for the Kronos Quartet by Doris and Myron Beigler
My String Quartet No. 1 "Array" was commissioned by Doris and Myron Beigler for the Kronos Quartet and completed in December 1987. To get a handle on the style of the piece, imagine a quartet of string virtuosi who know how to play some jazz along with the Bartok string quartets somehow getting together in the Middle Ages.
The subtitle refers to a fanning-out of musical material which occurs several times during this single-movement, eighteen minute piece. At the beginning, for example, the first violin takes the lead in an accompanied solo of very restricted range – barely a fifth – and relatively long note-values which gradually become a bit shorter. The viola then takes over with a solo in noticeably shorter note-values (the music begins to swing) and larger range – about a twelfth. This process continues through the second violin's increasingly frenetic solo and into the cello's, which spans more than three and a half octaves. The first violin then sings a high, gentle solo and the cadential chord now spans five octaves. Subsequent parts of the work reveal additional ways of arraying the music, including an edgy, dissonant medieval sounding passage and a section in which an expressive melody is passed around the group in a luxuriant texture and flexible rhythmic unison.
Composer note by Donald Crockett
About the Artists
The Argus Quartet's "vivacious foursome" (The New Yorker) is committed to bringing thoughtful and personal programs to both seasoned listeners and audiences new to classical music. The Quartet enjoys projects that celebrate collaboration, community, and risk-taking in venues of all shapes and sizes.
Praised for playing with "supreme melodic control and total authority" and "decided dramatic impact" (Calgary Herald), Argus has quickly emerged as one of today's most dynamic and versatile ensembles. Formed in Los Angeles in 2013, the Quartet has performed in some of the country's most prestigious venues and festivals, including Lincoln Center's Alice Tully Hall, Chamber Music Society of Detroit, the Ravinia Festival, the Albany Symphony's American Music Festival, and Music Academy of the West. In 2017, Argus won First Prize at both the M-Prize Chamber Arts Competition and the Concert Artists Guild Victor Elmaleh Competition.
Highlights of the 2022-23 concert season include two appearances at Carnegie Hall, a return to Columbia University's Miller Theatre for its Pop-Up Concerts series, the beginning of a multi-year recording project of the string quartets of Donald Crockett, and the launch of a new program consisting of works by Indigenous composers. This program will feature a new composition by Pulitzer Prize finalist Anne Leilehua Lanzilotti, commissioned as a National Performance Network Creation & Development Fund Project. The Quartet will premiere the program in San Diego, Long Beach, and Denver in spring 2023.
Central to the Quartet's work is close collaboration with living composers. In 2022, Argus premiered Jessica Meyer's "Of Being," commissioned by Chamber Music America, at the Morgan Library. Past commissions include works by Katherine Balch, Donald Crockett, GRAMMY nominee Eric Guinivan, Hermitage Prize winner Thomas Kotcheff, and Guggenheim Fellowship recipient Juri Seo. Argus' recording of Seo's works for string quartet was released in May 2019 on Innova Recordings; December 2022 saw the release of Christopher Cerrone's "The Air Suspended" with pianist Shai Wosner on New Focus Recordings. The Quartet has received grants from the Koussevitzky Foundation, Concert Artists Guild, and the Caramoor Center for Music and the Arts in support of their commissioning efforts.
Education and outreach are an important part of the Argus Quartet's mission. The Quartet has worked with students through residencies and masterclasses at Yale and Princeton, Temple University, James Madison University, Rockport Music, California State University Long Beach, and the Virginia Arts Festival. From 2020-2022, they were an ensemble in residence with Midori & Friends, regularly presenting interactive performances in New York City public schools.
From 2015-17, Argus served as the Fellowship Quartet in Residence at the Yale School of Music under the guidance of the Brentano Quartet, and from 2017-19 held the position of Graduate Resident String Quartet at the Juilliard School, where they worked closely with the Juilliard String Quartet. They have also held residencies at New Music on the Point working with the JACK Quartet, and at the Caramoor Center for Music and the Arts as the Ernst Stiefel Quartet in Residence.