The Polish Music Center at USC presents Duo Karolina Mikołajczyk & Iwo Jedynecki – Concert Program
The Polish Music Center at USC presents one of the brightest stars of the young Polish chamber music scene: Duo Karolina Mikołajczyk & Iwo Jedynecki.

Both virtuosos in their own right, Mikołajczyk and Jedynecki bring great energy to the stage, shining a bright spotlight on not only existing repertoire for accordion and violin but also innovative arrangements and commissions for this unusual ensemble.

Entitled "The History of Polish Music," their program will present a kaleidoscope of works from the 17th-21st centuries, including an arrangement of Krzysztof Penderecki's Violin Sonata that was approved by the Maestro himself, as well as a new work by Marcin Błażewicz that was dedicated to the Duo.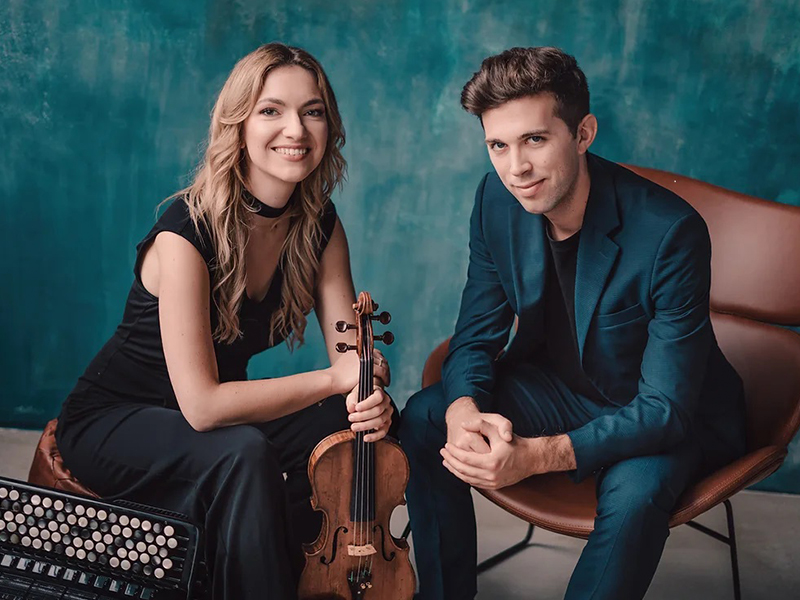 Program
Adam Jarzębski (1590-1649)
Roxana's Song from the opera Król Roger
Karol Szymanowski (1882-1937)
Sonatina, Op. 12
   Allegro con spirito
   Adagio cantabile
   Vivace
Józef Koffler (1896-1944)
Suite polonaise
   Molto moderato
   Andante
   Allegro molto
Sonata for Violin and Piano (1953)
   Allegro
   Andante
   Allegro vivace
Krzysztof Penderecki (1933-2020)
Sonata for Violin and Accordion "Night full of sins"
   Allegro appassionato
   Grave semplice
   Allegro
Marcin Błażewicz (1953-2021)
Composer Notes
With a repertoire of four centuries of Polish music on offer, this afternoon's concert is an exciting travelogue through time. It also features an unusual and attractive combination of instruments, and a blending of sounds that brings out the rare qualities of each work on today's program.

Following on the Polish Music Center's 2022 Spring Concert, which celebrated the establishment of the Dianne and Tad Taube Polish Music Center Digital Archives, some of today's musical selections also highlight composers whose works are held in the Center's unique Manuscript Collection. Thanks to the transformational gift from the Taube Foundation, during the past year we were able to digitize most of our Manuscript Collection, with compositions by Krzysztof Penderecki and Szymon Laks included among the 280+ scans. We are proud to announce that these digital resources can now be accessed worldwide by searching "Polish Music Center" at http://digitallibrary.usc.edu.

Looking forward, additional concerts spotlighting our Manuscript Collection are planned for mid-October 2023 in Los Angeles. We are also currently organizing an exciting lineup of artists and performers for the annual Paderewski Festival in Paso Robles on November 2-5. Details of upcoming events will be shared on the PMC website and delivered to your email inbox in the coming months. In the meantime, we hope you'll enjoy this afternoon's concert and continue to honor us with your presence next time Polish music is heard on California's stages.

Marek Zebrowski, Director
Krysta Close, Assistant Director
Program Notes
Today's program presents a truly rich selection of music by various Polish composers, ranging from the beginnings of the seventeenth century to works composed just a few years ago. The opening Chromatica by Adam Jarzębski, an adventurous early Baroque master, is composed of four medium-paced sections that explore chromaticism within the (new at that time) major-minor tonal system. The work's trio sonata texture also is an innovation, and its three independent musical lines have been successfully adapted for violin and accordion by the Mikołajczyk-Jedynecki Duo. Jarzębski, who served as a musician of the Royal Chapel in Poland, was a prolific composer of instrumental as well as vocal music. Most of it is unfortunately lost, and the selection heard today comes from Jarzębski's own compilation of 28 instrumental works gathered in a volume he called Canzoni e Concerti.

Universally recognized as the greatest Polish composer after Chopin, Karol Szymanowski's only opera, Król Roger, is the outcome of Szymanowski's extended sojourn in Italy and northern Africa on the eve of World War I. The composer was deeply impressed by the cultural, artistic and architectural legacy created by the Norman kings of Sicily in the 11th and 12th centuries. The imposing Norman castle dominating Palermo and the unique Byzantine-era mosaics of Cappella Palatina resonated in Szymanowski's imagination long enough to finish in 1924 his meditative opera centered on the Norman king. Taking place at the inner courtyard of Palermo's royal palace, the opera's Act II abounds in oriental touches heard especially in the orchestral introduction to the "Song of Roxana", King Roger's wife. The full score of the opera was published soon after the premiere in Warsaw in 1926. Recognizing the charm of "Roxana's Song", Paweł Kochański—Szymanowski's close friend and a virtuoso violinist who collaborated on two of Szymanowski's violin concerti—provided a violin and piano transcription on which the version heard today is based.

Three more transcriptions for violin and accordion are also on offer today. Józef Koffler's compact, three-movement Sonatine, Op. 12, dates from 1930. Composed in Lwów, it embraces neo-classical formal design and serial (12-tone) techniques. Koffler was the only composer in Poland to employ serialism in some of his works and his oeuvre is quite varied stylistically, ranging from the neo-romantic early opuses to Soviet-sanctioned neo-realism present in his late music, composed during the years of World War II.

Szymon Laks wrote his charming Suite polonaise for violin and piano in Paris in 1935. This three-movement composition successfully combines Laks's intimate knowledge of Polish folklore with the unmistakably Gallic esprit present in French music of the day. Its instant success quickly led to a transcription for violin and orchestra made by the composer a year later. The recent violin-accordion adaptation of the Suite highlights its folk colors and captures the elegance of the original violin and piano version.

Krzysztof Penderecki's Sonata for Violin and Piano dates from 1953, when the composer was only twenty and still developing his language and style. Adventurously atonal, the sonata can nonetheless be defined as belonging to the mid-century neoclassicism. The work's haunting slow movement features distant echoes of Polish folklore (perhaps an homage to Szymanowski's piano mazurkas), while the closing section is squarely rhythmic and toccata-like. Shortly before Penderecki's death in 2020, the Mikołajczyk-Jedynecki Duo sent a recording of their arrangement to the composer who wholeheartedly approved and encouraged the Duo to perform this work in concert. Penderecki also attended a live performance of the sonata's arrangement in Poland in January 2020, just two months before his death.

The last work on today's program by Marcin Błażewicz is the only one originally written for this ensemble. Professor of composition at the Warsaw Music Academy and a prolific composer, Błażewicz wrote several chamber and orchestral works featuring accordion. His Double Concerto for Violin and Accordion and the humorously subtitled Sonata, Night Full of Sins, were dedicated to and premiered by the Mikołajczyk-Jedynecki Duo. Rambunctious and sensuous in turns, Błażewicz's sonata was recorded by today's artists for DUX Records in Poland in 2022.
About the Artists
The Karolina Mikołajczyk & lwo Jedynecki Duo is one of the most vibrant and innovative chamber ensembles of the young generation. Recognized by such musical icons as Maxim Vengerov and Krzysztof Penderecki, the Mikołajczyk-Jedynecki Duo are multiple winners of top prizes at international music competitions all across Europe. Their performances in New York's Carnegie Hall, Guangzhou Opera House and Warsaw Philharmonic were all sold out engagements, and they have played a total of more than one hundred recitals in France, Germany, Switzerland, Spain, Italy, Georgia, United States, Cuba, Chile, China, Singapore, Vietnam, Cambodia, Malaysia, Brunei and Thailand.

Critics uniformly praised the Duo's performances as perfect and mature, yet luminous and filled with youthful vitality. Hailed by Maxim Vengerov as "an ensemble that sounds like one instrument," the Duo brings completely new qualities and original interpretations to classical masterpieces, thanks to Jedynecki's violin and accordion transcriptions. Both artists boldly venture into renowned works of chamber music literature giving them new character and delightfully diverse coloring.

The Duo also collaborates with leading Polish composers, such as Marcin Błazewicz (Double Concerto for Violin, Accordion and Symphony Orchestra dedicated to Mikołajczyk and Jedynecki), Piotr Moss (performance of Opolian Concerto for violin, accordion and orchestra in 2021), and Krzysztof Penderecki (Violin Sonata in the Duo's arrangement received official approval from the composer in 2019). In 2016 the Duo released its debut CD, Premiere, featuring works for violin and accordion written by three generations of composers between 1952 and 2015. As the first ever album with new music by a violin-accordion duo, this CD focused mostly on repertoire never before recorded.

In addition to their three successful CD recordings—one of which received a nomination for the coveted Fryderyk Award (Polish equivalent of the American Grammy Award)—the Duo takes a modern approach to promotion through innovative performance videos shared on social media. Their interpretation of Mozart's Violin Sonata has garnered more than a million views and was shared by Classic FM, the most popular online classical music platform. Other crowd-pleasing videos include their impromptu performance of Fritz Kreisler's Chinese Tambourine on the Great Wall of China, as well as their arrangements of Bach's Goldberg Variations and excerpts from the film music-inspired Hollywood Fantasy project. The latter was also presented by the Duo in 2021 at the Cracow Film Music Festival, one of the industry's most important events in the world.

Karolina Mikołajczyk plays a Duke London violin from 1776. lwo Jedynecki plays a Pigini Sirius Millennium accordion. The purchase of both instruments was financed by Poland's Ministry of Culture and National Heritage.

*******

Established in 1985 by Dr. Stefan and Wanda Wilk, the Polish Music Center at USC's Thornton School of Music is a unique research and cultural outreach center for scholars, musicians, journalists and lovers of Polish music. Located in downtown Los Angeles, the Center's extensive and growing Archival and Library Collections contain books, scores, manuscripts, recordings, periodicals, documents, reference materials and numerous other items related to Polish music.

The PMC provides a broad range of services to the USC community, audiences in California and the public worldwide through concerts, the Polish Music History book series, a monthly online Newsletter and the PMC website that, since 1994, has provided a wealth of information, including biographies and catalogues of works, recordings and repertoire by Polish composers, as well as articles on the history of Polish music and dance. The PMC staff is comprised of pianist and composer Marek Żebrowski, who serves as PMC Program Director and Curator, and singer and cultural diplomat Krysta Close, who is the PMC's Assistant Director and Newsletter Editor, as well as several student workers and dedicated volunteers.

The cornerstone of our Archival Collections, the Manuscript Collection was initiated in 1984 with gifts of original scores by Stanisław Skrowaczewski and Witold Lutosławski. Their generous contributions became the foundation for one of the world's most important collections of manuscripts by modern Polish composers. Today the collection holds over 200 manuscripts by Bacewicz, Baird, Laks, Meyer, Penderecki, Ptaszyńska, Schaeffer and Tansman, among many others. Other important Collections received since 2005 include the Henry Vars [Henryk Wars] Collection, Zygmunt and Luisa Stojowski Collection, Bronisław Kaper Collection, Paderewski Archive—the Paso Robles Collection, Roman Ryterband Collection, and Joanna Bruzdowicz Collection.

Since 2006 the PMC has organized the Paderewski Festival in Paso Robles and, together with the Festival Board of Directors and partners in Poland, it also runs the Cultural Exchange Program linking students on California's Central Coast with Poland. In addition to serving as a research base and a conduit for musicians who perform at the Festival, the PMC provides participants in the Paderewski Piano Competition and Cultural Exchange with the opportunity to take part in master classes with members of the world-renowned faculty of the USC Thornton School of Music. Another exciting and beneficial ongoing PMC partnership is with Poland's State Archives and Archives of Historical Documents in Warsaw, which since 2014 has sent scholars to catalogue and conserve our unique Archival Collections.

The Polish Music Center relies exclusively on the generosity of donors for its operating budget. If you are interested in any of the Center's activities or would like to make a donation, please contact:

USC POLISH MUSIC CENTER
840 WEST 34TH STREET, LOS ANGELES, CA 90089-0851
(213) 821-1356 | polmusic@usc.edu | http://polishmusic.usc.edu
Acknowledgements
PMC BENEFACTORS

Dr. and Mrs. Clark Halstead
Lottie Harasimowicz
Dr. and Mrs. Kenneth Harris
Dr. and Mrs. Matthew Mickiewicz
Dr. Helena Nowicka
Dr. Zbigniew and Dr. Zofia Petrovich
Dianne and Tad Taube
Dr. Stefan and Wanda Wilk

The Polish Music Center would like to express our deepest gratitude to the following donors who contributed during the last fiscal year:

Anne and Terrence Anderson
Jennifer Audette
Stan Bartosiak
Charles and Alice Bragg*
Dr. Bruce Brown
Malgorzata and Slawomir Brzezinski
Cynthia and Thomas Bylander
Dr. Bartosz Chmielowski and Rich Gallion*
Dr. Marianna Chodorwska-Pilch and Krzysztof Pilch*
Consulate General of the Republic of Poland* [Event Co-Sponsor]
Cyryla Cravens
Andrzej and Nina Dabrowa
Edward J. Kaplita Polish Heritage Foundation,
Christine Giera – Administrator*
Diana and Robert Eisele*
Piotr Gajewski
Juliana Gondek
Helena Modjeska Art and Culture Club of LA
Dr. Stephen Hryniewicki
Zbigniew and Malgorzata Kostecki
Andrew Kozlowski and Elizabeth Grzanka
Krystyna and Boguslaw Kuszta*
Michael Libow
Robert and Linda Lombardi*
Andrew Maleski
Grace Malolepszy
Jan Matusak
Barbara Milewski
Alicja Mogilski
Dr. Eva Muchnick*
Danuta Nowicki
Dr. Zbigniew and Dr. Zofia Petrovich*
POLAM Federal Credit Union [Event Co-Sponsor]
Polish Center in Los Angeles
Edward and Maria Pilatowicz*
Clarissa Ryterband
Waldemar W. Sadowinski
Christine Singer*
Prof. Nick and Toni Strimple*
Witold Swierczewski*
Irena Szewiola
Maja Trochimczyk
Scott Westbrook*
Scott Whittle and Terry Tegnazian*
Daniela and Richard Zarakowski

*Sustaining Members (donors who have given gifts of $100 or more for at least 3 years in a row)

The Polish Music Center also would like to thank Jeffrey De Caen, Evan Calbi, Sean David Christensen, Phoenix Delgado, Deanna Gasparyan, Adriana Gonzalez, Joshua Kun, Tori Nagle, Heather Pio Roda, Duncan Tuomi and the entire staff at the USC Thornton School of Music for their assistance in organizing and marketing this event.