Thornton Edge Concert Program
October 4, 2022
7:30 p.m.
Faculty member Frank Ticheli leads new music ensemble Thornton Edge in an evening performance featuring the world premiere of Gross Misconduct by Thornton Composition program alumnus Tommy Dougherty, as well as works by Caroline Shaw, William Bolcom, Pavel Karmanov and others.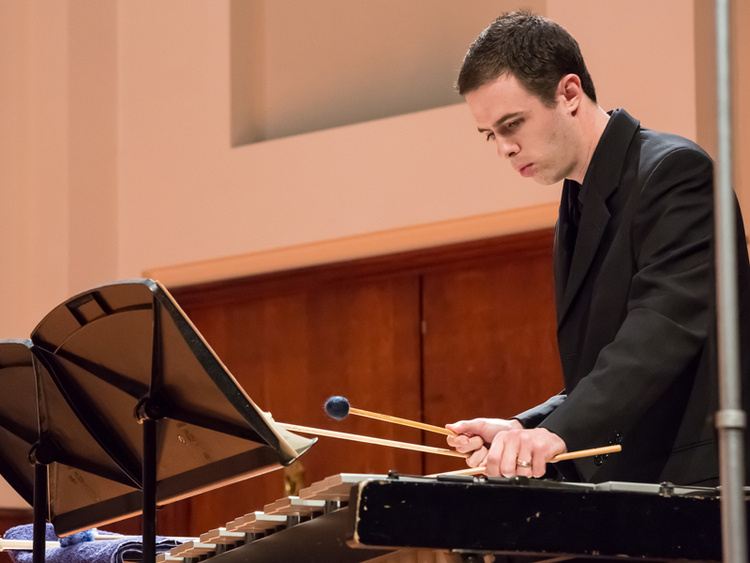 Program
Orphée-Sérénade
   I. Ouverture
   II. Romance
   III. Pas de Bacchantes
   IV. Hurluberlu
   V. Elégie
   VI. Energique
Tommy Dougherty
(b. 1990)
Program Notes
Pavel Karmanov (b. 1970) is a Russian composer, flutist, pianist, and rock musician known as "a romantic dressed in a minimalist gown." His music generally falls under the realm of post-minimalism and is influenced by the repeating patterns and pulse of the 1970s works of Steve Reich and Philip Glass.
Get In, a single movement quintet for violin, cello, flute, clarinet, and percussion, was commissioned in 2005 by the Seattle Chamber Players. The piece is dedicated to Karmanov's son, Makar. It is filled with bright, shimmering colors and contrapuntal conversations. At moments, fragments of a Baroque keyboard invention seem to have wandered into a gradually shifting dreamscape.
Caroline Shaw (b. 1982) is a musician who moves among roles, genres, and mediums, trying to imagine a world of sound that has never been heard before but has always existed. She is the recipient of the 2013 Pulitzer Prize in Music, several Grammy awards, an honorary doctorate from Yale, and a Thomas J. Watson Fellowship. She has worked with a range of artists including Rosalía, Renée Fleming, Yo Yo Ma, and Kanye West, and she has contributed music to films and tv series including Bombshell, Yellowjackets, Maid, Dark, and Beyonce's Homecoming.
And So is a vibrant gem of a piece written for mezzo-soprano and string quartet . It was originally written for Anne Sofie von Otter and the Philharmonia Baroque Orchestra, as a part of a three-song trilogy. Shaw performed this reduced version of the piece herself on vocals with the Attacca quartet accompanying. The lyrics are her own words intertwined with those of Gertrude Stein, Robert Burns and Billy Joel.
William Bolcom (b. 1938) is an American composer of keyboard, chamber, operatic, vocal, choral, band, and symphonic music. In 1988 he won the Pulitzer Prize in music for his 12 New Etudes for Piano, and in 2005 he won four Grammy Awards for his setting of William Blake's Songs of Innocence and Experience. Born in Seattle, Washington, he studied with Darius Milhaud at Mills College while working on his Master of Arts degree, with Leland Smith at Stanford University while working on his D.M.A., and with Olivier Messiaen and Milhaud at the Paris Conservatoire, where he received the 2éme Prix de Composition. As a pianist Bolcom has performed and recorded his own work frequently in collaboration with his wife and musical partner, mezzo-soprano Joan Morris. Their primary specialties in both concerts and recordings are cabaret songs [written with Joan Morris's voice in mind], show tunes, and American popular songs of the 20th century. They have recorded 25 albums together – Autumn Leaves was released in 2015.
"Orphée-Sérénade honors one of my favorite pieces by my teacher Darius Milhaud, the 1957 Aspen Serenade, op. 361, for nine instruments. The Aspen Serenade uses each letter of the town name Aspen as the first letter of a movement title, and I've done the same thing here with the French form of the word Orpheus. The Orpheus legend lurks somewhere in the background (see the Bacchantes in the third movement), but more directly referred to is the Baroque suite, French style, and the serenade of Mozart's time. These short movements run the gamut from almost complete atonality to frankly traditional tonality, although C major is the root key of the whole serenade. The Ouverture functions much like the Allemande of a Baroque suite; marked "Allegro moderato, con eleganza: with humor and delicacy throughout", it sets up the balanced structure and the tonal plan of the whole piece. Romance, on the dominant (G major), is frankly romantic, reminiscent, and youthful – perhaps an evocation of the loss of Euridice. I think of the Pas des Bacchantes as belonging to the family of Rameau's dances and the fast symphonic movements of Roussel. Many years ago Milhaud's son Daniel, the painter, planned a cartoon with a main character Hurluberlu, which I was to set to music; while this movement is not a recall of that music, it shares the mood of the aborted project (in French hurluberlu means something like a free-for-all and is distantly related to the English "hurlyburly"). Elégie, a short lament, leads directly into the last movement, Energique, wherein the opening angry violin solo is also a complaint – after all, doesn't the solo violin always have a lot to play in the classic serenade? ("Where's my solo? This piece is almost over!") – and this complaint becomes the solo! Very quickly the piece begins to evoke, and finally quotes, a movement of the Mozart "Haffner" Serenade (K. 250, fourth movement), which, because it is in G major, allows for the final resolution to the home key of C."
-William Bolcom
Viet Cuong (b. 1990) has had his music performed on six continents by musicians and ensembles such as the New York Philharmonic, Eighth Blackbird, Saint Paul Chamber Orchestra, Sō Percussion, Alarm Will Sound, Atlanta Symphony, Sandbox Percussion, Albany Symphony, PRISM Quartet, and Dallas Winds, among many others. Viet's music has been featured in venues such as Carnegie Hall, Lincoln Center, and the Kennedy Center, and his works for wind ensemble have amassed hundreds of performances worldwide. Passionate about bringing these different facets of the contemporary music community together, his upcoming projects include a concerto for Eighth Blackbird with the United States Navy Band. Viet also enjoys exploring the unexpected and whimsical, and he is often drawn to projects where he can make peculiar combinations and sounds feel enchanting or oddly satisfying. He is currently the California Symphony's Young American Composer-in-Residence, and recently served as the Early Career Musician-in-Residence at the Dumbarton Oaks. Viet holds degrees from Princeton University (MFA/PhD), the Curtis Institute of Music (AD), and Peabody Conservatory (BM/MM).
"Circling Back seems to reflect the moment of its creation, as well as the hope that things are getting better. It feels like waking up. It feels like remembering something significant. It feels wistful but determined. The expression "circling back" conjures images of a flight, and the sense that we had been driven from our course but are now returning to the path we had charted, to the hopes and ideas we had to defer. Thank you to The Saint Paul Chamber Orchestra for bringing this piece to life—I'm grateful to have had this opportunity to circle back to music-making with you."
-Viet Cuong
Tommy Dougherty (b. 1990) is a native of Pittsburgh, Pennsylvania and is a composer of orchestral, chamber, and solo works. Tommy is involved in a variety of collaborations during the 2022-2023 concert season, including a residency at the Winterthur Museum as a Maker-Creator Fellowship Scholar, writing new works for the Johnstown Symphony Orchestra and the Orchestra of St. Luke's, and serving as Acting Section Violin with the San Diego Symphony Orchestra. Over the past several years, his music has been performed by the American Composers Orchestra, the Modern Violin Ensemble (MoVE), Alarm Will Sound, the Aspen Contemporary Ensemble, Kinetic Ensemble, Thornton School Symphony Orchestra, Shepherd School Symphony Orchestra, and Eastman Philharmonia. Tommy was the recipient of the ASCAP Leo Kaplan Award in 2019, and two ASCAP Morton Gould Young Composers Awards in 2016 and 2017. He received his Master of Music degree in composition from the Shepherd School of Music at Rice University and his bachelor's degrees in both composition and violin performance from the Eastman School of Music. In 2019, Tommy completed his DMA in composition at the USC Thornton School of Music where he studied privately with Andrew Norman and Sean Friar.
"Gross Misconduct is a concerto grosso for solo violin, viola, cello, and double bass and was written as the dissertation for my DMA in Composition at USC's Thornton School of Music. As a composer/violinist, I spent much of my time at USC developing a new voice for my string writing influenced by my private studies with Andrew Norman and Sean Friar, improvising on my own, and performing contemporary music. This piece serves as a culmination of many other works for strings I wrote during this time, including a string orchestra piece conceptually based off a card game written for Kinetic Ensemble (Egyptian Ratscrew Fantasy) and a violin quartet centralized around gun culture in the US written for Modern Violin Ensemble (Extraordinary Instruments).
The title Gross Misconduct came from my (some might say insufferable) inability to resist puns and was not necessarily written to be overtly programmatic, but it became a compositional goal to push the boundaries of what would be considered conventional or appropriate in the context of a typical concerto grosso. One of the most consistent qualities of the piece is its turbulent behavior of switching rapidly between the concertino (group of soloists) and the concerto grosso (ensemble), in addition to forming new subsets outside the confines of the two groups. Gross Misconduct was written during a period where acts of gross misconduct could be readily found anywhere from national headlines to within our own community at USC.
Special thanks to Lina Bahn, Joe Pereira, Jonah Sirota, Ben Fried, Ryan Baird, Frank Ticheli, Julia Moss, Robert Cutietta, and Thornton Edge for making this performance possible."
-Tommy Dougherty
About the Artists
Frank Ticheli's music has been described as being "optimistic and thoughtful" (Los Angeles Times), "lean and muscular" (New York Times), "brilliantly effective" (Miami Herald) and "powerful, deeply felt crafted with impressive flair and an ear for striking instrumental colors" (South Florida Sun-Sentinel). Ticheli (b. 1958) joined the faculty of the University of Southern California's Thornton School of Music in 1991, where he is Professor of Composition. From 1991 to 1998, Ticheli was Composer in Residence of the Pacific Symphony.
Frank Ticheli's orchestral works have received considerable recognition in the U.S. and Europe. Orchestral performances have come from the Philadelphia Orchestra, Atlanta Symphony, Detroit Symphony, Dallas Symphony, American Composers Orchestra, the radio orchestras of Stuttgart, Frankfurt, Saarbruecken, and Austria, and many others.
Frank Ticheli is the recipient of a 2012 "Arts and Letters Award" from the American Academy of Arts and Letters, his third award from that prestigious organization. He is a two-time winner of the NBA/William D. Revelli Memorial Band Composition Contest (Symphony no. 2 in 2006, and Lux Perpetua in 2021). In 2018, Ticheli received the University of Michigan Alumni Society's highest honor, the Hall of Fame Award, in recognition for his career as a composer. He was also awarded national honorary membership to Phi Mu Alpha Sinfonia, "bestowed to individuals who have significantly contributed to the cause of music in America."
Joseph Pereira enjoys a multi-faceted career as a timpanist/percussionist, composer, conductor, and educator. Since 2008, he has been the Principal Timpanist of the Los Angeles Philharmonic, and was previously the assistant principal timpanist/section percussionist of the New York Philharmonic from 1998 to 2008. Mr. Pereira runs the percussion studio at USC Thornton School of Music and is on faculty at the Aspen Music Festival, the Music Academy of the West and the Pacific Music Festival in Sapporo Japan. As a composer, Pereira's music has been described as "restless yet lucidly textured" (The New York Times), "striking atmospherics of colour" (The Guardian), and "one sonic surprise after another" (The Los Angeles Times). Mr. Pereira's work has been profiled in feature articles by The New York Times and LA Times and was featured on the PBS series "Craft in America". His works are published by Bachovich Music, and Black Dot Press in London. He is managed by Price Attractions Artist Management.
Please visit josephpereiramusic.com
Ensemble
Get In! (2005)
Composer: Pavel Karmanov (b. 1970)

Juwon (Jenny) An, flute
Melissa Frisch, clarinet
Agatha Blevin, violin
Joseph Kim, cello
Dominic Grande, percussion

And So (2019)
Composer: Caroline Shaw (b. 1982)

Mingjia Chen, vocal soloist
Agatha Blevin, violin
Veronika Manchur, violin
Julia Moss, viola
Jonathan Lin, cello

Orphée-Sérénade (1984)
Composer: William Bolcom (b. 1938)
  Ouverture
  Romance
  Pas de Bacchantes
  Hurluberlu
  Elégie
  Energique

Anthony Cardella, piano
Chloe Descher, flute
Gibson Mahnke, oboe
Melissa Frisch, clarinet
Daniel St. John, bassoon
Aiman Khan, horn
Agatha Blevin, violin
Sarah Beth Overcash, violin
Emma Antonides, viola
Joseph Kim, cello
Ethan Moffitt, bass
Circling Back (2021)
Composer: Viet Cuong (b. 1990)

Neil Cole, oboe
Jonathan Lin, cello

Gross Misconduct (2022; world premiere)
Composer: Tommy Dougherty (b. 1990)

Soloists:
Lina Bahn, violin
Jonah Sirota, viola
Ben Fried, cello
Ryan Baird, bass

Ensemble:
Alex Melzer, trombone
Stephen Hannan, trombone
Rocky Fox, trombone
Agatha Blevin, violin
Veronika Manchur, violin
Bradley Adam Bascon, violin
Sarah Beth Overcash, violin
Emma Antonides, viola
Julia Moss, viola
Joseph Kim, cello
Jonathan Lin, cello
Ethan Moffitt, bass
Samuel Miller, bass
Kaitlin Miller, harp
Benjamin Yu, piano
Dominic Grande, percussion