Thornton Edge Concert Program
October 3, 2023
7:30 p.m.
Newman Recital Hall
Thornton Edge, USC Thornton's new music ensemble under the direction of faculty member Donald Crockett, presents the world premiere of Thornton faculty member Mark Lanz Weiser's Lumina for eleven instruments and Frederic Rzewski's iconic Coming Together for baritone reciter and large ensemble.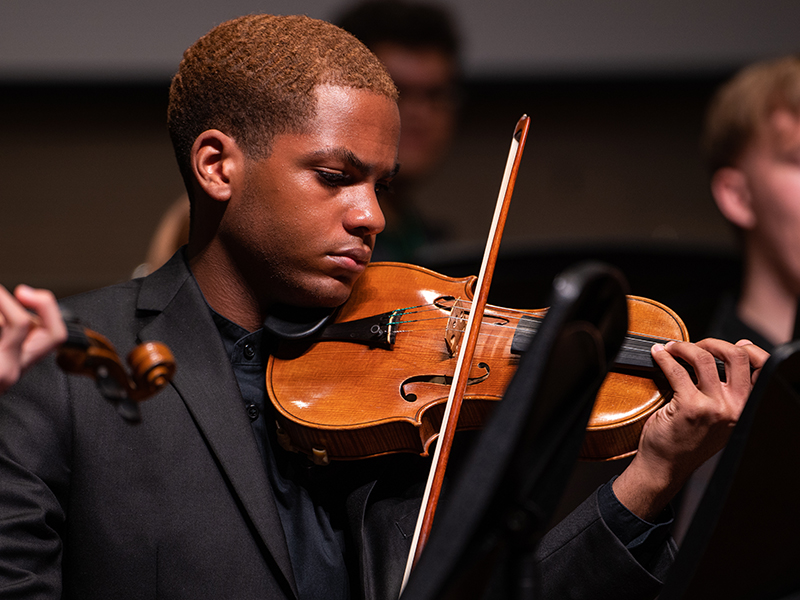 Program
Coming Together (Part I)
Attica (Part II)
Composer Notes
A Walk on Green Streets
Britta Byström

Britta Byström is a Swedish composer who was born in Sundsvall in 1977 and began her musical career as a trumpet player. In her teens, she began to compose music and studied composition at the Royal University of Music in Stockholm 1995-2001, where her main teachers were Pär Lindgren and Bent Sørensen. Byström has composed for most sizes of orchestras and contexts including chamber music, vocal music and opera, but the emphasis has been on orchestral music. Some of those who have performed her music are the BBC Symphony Orchestra, the Gürzenich Orchestra, the Detroit Symphony Orchestra and the Swedish Radio Symphony Orchestra. She has written pieces directly for soloists such as Malin Broman, Rick Stotijn, Radovan Vlatkovic and Janine Jansen. Britta Byström's music demonstrates a special attention to sound and a sensitivity for the music's resonance that could be described as impressionistic.

Quirkhead
Nina Shekhar

"I was born a quirkhead. I was the little girl who tapped every wall she walked by and believed that vegetables had feelings. I made up thought rituals that I would perform every day to alleviate my fears of losing those I loved. I counted the number of times I swallowed, and I put my hangers in my closet a certain way because I was terrified that one item out of place would trigger the next apocalypse. And it would be all my fault.

I didn't know that millions of others lived this way, until my seventh grade teacher observed that I wrote sentences in a specific arrangement. I was both amazed she noticed and completely mortified that someone had seen my most vulnerable self that I had been trying to hide for so long. I explained to her that I associate letters and words with certain connotations, and because I like the word "left" better than "right," I write the words I like better to the left and the ones less so to the right. After hearing about some of my other rituals, she told me about obsessive-compulsive disorder. I felt liberated knowing that I was not alone, but I grew to hate myself. I felt so ashamed that everyday tasks that were so easy to others felt impossible for me to complete.

Through years of counseling and self-healing, most of the tics subsided. But it took me years to realize that having OCD didn't make me a horrible human being. In fact, it made me a better one because it gave me immense patience and diligence through performing endless compulsions. It allowed me to be more accepting and empathetic towards others. And it made me love those close to me more. My brain will always be wired differently, but maybe that's okay. And I'm finally proud to be myself – I'm proud to be a quirkhead. This work was created under the aegis of the Gabriela Lena Frank Creative Academy for Music and premiered by Tony Arnold and Third Angle New Music in Portland, Oregon on Saturday, October 21st, 2017. Many thanks to Gabriela Lena Frank for her incredible kindness, support, and guidance while writing this piece, and to Tony Arnold, Ron Blessinger, Greg Ewer, Charles Noble, and Marilyn de Oliveira for their extraordinary musicianship throughout."

-Nina Shekhar

Nina Shekhar is a composer and multimedia artist who explores the intersection of identity, vulnerability, love, and laughter to create bold and intensely personal works.

Shekhar is a PhD candidate in Music Composition at Princeton University. She previously completed composition graduate studies at University of Southern California and undergraduate studies at University of Michigan, earning dual degrees in music composition and chemical engineering. She is currently serving as Composer-in-Residence of The Crossing and Los Angeles Chamber Orchestra's 2023-2024 Sound Investment Composer. An active educator, she recently joined the composition faculty of Mannes School of Music at The New School and is a faculty mentor for Luna Composition Lab and Brightwork newmusic's Project Beacon initiative. She is a Civitella Ranieri Foundation Music Fellow and previously completed her tenure as Composer-in-Residence for Young Concert Artists. She has held guest composer residencies at New York University, Colburn School, University of Colorado-Boulder, Western Michigan University, and Portland State University. She is a first-generation Indian American and a native of Detroit, Michigan.

Lumina
Mark Weiser

"LUMINA unfolds in three continuous sections: Perseid, Aurora, and Sol. It is a
musical evocation of various natural light phenomena in the night's sky.
Perseid
Named after the annual meteor shower, the opening section begins with soft
chords played by the strings representing the stillness of night. Occasional bursts
of short, fast moving scales in the woodwinds indicate meteors briefly disturbing
the clear, star filled tapestry.
Aurora
This section is named after the famous northern lights. Active scales in the
strings and quick imitative figures in the woodwinds and brass represent the
shimmering dancing light of this spectral phenomenon.
Sol
Lumina concludes with the sun, the most visible star, rising to fill the sky with its
powerful light."

-Mark Weiser

Mark Lanz Weiser is a composer of opera and concert music. His music has
been described as "brilliantly expressive" (Washington Post), "potent and well-
made" (San Francisco Chronicle), "ravishing" (San Jose Mercury News), and
"breathtaking" (The Saxophonist). Awards include the ASCAP Foundation
Rudolf Nissim Prize, the Ithaca College International Heckscher Composition
Prize, and the NATS National Art Song competition. He has held residencies at
the Yaddo colony in New York and the Virginia Center for the Creative Arts and
his music has been published by Boosey & Hawkes and Editions Bim
International Music Publishing.

Mark is the Artistic Director for New Opera West, an opera company dedicated to
the creation and promotion of new operatic works. He is Associate Professor in
Composition and Director of Music Theory at the University of Southern
California's Thornton School of Music.

Coming Together (Part I)
Attica (Part II)
Frederic Rzewski

"Coming Together was written in November and December of 1971 in response to a historical event. In September of that year inmates of the state prison at Attica, New York revolted and took control of a part of the institution. Foremost among their demands was the recognition of their right "to be treated as human beings." After several days of fruitless negotiations, Governor Nelson Rockefeller ordered state police to retake the prison by force, on the grounds that the lives of the guards whom the prisoners had taken as hostages were in danger. In the ensuing violence forty-three persons, including several of the hostages, were killed and many more wounded. One of the dead was Sam Melville, a prisoner who had played a significant role in organizing the rebellion. In the spring of 1971, Melville had written a letter to a friend describing his experience of the passage of time in prison. After his death the letter was published in the magazine, Ramparts. As I read it I was impressed both by the poetic quality of the text and by its cryptic irony. I read it over and over again. It seemed that I was trying both to capture a sense of the physical presence of the writer, and at the same time to unlock a hidden meaning from the simple but ambiguous language. The act of reading and rereading finally led me to the idea of a musical treatment.

Attica was originally intended to follow Coming Together after a short silence, so that the two pieces together would form a pair of dark and light images of the same subject. In this case it is a survivor of the event who speaks: Richard X. Clark, who was freed on parole some weeks after the massacre. As the car taking him to Buffalo passed the Attica town line, the reporter sitting next to him asked him how it felt to leave Attica behind him. His answer, "Attica is in front of me," became the text for this piece."

-Frederic Rzewski

A highly respected composer and pianist, Frederic Rzewski (1938-2021) is recognized both for his innovative works and for his strong political convictions. A founding member of the groundbreaking improvisational collective MEV, Rzewski's pieces often bridge the gap between classical music and avant-garde jazz. In The People United Will Never Be Defeated, arguably his most well-known piece, and in many other compositions, Rzewski has drawn on folk songs, narratives and politically charged texts to issue musical calls for social change. While Rzewski's unorthodox approach to performance and composition, as well as his political consciousness, was clearly influenced by the revolutionary atmosphere of the 1960s, his work remains equally relevant in the new millennium. In 2005 the Boston Globe's David Weininger called him "one of the most prominent living American composers and a prodigiously talented pianist."
Program Notes
A Walk on Green Streets
Britta Byström

"Bystrom divides the piece into a series of six relatively short 'walks,' featuring lilting eighth-note lines over sparse accompaniment, and 'towns' which are more expensive and contrapuntally dense. Occasionally the material from the "walks" finds its way into the "towns," but they generally remain fairly discrete. One can interpret the music as if the town is a place for interaction, conversation, and action, while the walk is reserved for solitude, contemplation, and reflection, a place to rest and recharge before returning to the human world. Or perhaps the "walks" are the empty gray streets and the "towns" are the places where life springs out. In any case, the green streets of the natural world are always just a few steps away."

-Dan Ruccia
About the Artists
Theo Trevisan, baritone

Theo Trevisan is a Los Angeles-based composer and bass-baritone from New Jersey. As a child, Theo sang at the American Boychoir School, performing in over 30 states and South Korea. Theo studied composition, computer science, and consort singing at Princeton, and he is currently pursuing his Masters in Composition at USC Thornton. Theo's music has been performed by various ensembles including the International Contemporary Ensemble, TAK Ensemble, Mivos Quartet, and the Antioch Chamber Ensemble. He currently sings with St James in the City, USC Chamber Singers, C3LA, and Tonality, and he previously sang with Gallicantus and several ensembles at Princeton.

Hannah Rice, soprano soloist

Hannah Rice is a soprano and composer who is currently pursuing a double master's degree in Vocal Arts & Opera and Composition at USC. An active performer of contemporary music, she most recently appeared as the Controller in USC Opera's production of Flight. She was also selected as a performer/composer for New Music on the Point where she worked with Kerrith Livengood, Amy Beth Kirsten, and Tony Arnold. Currently, she is looking forward to singing Kaija Saariaho's La Passion de Simone with USC Opera this spring. As a composer, Hannah frequently writes songs and was selected as 1 of 10 composers by the National Association of Teachers of Singing to be a part of their 2021-22 Composer Mentorship Program, which included a commission from the Cincinnati Song Initiative. That same year, her choral piece was published by Hal Leonard under the Craig Hella Johnson series. Hannah loves nothing more than creating whacky, immersive sound worlds with fellow new music lovers, and she is grateful to be a part of the Edge Ensemble this year!

Thornton Edge, ensemble

USC Thornton Edge, founded in 1976 by Robert Wojciak, has been under the direction of Donald Crockett since 1984. Comprised of some of the finest student musicians in the Thornton School, the ensemble presents a series of four concerts annually on the USC campus. Edge has also been part of the Los Angeles Philharmonic's Green Umbrella Series and Noon to Midnight, the New Music LA festival, and is a recipient of the Outstanding Ensemble Award given by LA
Weekly in 2006. On tour, Edge has presented concerts at the Paris and Lyon Conservatories, the Berlin 750 Jahre Festival, as well as the 2014 Carlsbad Music Festival, and has appeared as soloist with the Los Angeles Chamber Orchestra in Stephen Scott's Concerto for Bowed Piano and Orchestra. Thornton Edge has two commercial recordings: a set of new guitar concertos by Dusan Bogdanovich, Brian Head, Simone Iannarelli, Steven Gates, and Donald Crockett, performed by Thornton faculty artists and released on the Doberman/Yppan label in 2015; and a collection of ensemble works by Frederick Lesemann, Songs and Concertinos, released on the Centaur label in 2021.
Text & Translations
Text for Coming Together

I think the combination of age and a greater coming together is responsible for the speed of the passing time. It's six months now, and I can tell you truthfully, few periods in my life have passed so quickly. I am in excellent physical and emotional health. There are doubtless subtle surprises ahead, but I feel secure and ready. As lovers will contrast their emotions in times of crisis so am I dealing with my environment. In the indifferent brutality, the incessant noise, the experimental chemistry of food, the ravings of lost hysterical men, I can act with clarity and meaning. I am deliberate, sometimes even calculating, seldom employing histrionics except as a test of the reactions of others. I read much, exercise, talk to guards and inmates, feeling for the inevitable direction of my life.

Text for Attica

Attica is in front of me.
Ensemble
A Walk on Green Streets
Britta Byström

Sylvia Ettinger, flute
Louis Milne, clarinet
Sarah Beth Overcash, violin
Julia Moss, viola
Quenton Blache, cello
Gene Pak, piano
Dominic Grande, percussion

Quirkhead
Nina Shekhar

Hannah Rice, soprano
Sarah Beth Overcash, violin 1
Laura Gamboa, violin 2
Julia Moss, viola
Sam Guevara, cello

Lumina
Mark Lanz Weiser

Ellen Cheng, flute
Lauren Breen, oboe
Louis Milne, clarinet
Taki Salameh, bassoon
Rebecca Barron, french horn
Sarah Beth Overcash, violin 1
Daniel Young, violin 2
Julia Moss, viola
Olivia Marckx, cello
Sarah Wager, bass
Dominic Grande, timpani
Coming Together (Part I)
Attica (Part II)
Frederic Rzewski

Theo Trevisan, baritone/speaker
Ellen Cheng, flute
Gibson Mahnke, oboe
Luis Lechuga-Espadas, clarinet
Taki Salameh, bassoon
Caleb Durant, horn
Tali Duckworth, trumpet
Ryan Fuhrman, trumpet
Wyatt Grose, saxophone
Ardeshir Pourkeramati, saxophone
Laura Gamboa, violin
Julia Moss, viola
Zhaoyuan Qin, piano
Kai Kubota-Enright, synthesizer
Kana Funayama, percussion
Yafeu Tyhimba, bass guitar