Thornton Winds Concert Program
Resident conductor Sharon Lavery leads USC Thornton Winds in a performance that celebrates USC Thornton's Composition program. The ensemble will perform wind arrangements of O Magnum Mysterium, the lauded choral work composed by recipient of the 2007 National Medal of Arts and Thornton Distinguished Professor Emeritus of Composition Morten Lauridsen, as well as Mariachitlan, a recent, Latin GRAMMY-nominated work by Thornton Composition Program Lecturer Juan Pablo Contreras.
The full program is as follows: Leonard Bernstein's Prelude, Fugue and Riffs, Lauridsen's O Magnum Mysterium, Mariachitlán by Contreras, Mozart's Serenade No. 12 in C minor, Omar Thomas' A Mother of a Revolution and John Mackey's Kingfishers Catch Fire.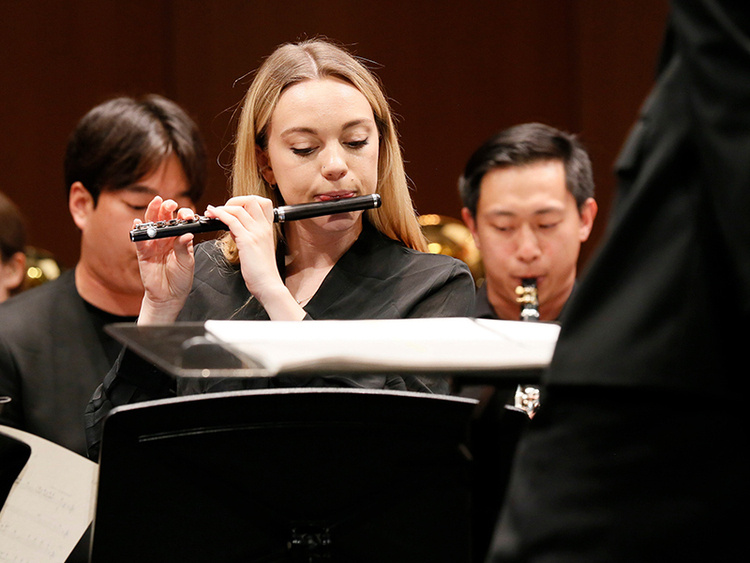 Program
Prelude, Fugue and Riffs
I. "Prelude for the Brass"
II. "Fugue for the Saxes"
III. "Riffs for Everyone"
Adam Floyd, solo clarinet
Leonard Bernstein
(1918-1990)
Morten Lauridsen
(b. 1943)
Juan Pablo Contreras
(b. 1987)
Serenade No. 12 in c minor
I. Allegro
II. Andante
III. Menuet & Trio
IV. Allegro
Kingfisher's Catch Fire
II. "Kingfisher's Catch Fire"
Program Notes
Leonard Bernstein
Prelude, Fugue and Riffs
In 1949, Bernstein took his penchant for jazz composition straight to the heart of the genre when he agreed to write a piece for famed clarinetist Woody Herman and his Thundering Herd big band. The result was Prelude, Fugue and Riffs, a work intended to be part of a series of jazz-influenced pieces by prominent classical composers commissioned by Herman, a collection that already included Igor Stravinsky's Ebony Concerto. Unfortunately, by the time Bernstein completed the score in November 1949, the Thundering Herd had disbanded and Herman would never perform the piece. Bernstein rescored some of the music for pit orchestra in 1952 as a ballet sequence in his stage comedy Wonderful Town, but it wasn't until 1955 that the original Prelude, Fugue and Riffs was premiered. Benny Goodman performed the piece with the composer conducting as part of a telecast hosted by Bernstein called "What is Jazz?"
Prelude, Fugue and Riffs was largely ignored for some time afterward, however, being overshadowed by the tremendous success of West Side Story in 1957. It is only in the past few decades that the piece has been recognized for its singularly unique place in the repertoire. Even though the work is scored for conventional jazz band and is thoroughly rooted in the "hot" swing and blues style, Bernstein cleverly uses traditional classical elements in the music's construction. The Prelude is strictly for the brass, with angular syncopated statements alternating with heavy, slow swing interludes. The Fugue enters without a break and is written for the saxophone section alone. Bernstein skillfully blurs the bar lines, moving the original fugue subject around in every direction. A solo piano takes over to start the Riffs section, and the solo clarinet is introduced for the first time. The whole band joins in with an infectious "riff," combined with themes from the preceding Prelude and Fugue. No holds are barred in the final frenzied bars of the piece as the players are instructed by the composer to repeat the last phrase "as many times as seems psychologically right (that is, to an 'exhaustion point')."
Morten Lauridsen
O Magnum Mysterium
Morten Lauridsen's choral setting of O Magnum Mysterium (O Great Mystery) has become one of the world's most performed and recorded compositions since its 1994 premiere by the Los Angeles Master Chorale conducted by Paul Salamunovich. The work was commissioned by Marshall Rutter in honor of his wife Terry Knowles.
About his setting, Morten Lauridsen writes: "For centuries, composers have been inspired by the beautiful O Magnum Mysterium text with its depiction of the birth of the newborn king amongst lowly animals and shepherds. This affirmation of God's grace to the meek and the adoration of the Blessed Virgin are celebrated in my setting through a quiet song of profound inner joy."
Recordings of Lauridsen's music have received numerous GRAMMY nominations, and the composer was a 2007 recipient of the National Medal of Arts. H. Robert Reynolds arranged the symphonic wind version of this popular work with the approval and appreciation of the composer.
Juan Pablo Contreras
Mariachitlán
Mariachitlán (Mariachiland) is an orchestral homage to my birthplace, the Mexican state of Jalisco, where mariachi music originated. The work recounts my experience visiting the Plaza de los Mariachis in Guadalajara, the capital of Jalisco, a place where mariachis play their songs in every corner and interrupt each other to win over the crowd.
In Mariachitlán, traditional rhythms such as the canción ranchera (ranchera song) in 2/4 time (choon-tah choon-tah), the vals romántico (romantic waltz) in 3/4 time (choon-tah-tah), and the son jalisciense (Jalisco song) that alternates between 6/8 and 3/4 time, accompany original melodies inspired by the beautiful landscapes of Jalisco. Mariachi instruments such as the trumpet, harp, and violin are featured as soloists in this work. Furthermore, the strings emulate the strumming patterns of vihuleas, while the contrabasses growl like guitarrones.
Near the end of the piece, a policeman blows his whistle in an attempt to stop the party. However, the crowd chants Mariachitlán, gradually increasing in intensity, and is rewarded with more vibrant music that ends the work with great brilliance.
—Juan Pablo Contreras
W.A. Mozart
Serenade No. 12 in C minor
Serenade No. 12 in C Minor, K 388/384a (1782) was composed during a time where daytime entertainment music was often called a "divertimento," while nighttime entertainment music bore the label "serenade." Mozart's own notes call this work Nacht Musique, an unusual mixture of German and French. Regardless of label, this is hardly light entertainment music. In form, it has been characterized as "a symphony for wind octet." In substance, it has been called "austere," "puzzling," "mysterious," "problematical," "defiantly dark" in character and "unforgiving in its seriousness." Mozart regarded this composition highly, for he used it in two later works. He transcribed it for string quintet in K.406, and he borrowed the principal melody of the second movement for his opera Cosi fan tutte. Whatever dark mystery Mozart may have intended this work to explore seems lifted by the Serenade's triumphant ending in the key of C Major.
Omar Thomas
A Mother of a Revolution
This piece is a celebration of the bravery of trans women, and in particular, Marsha "Pay It No Mind" Johnson. Marsha is credited with being one of the instigators of the famous Stonewall uprising of June 28,1969 – one of the pivotal events of the LGBTQ liberation movement of the 20th century – which is commemorated annually during the worldwide Gay Pride celebrations. Existing as a trans woman, especially a trans woman of color, and daring to live authentically, creating space for oneself in a transphobic world is one of the bravest acts I can imagine. Over 20 trans women were murdered in the United States in 2018 alone. There is no demographic more deserving, and frankly, long overdue for highlighted heroism and bravery. The disco vibe in the latter half of the piece is meant to honor club culture, a sacred space held amongst LGBTQ persons in which to love, live, mourn, heal, strategize, connect, disconnect, and dance in defiance of those outside forces who would seek to do LGBTQ persons harm simply for daring to exist and take up space.
We pump our fists to honor the life, heroism, activism, and bravery of Marsha P. Johnson, to honor the legacy of the Stonewall revolution, to honor the memory of the trans lives violently ended due to fear and hatred, and in honor of trans women worldwide who continue to exist unapologetically and who demand to be seen.
—Omar Thomas
John Mackey
Kingfisher's Catch Fire
A "kingfisher" is a bird with beautiful, brilliantly colored feathers that look in sunlight as if they are on fire. Kingfishers are extremely shy birds and are rarely seen, but when they are seen, they are undeniably beautiful. This second movement, "Kingfishers catch fire," imagines the bird flying out into the sunlight.
About the Artists
Sharon Lavery's extensive career has led her to conduct in distinguished concert halls across the United States, including Carnegie Hall on several occasions. Currently, she serves as resident conductor of the University of Southern California Thornton Symphony, Chamber Orchestra and Wind Ensemble. She has led the Thornton ensembles in concert on countless occasions, and served as music director of the Thornton Concert Orchestra for seven years. In addition to these duties at USC, Lavery teaches instrumental conducting.
Outside of USC, Lavery enjoys a successful professional career. Since 2007 she has been music director of the Downey Symphony Orchestra, an ensemble hailed as one of the best metropolitan orchestras in Southern California. Ms. Lavery has appeared as guest conductor with the Vermont Symphony, Hollywood Chamber Orchestra, San Bernardino Symphony, La Jolla Symphony, La Brea Sinfonia of Los Angeles, and the Virginia Waring International Piano Competition Orchestra in Palm Springs, CA. For many years she held the post of cover conductor for the Pacific Symphony Orchestra, and has also served as cover conductor for the San Diego Symphony. She has been the assistant conductor of the Pasadena Symphony, the associate conductor of the Herbert Zipper Orchestra of Los Angeles, and has also served as music director of the MUSE International Music Day Festival in Chiba, Japan. In addition, she has made CD recordings with Delos Records, Inc. and at Warner Bros studio in Burbank, CA.
Lavery is also known as an advocate for music education. She has conducted the International Honors Performance Series Orchestra and Band, the Missouri All-State Orchestra, the California All-State High School Concert Band, and the Texas 4A All-State Band. Ms. Lavery has also served as a guest conductor for several district honor bands throughout California.
Hailing from Ossining, New York, Lavery received her bachelor of music education degree from Michigan State University and master of music in clarinet performance from the New England Conservatory of Music. She also earned a master of music in orchestral conducting from USC Thornton, receiving the Leonard Bernstein Memorial Scholarship for two consecutive years.