USC Thornton Winds Concert Program
Guest conductor Allan McMurray leads USC Thornton Winds in a performance in Bovard Auditorium featuring Carter Pann's Slalom, Paul Hindemith's Konzertmusik für Blasorchester, Op. 41 and a suite of three works by Thornton Composition Program Professor Frank Ticheli.
Allan McMurray is a distinguished professor and a professor of conducting emeritus at the University of Colorado (UC). Before retiring in 2013, he served for 35 years as UC's director of bands and chair of conducting faculty. He has guest conducted and taught conductors in 48 states and 15 countries.
The complete program is as follows: Francis Poulenc's Suite Française, Pann's Slalom, Hindemith's Konzertmusik für Blasorchester, Op. 41; Ticheli's Songs of Love and Life, Prayer for A Marriage, Winter: Tonight: Sunset, Joaquín Rodrigo's Adagio and Alex Shapiro's Airborne.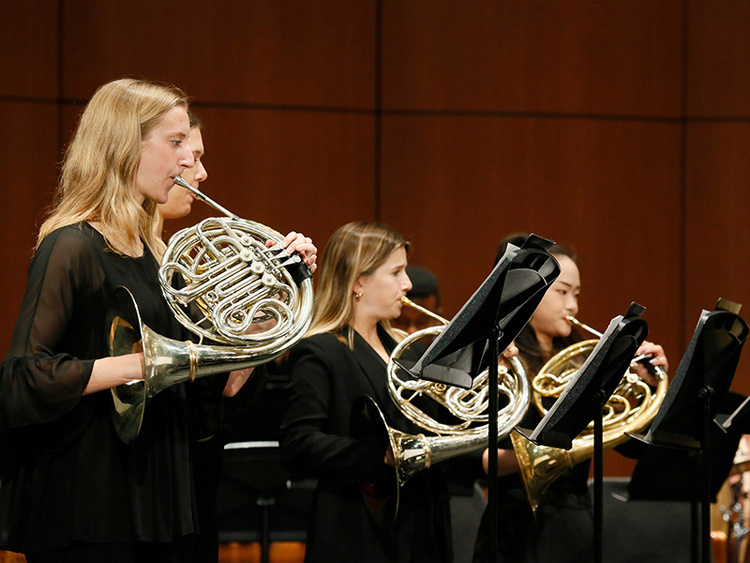 Program
Suite Française
   I. Bransle de Bourgogne
   IV. Complainte
   V. Bransle de Champagne
   VI. Sicilienne
   VII. Carillon
Francis Poulenc
(1899-1963)
Adagio para Orquesta de Instrumentos de Viento
Joaquín Rodrigo
(1901-1999)
Songs of Love and Life
   II. "First Lesson"
   III. "Prayer for a Marriage"
  
   Michaela Kelly, soprano
Konzertmusik für Blasorchester, Op. 41
   I. Konzertante Overtüre
   II. Sech Variationen über das Lied "Prinz Eugen, der edle Ritter"
   III. Marsch
Paul Hindemith
(1895-1963)
Program Notes
Francis Poulenc
Suite Française
This compilation of short character pieces was originally written as incidental music for a French play. As a standalone concert work it translates into seven short musical hors d'oeuvres that, in the hands of experienced musicians, are a delight to audiences. Nadia Boulanger encouraged Poulenc to seek inspiration from the 1545 work Libre de Danceries by Claude Gervaise, a French court composer. Reflecting this influence, straightforward, diatonic melodies are decorated with contemporary harmonies. The colorful scoring evokes Debussy and Satie.
Joaquín Rodrigo
Adagio para Orquesta de Instrumentos de Viento
Composed on a commission by Robert Boudreau and the American Wind Symphony, Adagio para Orquestra de Instrumentos de Viento (roughly translated as "Adagio for Orchestral Winds") is the composer's first work for winds. Two major moods are presented in a series of contrasting and alternating sections, A-B-A-B-A. During the opening, middle, and closing sections, the mood is quiet and tranquil, with a flowing melody that is woven through the upper woodwinds. The second and fourth section are more angular and fanfare-like, with the brass and percussion supplying the drive. The work concludes with a soft sigh from the lower voices and the timpani.
– Program Note by Nikk Pilato
Frank Ticheli, Songs of Love and Life
Songs of Love and Life was commissioned jointly by the Alpha Iota Chapter of Kappa Kappa Psi and the University of Colorado at Boulder Department of Bands in honor of conductor Allan McMurray.
The poems chosen for Songs of Love and Life —all written by contemporary American poets—were discovered slowly, after a painstakingly long and careful search. Indeed, the only poem I had decided upon when I began composing the work was Leland Kinsey's Swinging into the Night with its beautiful depiction of a boy being pushed on a swing by an exhausted but grateful parent. After several more weeks of searching, I stumbled upon two more stunningly powerful poems that further strengthened the themes of love and life—Philip Booth's delicate First Lesson, about a daughter being taught to trust, and Steve Scafidi's touching and witty Prayer for Marriage. But it took yet another two months to find the poem that would end the song cycle. David Budbill's vivid depiction of a man at the beginning of his old age—expressing nothing more than simple gratitude for being alive—struck me like a thunderbolt. I knew I'd found the perfect poem for my finale.
Program Notes by Composer
Alex Shapiro
Airborne
The fast, short, turbulent passages of Airborne launch and jerk upward, alternating with an insistent theme that marches relentlessly toward something unknown and ominous. A chaotic, ever-swirling and disorienting wake-up call, Airborne was composed as the first movement of Suspended, a symphony for winds, percussion, and pre-recorded soundscape. Sometimes we need to scream.
Program Notes by Composer
Paul Hindemith
Konzertmusik für Blasorchester, Op. 41
Hindemith's work Konzertmusik für Blasorchester was written for the 1926 Donaueschingen Music Festival under the patronage of Fürst Fürstenburg. It was premiered on July 24th by the Infantry Regiment No. 14 student military band under the baton of Herman Scherchen, to whom the piece is dedicated. The piece was written to follow one of the themes of the festival, which was military music.
The scoring of Konzertmusik was for a German military band, which calls for more "mellow" brass and fewer woodwinds than the standard concert band. The entire work contains many different musical forms with the opening movement, Konzertante Ouvertüre, being the most complex in terms of harmonic language. It begins with a slow introduction, which develops contrapuntally in the main body of the movement. Secondary melodic material is introduced next, followed by the coda, which ends the movement with the original material.
The climax of the piece occurs in the second movement in which borrowed material appears for the first time. Hindemith uses the popular Austrian folk-song Prinz Eugen, der edle Ritter (Prince Eugen, the Noble Knight), in variation form. He writes six variations of this folk-song, including a funeral dirge in variation V and a fugato in variation VI. The last movement of the piece, Marsch, is in song and trio form.
Carter Pann
Slalom
Slalom was originally written for orchestra in 1998-99 as a scherzo perpetuo. It was to be a chance to flex my orchestration muscle to a degree I had not yet reached. In 2001 conductor John Lynch was seeking to commission a new work for wind symphony, and we agreed that Slalom could make an attractive addition to the repertoire. Arranging the piece for wind symphony has proven my most astute compositional act to date.
Slalom is a taste of the thrill of downhill skiing. The work is performed at a severe tempo throughout, showcasing the orchestra's volatility and endurance. The idea for a piece like this came directly out of a wonderful discovery I made several years ago at Steamboat Springs, Colorado, when I embarked on the mountain-base gondola with a cassette player and headphones. At the time I was treating myself to large doses of Shostakovich's Tenth Symphony and Rachmaninoff's Symphonic Dances. The exhilaration of barreling down the Rockies with such music pumping into my ears was overwhelming. After a few years of skiing with some of the greatest repertoire, it occurred to me that I could customize the experience.
The work is presented as a collection of scenes and events one might come by on the slopes. The score is peppered with phrase-headings for the different sections such as "First Run", "Open Meadow," Champagne Powder", "Straight Down," "TUCK" and "On One Ski, Gyrating " among others. In this way Slalom shares its programmatic feature with that of Richard Strauss' Alpine Symphony. The similarities end there, however, for Slalom lasts ten minutes … precisely the amount of time I need to get from Storm Peak (the peak of Mt. Werner, Steamboat Springs) to the mountain base, skiing full throttle.
Program Note by Composer
About the Artists
Allan McMurray
Allan McMurray is an internationally acclaimed artist conductor, teacher, author and collaborator. He has conducted professional orchestras, ballet, opera and contemporary chamber ensembles, but it is his passion for wind music and the teaching of conducting that has inspired the majority of his artistic career.
As Professor of Conducting Emeritus and Distinguished Professor at the University of Colorado, Allan McMurray has been recognized as one of the leading teachers of wind ensemble and conducting in the world. In demand as a visiting artist, he has guest conducted and taught conducting in over 200 colleges and universities internationally.
During his 35 year tenure at Colorado, Professor McMurray founded the Masters and Doctorate degrees in Instrumental Conducting and annually hosted an internationally acclaimed symposium for collegiate conductors. With the CU Wind Symphony, he also produced commercial recordings featuring composers Carter Pann, Daniel Kellogg and Frank Ticheli and soloists Jennifer Bird, Patrick Mason and the Takacs String Quartet.
An enthusiastic advocate of new music, Professor McMurray has commissioned and premiered numerous compositions for winds and chamber ensembles, receiving praise from such notable composers as Pulitzer Prize recipients Michael Colgrass, George Crumb, John Harbison, Karel Husa, Gunther Schuller and Steven Stucky. McMurray also published a set of three DVDs on the teaching of conducting including a collaboration with Frank Ticheli exploring the relationship between composer and conductor.
Professor McMurray is past president of the College Band Directors National Association and is a recent recipient of CBDNA's prestigious Lifetime Achievement Award. He has also received numerous other professional honors and awards including the Bohumil Makovsky Award from Kappa Kappa Psi, and the Distinguished Artist in Classical Music Award from California State University at Long Beach. In 2005 he was honored by the board of regents at the University of Colorado with the designation as Distinguished Professor for his achievements in the field of conducting pedagogy.
Michaela Kelly
Michaela Kelly, soprano, is a doctoral candidate and graduate teaching assistant at the University of Southern California, Thornton School of Music. Currently, Michaela is on faculty as a visiting professor of voice at Scripps College in Claremont, CA. Michaela will sing as a soprano soloist for the Bach Christmas Oratorio with I Cantori di Carmel and has recently participated in the MN Duo program at Source Song Festival. Previously, Michaela sang the role of Blanche in Dialogues of the Carmelites by Poulenc with the New England Conservatory Opera Theater. While at NEC, she performed as a soprano soloist in Die Schöpfung with NEC chorus and orchestra in Jordan Hall and performed on three Liederabend recitals at NEC as an inaugural member of the art song intensive, "SongLab." Michaela holds a Bachelor's of Music Education from the University of North Carolina at Greensboro and a Master's of Music in Vocal Pedagogy from the New England Conservatory. Michaela is a student of Elizabeth Hynes.
Text & Translations
II. "First Lesson"
by Philip Booth
Lie back, daughter, let your head
be tipped back in the cup of my hand.
Gently, and I will hold you. Spread
your arms wide, lie out on the stream
and look high at the gulls. A dead-
man's float is face down. You will dive
and swim soon enough where this tidewater
ebbs to the sea. Daughter, believe
me, when you tire on the long thrash
to your island, lie up, and survive.
As you float now, where I held you
and let go, remember when fear
cramps your heart what I told you:
lie gently and wide to the light-year
stars, lie back, and the sea will hold you.
"First Lesson" from LIFELINES by Philip Booth,
published by Viking Penguin, a division of Penguin Group (USA), Inc.
Copyright © 1999 by Philip Booth.
Used by permission of the Philip Booth Family Trust.
III. "Prayer for a Marriage"
by Steve Scafidi
When we are old one night and the moon
arcs over the house like an antique
China saucer and the teacup sun
follows somewhere far behind
I hope the stars deepen to a shine
so bright you could read by it
if you liked and the sadnesses
we will have known go away
for awhile—in this hour or two
before sleep—and that we kiss
standing in the kitchen not fighting
gravity so much as embodying
its sweet force, and I hope we kiss
like we do today knowing so much
good is said in this primitive tongue
from the wild first surprising ones
to the lower dizzy ten thousand
infinitely slower ones—and I hope
while we stand there in the kitchen
making tea and kissing, the whistle
of the teapot wakes the neighbors.
"Prayer for a Marriage" from SPARKS FROM A NINE-POUND HAMMER
Copyright ©2001 by Steve Scafidi. Permission courtesy of Louisiana State University Press.
Ensemble
Flute
Chloe Descher
David Ramirez
Ellen Cheng
Emily Harrington
Hyojin Park
Jeongwon Bae
Julia Kwon
Sylvia Ettinger
  
Oboe
Chase Klein
Jingming Zhao
Lauren Breen
Monica Song
Neil Cole
Sara Petty
  
Clarinet
Bram Schenck
Chanul Kim
Elad Navon
Heesoo Kim
In Soo Oh
Melissa Frisch
Ray Wyant
Victor Martinez Jara
Yan Liu
  
Bassoon
Daniel St. John
Ingrid Hernandez
John Gonzalez
  
Saxophone
Aria Morgan
Christian Ross
Collin Juniper
Josh Hebert
Junwen Jia
Wyatt Grose
Horn
Caleb Durant
Jean Smith
Joe Oberholzer
Kathy Yang
Rachel Lauson
  
Trumpet
Amy Millesen
Ben Gunnarson
Emily Nastelin
Kobe Sampson-Davis
Logan Anderson
Lucca Cidale
  
Trombone
Alex Melzer
Kevin Truong
Raymundo Vizcarra
Stephen Hannan
Terry Cowley
  
Euphonium
Arisa Makita
  
Tuba
Alan Lu
Derek Zimmerman
Patrick Zhang
  
Percussion
Austin Cernosek
Dominic Grande
Jeremy Davis
Luciano Valdes
Michael Dehan
Preston Spisak
Zoe Beyler
  
String Bass
Sarah Wager
  
Piano
Angela Lin
Seoyon MacDonald
  
Harp
Carter Williams
Sarah Hsiao