USC Thornton Apollo Chorus and Oriana Choir Concert Program
The USC Thornton Apollo Chorus and Oriana Choir present a program of choral music, "Toward the Light: Journeys of Hope and Praise."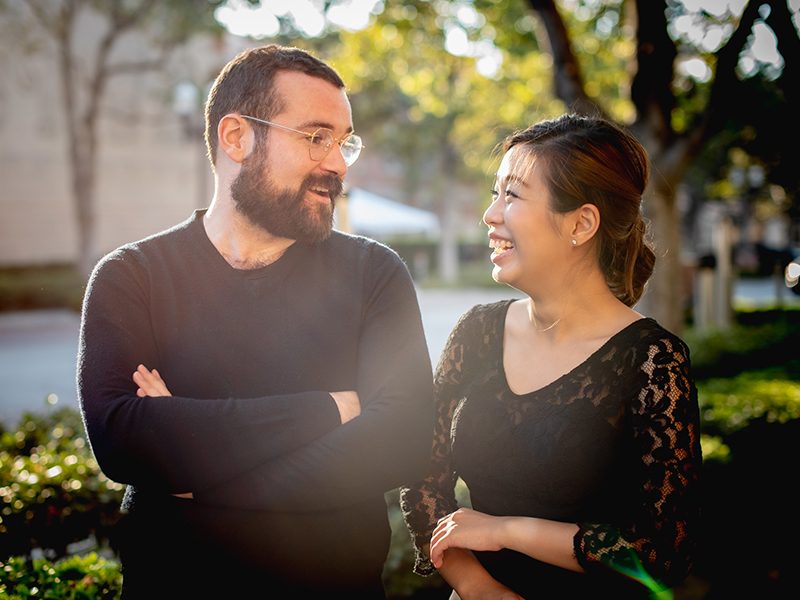 Program
Media Vita
   Ann Chen, conductor
Notker Balbulus
arr. Michael McGlynn
Lake Isle of Innisfree
   Ann Chen, conductor
Circa Mea
   Michael Raleigh, conductor
Love is Here to Stay
   Connor Scott, conductor
Got a Mind to Do Right
   Michael Raleigh, conductor
Spiritual
arr. David Morrow
Shenandoah
   Michel Raleigh, conductor
Sea Chantey
arr. Paul Basler
Mother O' Mine (premiere performance)
   Ann Chen, conductor
Ikan Kekek
   Connor Scott, conductor
Traditional Malay
arr. Yu Hang Tan
Lauliku Lapsepoli
   Ali Sandweiss Hodges, conductor
   Reagan Arvidson, Jessica Lyu, Jiamu Tao and Ivy Xu, soloists
Magnificat
   Ali Sandweiss Hadges, conductor
   Eric Cheng, violin
   Vikram Iyer, violin
   Prosper Luchart, viola
   Madelynn Bolin, cello
"Wir eilen mit schwachen, doch emsigen Schritten" from Jesu der du meine Seele
   Shijia Ye, conductor
   Ann Chen and Kyra Stahr, soloists
   Madelynn Bolin, cello
Red Wall Sigh
   Shijia Ye, conductor
Cantate Domino
   Shijia Ye, conductor
Singkap Siaga
   Kyra Stahr, conductor
   Shijia Ye, soloist
Ta Na Solbici
   Kyra Stahr, conductor
   Cristian Grases, percussion
Still I Rise
   Ali Sandweiss Hodges, conductor
   Angelica Brooks, Bowen Leng and Alex Flores, soloists
Program Notes
Media Vita – Notker Balbulus, arr. by Michael McGlynn (Ann Chen, conductor)

Born in 1964 in Dublin, Ireland, Michael McGlynn writes music combining elements of modality and contemporary compositional practices with Irish spirit. McGlynn specializes in the composition of music for voices and his extensive output includes a number of pieces that have entered the standard repertoire of choirs and vocal ensembles all over the world. His settings of Irish language texts in particular fuses modality, alternating time signatures and medieval tonal colors in a unique fashion that is instantly recognisable as his work. The best known of these include Dúlamán, Geantraí (1995), Incantations (1989), Hinbarra (1994) and Éirí na Gréine (1990).

McGlynn founded the choral ensemble ANÚNA 1987 and in 2018 he founded M'ANAM. In 2017, he was the recipient of the University College Dublin Alumni Award in Arts/Humanities and was visiting Eminent Scholar at the Music Department of Florida Atlantic University (2011-2013). In 2019 he became part of the UCD Creative Fellows. He was Artistic Director of the Tampere Vocal Festival (2021) and in 2022 was invited to give a presentation on the genesis of his compositions at the Nordic Choral Directors Conference in Reykjavík. He will be presenting at the World Symposium on Choral Music 2023 in Istanbul representing Ireland and Iceland.

http://www.michaelmcglynn.com/

Drawing upon a range of ancient, modern and international influences, McGlynn created an original art form, fresh and unmistakably Irish in spirit. For his setting of Media vita, McGlynn has drawn upon medieval Irish sources for both text and melody. The melody is written by the monk Notker in the 10th century, "a pilgrim reflects on his life and thinks ahead to death, expressing the fear of collapse and hope for transcendence through salvation (Robert Istad)."

Lake Isle of Innisfree – Eleanor Daley (Ann Chen, conductor)

Eleanor Daley (b. 1955) is a notable female Canadian composer, church choir director, and collaborative pianist. Born in Parry Sound, Ontario, Daley received her Bachelor of Music Degree in Organ Performance from Queen's University in Kingston, Ontario and holds diplomas in piano and organ from the Royal Conservatory of Music, Toronto and Trinity College, England. She has been the Director of Music at Fairlawn Heights United Church in Toronto, Ontario since 1982. During her years as a music director, she composed numerous introits, anthems, quartets, and solos. A prolific composer, she has also been commissioned extensively throughout Northern America. In 1991, Eleanor Daley was the recipient of three first place awards in the Amadeus Choir Carol Competition

Daley composed the piece for Eileen Baldwin and her St. Mary's Children's Choir with setting of a poem by Irish poet William Butler Yeats (1865–1939). The poem expresses the poet's longing to move away from the city and live alone in a peaceful lakeside cabin, listening to the buzz of bees in his garden and the lapping of the lake on the shore, while admiring the glimmer of the lake at midnight and a purple glow at noon. Daley's music, opening in unison with a powerful melody, and using 3-part choral harmony as the text portrays the different sceneries of Innisfree. The piano part mirroring the words guiding the audience between each stanza and phrases from the choir. Daley's setting of the poem retains the integrity of the poetry and captures the expression in which Yeats portrayed.


Circa mea – Mark Burrows (Michael Raleigh, conductor)

Mark Burrows (b. 1971) is a composer, conductor, and educator whose music is published by many major houses. Mark's works are featured on numerous state and festival lists, and he receives multiple commissions each year for groups ranging from children's choirs to adult ensembles to intergenerational festival choirs. As a conductor and educator, Mark serves as a guest clinician with honor and festival choirs throughout the country. Mark received his undergraduate degree in music education from Southern Methodist University and his graduate degree in conducting from Texas Christian University.
https://lorenz.com/composers-and-authors/meet-our-composers/mark-burrows

Carmina Burana is probably best known as a work by Carl Orff; however, the text predates Orff by at least 700 years. In his original composition, Burrows sets a short Latin excerpt from a macaronic love poem in Carmina Burana. Burrows' composition was originally voiced for 4-part mixed choir, percussion, and solo; Burrows later created an edition on commission from the Sacramento Gay men's Chorus for TTBB ensemble with solo and percussion. The work is divided into three sections, with the first being an extended solo over a choral drone, then Burrows creates contrast between sections with his uses of homophony and polyphony and by his inclusion and exclusion of percussion.


Love is Here to Stay – Walter L. Pelz (Connor Scott, conductor)

A renowned composer, choral director, organist and educator, Dr. Walter Pelz (b. 1926) regularly performs recitals, dedications, and hymn festivals and appears as a clinician for organ and choral workshops throughout the United States. He has composed several hundred compositions including verses and offertories, anthems, solos, cantatas, hymns, choral symphonies, and organ works—many with instruments. He is affiliated with nine publishers. Most of his compositions are the result of commissions from colleges, churches, publishers, corporations, and private individuals. Several of his hymn tunes and harmonizations are included in recent hymnal supplements. A native of Chicago, Pelz studied organ at the American Conservatory of Music while attending and receiving his undergraduate degree from Concordia Teachers College—now Concordia University Chicago—in River Forest, Illinois. He received his master's degree in organ and church music from Northwestern University. His doctorate in theory and composition was from the University of Minnesota where his organ instructor was Heinrich Fleischer and his composition instructors were Paul Fetler and Pulitzer-prize-winner Dominick Argento.

A simple tune in the key of C Major unfolds verse after verse into a glorious anthem that pleads, begs, soothes, and comforts. Through all of life's highs and lows, ups and downs, we can always have one thing: love. Love of a mother to a son, or a father to a daughter, a best friend, a life partner; the message is the same. Listen for how Pelz utilizes the main tune in the succeeding verses to accompany the poem's variations. The final verse, on the return to the initial key, pleads in a grand style that most important tenet of love: "O stay by me."


Got a Mind to Do Right – Spiritual, arr. by David Morrow (Michael Raleigh, conductor)

David Morrow is conductor, composer, and arranger hailing from Rochester, NY. He serves as conductor of the Morehouse College Glee Club and Academic Program Director for Music and Theater and Performance at Morehouse. He also serves as Director of the Wendell P. Whalum Community Chorus, Co-Director of the Morehouse-Spelman Chorus, and Artistic Director and Conductor of The Atlanta Singers. Morrow graduated Valedictorian from Morehouse College with his BA, and subsequently earned his Master of Music at the University of Michigan and his Doctor of Musical Arts degree at Cincinnati College Conservatory of Music. While at Morehouse, Morrow sang under Wendell P. Whalum, eventually taking over as conductor in 1987. Morrow's compositions and arrangements are published with Alfred Music Publishers, Oxford Music and GIA music publishers.
https://chorusamerica.org/node/9061
https://morehouse.edu/david-morrow-dma/

"Got a Mind to Do Right" is David Morrow's 1986 arrangement of the spiritual of the same name, originally published by Lawson-Gould. The arrangement is dedicated to his teacher and colleague, Wendell Whalum, and to the Morehouse College Glee Club, the ensemble he began leading the very next year. Printed below the title of the piece on the score are the words "For Four-Part Chorus of Men's Voices." Morehouse College is a Historically Black Men's College, and looking at this piece through a lens of masculinity presents a powerful statement. The arrangement is based on a strophic song with five verses. In each verse, only one word changes. "Got a mind to do right" turns into "got a mind to sing right," then "pray right," "live right," and at the climax of the piece "love right." Morrow varies the texture and dynamics throughout his arrangement, which prepare an emotional, climactic final statement in which a "chorus of men's voices" sings forte that they have a duty to love right every day. What does that statement in that context offer to the concept of masculinity?


Shenandoah – Sea Chantey, arr. by Paul Basler (Michael Raleigh, conductor)

Paul Basler is Professor of Music at the University of Florida where he has been on the faculty since 1993. Prior to his appointment at UF, he served as the Fulbright Senior Lecturer in Music at Kenyatta University in Nairobi, Kenya, taught at Western Carolina University, and was the North Carolina Visiting Artist in Residence at Caldwell Community College. Basler is a frequent guest performer, lecturer, and composer at national and international music festivals, horn society workshops, and educational institutions. He has been a member of the Brevard, Charleston, Valdosta, Greenville, and Asheville Symphonies and continues to maintain a busy performing schedule throughout the United States and abroad. Basler's compositions have been performed throughout the world and have received performances at Carnegie Hall, the Disney Concert Hall in Los Angeles, the Festival Internacional de Música de Cantonigròs, Chicago's Orchestra Hall, the Llangollen International Musical Eisteddfod, the Kennedy Center, the Sydney Opera House, Lincoln Center, and by the Shanghai Symphony Orchestra.

The American folk song "Shenandoah" is of uncertain origins. The current popular form is as a Sea Chanty, which evolved in the 19th century. Blaser's arrangement for 3-part tenor-bass choir and piano sets three verses of the song. The use of unison singing and close harmony throughout the arrangement compliments the melody's diatonicism and vocal range. Blaser's arrangement begins in a quiet unison, and builds in harmonic complexity through the second verse. The final verse begins in a strong unison, which quickly splits into two and then three parts. The second half of the verse condenses into two parts, and the lower part crosses above the melody line on the final iteration of "I'm bound away," eventually settling below the melody again.


Mother O' Mine – Aidan Vass, Premiere Performance (Ann Chen, conductor)

Aidan Vass (b. 2003) is a Los Angeles based composer. He is a three-time YoungArts winner for classical composition, a finalist for the ASCAP Morton Gould Award, and a first place winner in the MTAC Composers Today competition. He was one of the Nancy and Barry Sanders' Composer Fellows with the Los Angeles Philharmonic from 2018-2021. Vass has written music for ensembles such as the Los Angeles Philharmonic, Sandbox Percussion, Seraphour, and Nu Deco Ensemble, and he has independently released a catalog of music including a full length debut solo piano album (8 Sketches for Piano, 2021). He is published with Santa Barbara Music Publishing and Hal Leonard, and his music has been featured on publications such as The Violin Channel, VoyageLA, and others.

https://aidanvass.com/

Composer's Note:
Mother O' Mine, set to the poem by Rudyard Kipling (1865-1936), aims to celebrate the deep and abiding bond between mother and child. As I started writing the piece, I wanted to write something that reminded me of my mother as an individual; her strength, her care, and how she inspires me every day. But as I wrote the piece, I realized that the music was more about our relationship and the impact for a son to have a mother that he can look up to for guidance whenever he needs it. This realization I had is what Mother O' Mine is about – it's a piece about a child who learns of the gift his mother really is to him.


Ikan Kekek – Traditional Malay, arr. by Yu Hang Tan (Connor Scott, conductor)

From Malaysia, Yu Hang Tan (he/him) is a DMA candidate in Choral Music from the University of Southern California (USC). Before moving to Los Angeles, Yu Hang was an active member of the Atlantic Canada choral scene, where he directed the St. Augustine's Choir and St. John's Gospel Choir; co-directed the Memorial University of Newfoundland Choirs, Atlantic Boychoir, and Cantus Vocum Chamber Choir. Performing, working, and presenting nationally and abroad, Yu Hang is an alumnus of the 2022 EuroChoir and the 2018 and 2020 World Youth Choir, past project manager of the International Federation for Choral Music's (IFCM) Shanghai Cooperation Organisation Countries' Youth Choir, and has presented his research on Southeast Asian choral music at major conferences and universities such as the 2022 World Choral Expo, 2022 Western Division ACDA, and Princeton University. Yu Hang is currently an adjunct faculty at the California State Polytechnic University, Pomona teaching Choral Arranging and co-artistic director of Suara, a choir dedicated to choral music from Southeast Asia hosted by the USC Thornton Department of Choral and Sacred Music, and music director of the Ebell of Los Angeles Chorale. In April 2023, Yu Hang will present at the World Symposium on Choral Music in Istanbul, Turkey.

Ikan Kekek is a Malay folk song about ponyfish. As with many other Southeast Asian folk songs, Ikan Kekek's melody is short and it is made up of only four notes: do, re, mi, sol. Despite the simplicity and repetitiveness of the melody, this song is brought to life by the indirect expressions and metaphors in this pantun (poem). Pantun is a disjunctive form of poetry that comes in two parts: the first two lines being the pembayang (shadow) that usually connects to the isi (the heart of the message) by rhymes and verbal associations. In this pantun, different types of fish ("ikan") are symbols of the simple joys in everyday life that link to the main message: "let's go home together, my dear younger brother/sister." ("nanti adik mak iloi iloi, pulang sama mak ilai ilai")

Arranged during the pandemic for a group of singers who were bored of staying at home, the two verses selected in this arrangement were intended to remind ourselves to not forget to keep searching for beauty and magic in everyday mundane life–let it be discovering the stripes on a herring ("ada satu ikan parang, badannya panjang berbelang-belang") or taking a moment to share a tasty recipe with your friends and family ("sedap dimakan kalau masak
pindan").

Program notes by Yu Hang Tan from the published octavo


Lauliku Lapsepoli – Veljo Tormis (Ali Sandweiss Hodges, conductor)

Veljo Tormis (1930-2017) was one of the most important and celebrated Estonian composers of the 20th century and was particularly well known for his robust body of choral works. Though he was influenced by the composers of the previous generation who used folk melodies as material for the traditional classical style, Tormis found his excellence in preserving the original source material (the ancient Estonian song, or regilaul) in choral settings. He supports the original regilaul in text, tune, and structure while fusing it with a late 20th century musical framing.

Lauliku Lapsepoli (The Songster's Childhood) was composed in this style as part of a larger set, Songs of Singing and the Songster. The text of these traditional Estonian regilaul are single lines of eight syllables, alternating stressed and unstressed syllables, which the audience will hear as one melodic line continuously repeated. In this particular arrangement, the regilaul is sung exclusively by the soloists, who present it in its original form. The poetry of Lauliku contains folklore describing how a singer might learn their songs, by being placed in a meadow as a baby, cradled and serenaded by singing birds. In his devotion to Estonian folk culture, that is how Tormis sets it – the soloists as the child and the choir as the musical hum of the forest. As the soloists tell the story, the choir grows gradually from two parts to six. As they expand, so does the harmony, combining a feeling of harmonic stasis with an ever-changing palette of tonal color. Whe poetry comes to a close the choir recombines itself into fewer and fewer parts until the song ends as it began: with a single voice.


Magnificat– Nick Strimple (Ali Sandweiss Hodges, conductor)

Dr. Nick Strimple (b. 1946) is a composer, conductor, and scholar, currently in his twenty-seventh and final year on faculty in the Thornton School of Music at the University of Southern California. He is a leading expert on Czech and Jewish music, and his publications include Choral Music in the 19th Century and Choral Music in the 20th Century. Dr. Strimple is recognized internationally for his work with music related to the Holocaust and currently serves as vice president of the David Nowakowsky Foundation, artistic director of the annual Los Angeles Interfaith Symposium and Concert, director of the Los Angeles Zimriyah Chorale, and sits on the Advisory Boards of the Jewish Music Commission of Los Angeles and the Aminadav Aloni Music Foundation. His two Christmas Cantatas were recently recorded by the London Symphony Orchestra and are available on all streaming platforms.

The Magnificat, or the Song of Mary, is a text that has been set to music for centuries by countless composers – it is a staple of Christian services of several denominations, but composers are also drawn to the expressive qualities of the text, which is all at once humble ("he has filled the hungry with good things..") and revolutionary ("…and the rich he hath sent empty away"). What makes Dr. Strimple's setting special is its deceptive simplicity. The richness of the harmonic language and the textural tapestry he weaves would lead you to believe you're hearing a song in three or four parts, when there are actually only two (soprano and alto). The meter regularly shifts to accommodate the natural inflection of the text, helping the melody to feel spoken as well as sung. This piece is "through-composed" – there are no repeated sections – which allows the music to flow as though it's simply a story being told.


"Wir eilen mit schwachen, doch emsigen Schritten" (We hasten with eager yet faltering footsteps) – Johann Sebastian Bach (Shijia Ye, conductor)

Johann Sebastian Bach (1685-1750) is one of the most well-known and influential composers of the Baroque era. Born into a musical family, he was exposed to the greatest composers of the time. After leaving school in 1703, Bach found employment at his first major position, the court of Duke Johann Ernst III serving as the chapel organist. During his tenure, he wrote several of his earliest cantatas, including Christ lag in Todesbanden (BWV 4) and Der Herr denket an uns (BWV 196). In 1717, Bach was hired as the kapellmeister (chapel choir director) for Prince Leopold's court in Köthen. Some of his important output during these years include: the Cello Suites (BWV 1007-1012) and the Brandenburg Concertos (BWV 1046-1051). Six years after his appointment in Köthen, Bach was appointed as Cantor of the Thomaskirche in Leipzig following the death of Johann Kuhnau in 1722. In Leipzig, Bach composed his most well- known and important choral works including the Magnificat (BWV 243), five cycles of church cantatas, Matthäus-Passion (BWV 244), and Johannes-Passion (BWV 245). Bach's Johannes-Passion is one of his most popular, frequently performed and well-known works.

"Wir eilen mit schwachen, doch emsigen Schritten" is the second movement of Bach's Church Cantata BWV 78 Jesu der du meine Seele. Bach composed this work for the 14th Sunday after Trinity and the premiere of this cantata was September 10 in 1724. The words of the cantata were set by Johann Rist (1607-1667) in twelve stanzas and the poetry of seven movements was written by an unknown librettist. This movement uses delicate melismas, punctuated with repeated rhythms, to depict the scene of an eager crowd asking Jesus for help. The lively phrasing in the accompaniment illustrates the people's joy in seeing the benevolence of Jesus. Although this movement is a duet written for soprano and alto, it is also very suitable for treble choir. In this performance, we will use both solo duet and chorus to present this work.


红墙叹 Red Wall Sigh – Kui Wen, ed. Se Zhao, arr. Yuchuan Wen (Shijia Ye, conductor)

Yuchuan Wen (b.1985) is a composer, pianist, and one of the permanent conductors of the Beiyang Choir. He was born in Shenyang, Liaoning. He studied piano since he was a child. He studied under the professors of several conservatories in China and was carefully guided by Professor Valentin of the Odessa National Conservatory of Music in Ukraine. As a pianist, Wen held many solos and chamber music concerts. His performance style is sensitive and devoted, with comprehensive technique and perfect sense of balance, and his interpretation of music is unique and in-depth. While Wen studied choral conducting with Professor Baoping Ren and Professor Buxi Zhu, he devoted himself to the creation and adaptation of choral music. In recent years, his works have repeatedly won awards in Chinese chorus competitions. His representative works include 彩色锦鲤(Colorful Koi), 嘎拉温(Galawen), 迢迢牵牛星(Altair Far Away), 陌上桑(Moshangsang), 大鱼(Big Fish), and so on. Wen was also invited to serve as the art director of several choirs, including the Shanghai Spring Youth Choir, the Tsinghua University Chorus, and the Sun Yat-Sen University East Campus Chorus.

红墙叹(Red Wall Sigh) is a popular song of the Chinese TV series, Story of Yanxi Palace. It is composed by Kui Wen, edited by Se Zhao, and the lyrics are by Yaoguang Wang. This song tells a story about the fate of women during the Qing Dynasty in ancient China. Under ancient imperial power in China, all the women in the imperial palace belonged to the emperor and had no right to decide their own lives. This song can be understood in two ways. The first is about the woman who is forced to become one of the emperor's many concubines. Even though she has a lover in her heart, she can only stare at the red bricks of the deep palace day after day, expressing her expectations for the lover and sighing about the fate she cannot control. In the second interpretation, the woman, as one of the concubines of the emperor, waits for the emperor's arrival day by day in the palace and can survive only by pleasing the highest power all her life. The poignant melody is driven by the lyrics, with one voice part as the main narrative role, and the other voices imitating sighs and cries to portray the woman's feelings and the atmosphere of the moment.


Cantate Domino – Heinrich Schutz, arr. Nancy Grundahl (Shijia Ye, conductor)

Heinrich Schütz (1585-1672) was an early Baroque composer and organist. Born in Dresden, he grew up as a choir boy in the court church of the Landgrave Moritz in Kassel. He was considered the most important German composer before Bach and was credited with bringing the Italian style to Germany. Schütz had a great influence on several prominent composers in later centuries, including Anton Webern (1883-1945) and Johannes Brahms (1833-1897). Schütz studied organ and theory with the Renaissance composer Giovanni Gabrieli (1554–1612) in Venice from 1609 to 1612, and he spent the rest of his life mainly in Dresden. He was a master composer of the Venetian-trained counterpoint and polychoral styles, and also experimented with the simpler four-part harmonic setup in the German translation of the Psalter. His output is dominated by sacred vocal works, including many accompanied and unaccompanied collections scored for different voicings. In 1628, Schütz left the court chapel in Dresden to study what was considered a new operatic style with the Italian composer Claudio Monteverdi (1567-1643). Schütz incorporated this new style into his first volume, Symphoniae Sacrae (1629), which contained 20 Latin settings for one to three voice parts, instruments, and continuo. A prolific composer, his representative works include Dafne, Psalmen Davids, and Cantiones Sacrae.

Nancy Grundahl (b.1946) is the conductor of three choirs in the Minneapolis area: The Angelica Cantanti Concert Choir (a youth choir), the Riverside Singers of Augsburg College (a women's choir), and the Mayflower Church Adult Choir where she also serves as the Director of Music. Many of her compositions and arrangements for these SSA and SATB choirs have been published. Her work with choirs draws upon her experience as a solo singer and voice teacher. She received vocal performance degrees from St. Olaf College and the University of Minnesota and has appeared as a soprano soloist in recitals, concerts, and oratorios throughout the area. She is active as a vocal adjudicator and clinician and as a guest conductor for state and regional choral festivals. (https://sbmp.com/ComposerPage.php?ComposerNum=0176)

Cantate Domino is arranged by Nancy Grundahl for piano accompaniment and treble voices, based on Schütz's Cantate Domino SWV463. The opening uses three voices in polyphonic form, like Schütz, but sets the main lyrics in longer phrases. The relatively shorter second part uses different lyrics and a triple beat, connecting to the beautiful and coherent third part. The last part uses contrapuntal figures to emphasize the word "salvavit" (save), and the scales in the melody echo the opening melody of Schütz. The work as a whole is concise and brisk without losing interest. It has its own color as well as the characteristics of early music.


Singkap Siaga – Tracy Wong (Kyra Stahr, conductor)

Dr. Tracy Wong (b. 1985) hails from Malaysia and is a choral conductor, music educator, composer, vocalist, and pianist. Dr. Wong is passionate about helping choral educators to provide unique experiences for their students through collaborative commissions, customized workshops, festivals, and artist residencies. She has conducted workshops for choirs in North America and internationally. Her choral works are available on Cypress Choral Music (Canada), Graphite Publishing (US), and Young Choral Academy (Malaysia). They have been performed by choirs at international competitions and festivals. (From the composer's website: tracywongmusic.com)

Singkap Siaga was commissioned in 2020-21 by Sonic Timelapse Project and members of its Conductors Commission Club. Dr. Wong wrote the piece after reading and absorbing the content submitted by choral communities in Canada who were experiencing the COVID-19 pandemic. The piece is based on Dr. Wong's own experiences as well as inspired by those submissions. The piece is inspired by a Malay tradition of shadow puppet theatre and its music called Wayang Kulit Kelantan. The artform inspired Dr. Wong to contemplate the concepts of light and shadow, choosing to see them as equal in beauty, as opposed to one good and one evil. The piece is rhythmic, fiery and energetic.

Singkap (to open, to reveal, quick change)
Siaga (ever ready)

The piece is 5% text and 95% vocables, based on the pre-existing vocal equivalent of the stylings and tone of the traditional instruments used in the Wayang Kulit Kelantan shadow puppet theatre practice – gong, dak, ding, dong, tsak, tsng. The rhythmic elements and patterns are also inspired by the music accompanying the Dewa Panah scene. (From the composer's website: tracywongmusic.com)


Ta Na Solbici – Samo Vovk (Kyra Stahr, conductor)

Samo Vovk (b. 1989) is a self-taught musician who works as an arranger, composer, singer and guitar/bass player. He writes for many a cappella groups and choirs, but also has a few instrumental compositions. Vovk collaborates with the Slovenian a cappella choir Perpetuum Jazzile as an arranger, producer, singer, and member of the musical leadership team. He wrote the ensemble's a cappella arrangements for the Disney Awards 2015 in Paris. Vovk composed Ta Na Solbici for the Carmen Manet choir, which won the first ever Eurovision Choir choral competition in 2017 held in Riga, Latvia.

The story, in general, is about a wedding in a very special place, Resia (home to an indigenous South Slav people who speak a dialect of the Slovene language, known as Resian, and are officially considered part of the Slovene minority in Italy, on the Slovenian/Italian border). The inhabitants have a very strong tradition, language and connection with nature. They also have unique musical elements (guttural singing, hitting the floor with the feet, lyrics about nature, people and customs). The lyrics describe a wedding in the village of Stolvizza (Solbica), where wedding guests dance so hard that they drown out the sound of church bells and the river Bila. The dancing became so loud that it echoed from the mountain Kanin (Höra Ćaninawa). The lyrics are written in an enhanced and exaggerated way that is typical of Slovenian folk music. Lyrics are written in the unique Resian language. The composition also represents the "wedding" of traditional and modern musical elements (more complex rhythm, chords, added claps, etc.). (From the composer's notes)


Still I Rise – Rosephayne Powell (Ali Sandweiss Hodges, conductor)

Rosephanye Powell (b. 1962) has been hailed as one of America's premier women composers of solo vocal and choral music. She has an impressive catalog of works published by some of the nation's leading publishers and is commissioned yearly to compose for prominent choruses around the country, including Cantus and Chanticleer. She has received numerous awards, including the "Living Legend Award" presented by the California State University African Diaspora Sacred Music Festival. In addition to her full composition schedule, Dr. Powell currently serves as Professor of Voice at Auburn University.

Still I Rise was commissioned by L.A.'s own Vox Femina women's choir, founded and directed by USC visiting faculty member Dr. Iris Levine. The text, written by Powell, was inspired by the poem of the same name by Maya Angelou. According to the composer, it is a women's anthem, saluting the strength of women to persevere through life's difficulties. Though a woman's life or past may be filled with tears and heartache, with each day that she finds herself still living, she finds that she has grown stronger and has risen a little higher because her circumstances have not overcome her. Although it is a universal song in its faith, Still I Rise delivers its message of optimism in a gospel musical style, featuring syncopated rhythms, improvisational solos, and high energy delivery. The USC Thornton Oriana Choir is grateful to the leadership of USC alumnus and gospel expert E.J. Harrison, who visited the class to offer his expertise and encouragement on this piece thanks to the generosity of The Voices Fund.
Text & Translations
Media Vita

Media vita in morte sumus
Quem quaerimus ad iutorem nihi site domine
Qui pro peccatis nostris
Sancte Deus, sancte fortis
Sancte misericor salvator
Amare mortis ne tradas nos
In te speraverunt patres nostri
Speraverunt et liberasti eos
Media vita in morte sumus

In the midst of life we are in death
What helper do we seek except you, oh Lord
You who for our sins
Holy God, holy and powerful
Oh holy compassionate savior
Do not give us over to the harshness of death
In you our fathers placed their hopes
They placed their hopes and you freed them
In the midst of life we are in death


Lake Isle of Innisfree – Text by William Butler Yeats (1865–1939)

I will arise and go now, and go to Innisfree,
And a small cabin build there, of clay and wattles made;
Nine bean-rows will I have there, a hive for the honey-bee,
And live alone in the bee-loud glade.
And I shall have some peace there, for peace comes dropping slow,
Dropping from the veils of the morning to where the cricket sings;
There midnight's all a glimmer, and noon a purple glow,
And evening full of the linnet's wings.
I will arise and go now, for always night and day
I hear lake water lapping with low sounds by the shore;
While I stand on the roadway, or on the pavements grey,
I hear it in the deep heart's core.


Love is Here to Stay – Text by Herbert Brokering

O sing to me in town and countryside,
Through winter wind and morning tide:
O sing to me when only tune will say that love is here to stay.
O smile with me in hurt and solitude,
With laughter in the interlude;
O smile with me when only joy will say that love is here to stay.
O run with me by sand and everglade,
Past meadow lark in summer shade;
O run with me when only bird will say that love is here stay.
O stay by me in sun and candlelight,
Through budding spring and autumn night;
O stay by me when only trust will say that love is here to stay.


Mother O' Mine – Text by Rudyard Kipling (1865-1936)

If I were hanged on the highest hill,
Mother o' mine, O mother o' mine!
I know whose love would follow me still,
Mother o' mine, O mother o' mine!
If I were drowned in the deepest sea,
Mother o' mine, O mother o' mine!
I know whose tears would come down to me,
Mother o' mine, O mother o' mine!
If I were damned of body and soul,
I know whose prayers would make me whole,
Mother o' mine, O mother o' mine!


Ikan kekek
Ikan kekek mak iloi iloi
Ikan gelama mak ilai ilai
Nanti adik mak iloi iloi
Pulang sama mak ilai ilai
Ada satu ikan parang
Badannya panjang berbelang-belang
Isinya sikit banyak tulang
Sedap dimakan kalau masak pindan

The ponyfish, mak iloi iloi
The soldier croaker fish, mak ilai ilai
Wait a second, my dear younger brother/sister, mak iloi iloi
Let's go home together, mak ilai ilai
There is a herring
Its body is long and striped
There are more bones than flesh
It tastes good if it is cooked in the style of pindang


Lauliku Lapsepoli

Kui ma ol'li väikokõnõ, (al'leaa)
kas'vi ma sis kaunikõnõ, (al'leea)
ol'li üte üü vannu, (etc)
pääle katõ päävä vannu,
imä vei kiigu kesä pääle,
pan'de hällü palo pääle,
pan'de par'dsi hällütämmä
suvõlinnu liigutamma.
Par'dsil ol'le pal'lo sõnnu
suvõlinnul liia' laalu'
par'ts sääl man mul pal'lo lauli
suvõlindu liiast kõnõli.
Säält mina lat's sis laulu' ope
ul'likõnõ sõna' oasis,
kõik mina pan'ni papõrihe,
kõik mina raiõ ramatuhe.
Selle minol pal'lo sõnnu,
selle laajalt laaluviisi.

When I was very little, (al'leaa)
I grew so prettily, (al'leea)
I was but one night old, (etc)
just two days old,
mother took my cradle to the meadow,
put my crib on the heath,
put a duck to rock the cradle,
the bird of summer to push me.
the duck had many words,
the bird of summer had lots of songs,
the duck sang many songs to me there,
the bird of summer, it spoke to me a lot.
That is where this child learned the songs,
this crazy one [got to] know the words,
all of them I placed on paper,
all of them I hewed into a book.
That is why I have so many words,
that is why I have lots of tunes.


Magnificat

My soul magnifies the Lord and my spirit rejoices in God my saviour,
for he has regarded the lowest state of his handmaiden.
For behold, henceforth all generations shall call me blessed.
For he who is mighty has done great things for me and holy is his name.
And his mercy is on them that fear him from generation to generation.
He has shown strength with his arm.
He has scattered the proud in the imagination of their hearts.
He has put down the mighty from their thrones and exalted those of low degree.
He has filled the hungry with good things and the rich he has sent empty away.
He has helped his servant Israel, in remembrance of His mercy.
As He spoke to our Fathers, to Abraham and to His posterity forever.
Glory be to the Father and to the son, and to the holy Ghost.
As it was in the beginning is now and ever shall be;
world without end, Amen.


"Wir eilen mit schwachen, doch emsigen Schritten"

Wir eilen mit schwachen, doch emsigen Schritten,
O Jesu, o Meister, zu helfen zu Dir.
Du suchest die Kranken und Irrenden treulich.
Ach höre, wie wir
Die Stimmen erheben, um Hülfe zu bitten!
Es sei uns dein gnädiges Antlitz erfreulich!

We hasten with weak, yet eager steps,
O Jesus, O Master, to You to help.
You faithfully seek the ill and erring.
Ah, hear, how we
lift up our voices to beg for help!
Your gracious countenance is joyful to us!


红墙叹 Red Wall Sigh – Text by Yaoguang Wang

紫禁围红墙
情为所居良
断垣涂夕阳
一折旧梦凉
枯叶掩疏窗
谁念秋风凉
怎知流光逝年华
独身寄盼 重门深锁
修得玉色又如何
花待堪折 别问因果
莫等空枝随风落
盼与他
共剪烛西窗下
空惆怅
亦惘然牵挂
谁怜她
谱一生的凄凉
浮华梦一场
琉璃尽结霜
夜泪拭红妆
叹君正此时
与谁结鸳鸯
祸福总无常
唯心难计量
怎奈痴情太痴狂

Forbidden City enclosed by red bricks;
True love confined by royal courts;
Broken ruins painted by the setting sun;
A sad scene of old dreams unfolds.
Wilting leaves over the shuttered window,
who remembers the chill autumn breeze?
Who knew the best years have been lost in time?
Longing for love alone in the gated palace,
So what if youth and beauty are obtained?
Pick the flowers in full bloom and do not worry.
Do not wait so long that the dead twigs fall with the wind.
Yearning to be
with him, trimming the lamp wick,
whispering sweet nothings all night.
Yet her yearnings go on deaf ears,
Leaves only the nostalgia.
Who would pity her?
For her desolate, forlorn, splendid,
Splendid dream of love in life,
In dream.
Frost covers colored glaze,
Tears stream and smear makeup at night's end.
I wonder who you are with at this moment.
Uncertain is the sorrow and joy.
How could a heart be measured?
How could we ever not be in the daze of love?


Cantate Domino

Cantate Domino,
Canticum novum,
Quia mirabilia fecit.
Salvavit, dextera sua,
Et brachio, Sancto suo.

Sing to the Lord
A new song,
Because he did wonders.
He saved with his right hand
And with his arm, to his Saint.


Singkap Siaga

Singkap
Siaga

to open, to reveal, quick change
ever ready


Ta Na Solbici

Ta-na Solbici se poračalo
Ja lo li li le lo le le lo li lo
so nöge na glas tärmale
da so Bilo rizglasnile
Jo lo la li le la – la la li le lo li le lo,
li le lo, jo la la li le
od Ćanїna tintinalo, od
Ćanїna
Ta-na Solbici se poračalo
Ja lo li li le lo le le lo li lo
so nöge na glas tärmale
da so zwun rizglasnile
Jo lo la li le la – la la li le lo li le lo,
li le lo, jo la la li le
od Ćanїna tintinalo, od
Ćanїna
Le la – höra, visoka höra ta
Ćanïnawa

There was a wedding in village Solbica/Stolvizza [typical Resian folk refrains built from these syllables]
feet (nöge) were hitting the floor so loudly that they drowned out the church bell
it was echoing off the mountain Kanin or Ćanїn [a mountain above Solbica village]
There was a wedding in the village Solbica/Stolvizza
feet (nöge) were hitting the floor so loudly that they drowned out the church bell
it was echoing off the mountain Kanin or Ćanїn,
mountain (höra), high mountain of Kanin


Still I Rise

Though I have been wounded; aching heart, full of pain. Still I rise, yes, still I rise.
Jus' like a budding rose, my bloom is nourished by rain. Still I rise, yes, still I rise.
Haven't time to wonder why, though fearful I strive. Still I rise, yes, still I rise.
My prayer and faith uphold me 'til my courage arrives. Still I rise, yes, still I rise.
Still I rise as an eagle, soaring above every fear.
With each day I succeed, I grow strong an' believe
That it's all within my reach; I'm reaching for the skies.
Bolstered by courage, yes, still I rise.
Gentle as a woman; tender sweet are my sighs. Still I rise, yes, still I rise.
Strength is in my tears and healing rains in my cries. Still I rise, yes, still I rise.
Plunging depths of anguish, I determine to strive. Still I rise, yes, still I rise.
My prayer and faith uphold me 'til my courage arrives. Still I rise, yes, still I rise.
Though you see me slump with heartache; heart so heavy that it breaks.
Be not deceived I fly on birds' wings, rising sun, its healing rays.
Look at me, you see a woman; gentle as a butterfly.
But don't you think, not for one moment, that I'm not strong because I cry.
By pray'r an' faith, still I rise.
Yes, it's all within my reach; I'm reaching for the skies,
Bolstered by courage, yes still I rise,
Yes it's all within my reach; I'm reaching for the skies,
Higher and higher, yes, still I rise.
Yes it's all within my reach; I'm reaching for the skies,
Yes, still I rise!