USC Thornton Apollo Chorus & Oriana Choir
October 27, 2023
8:00 p.m.
The USC Thornton Apollo Chorus and Oriana Choir perform highlights from the choral literature for low-voice ensemble and treble chorus, respectively.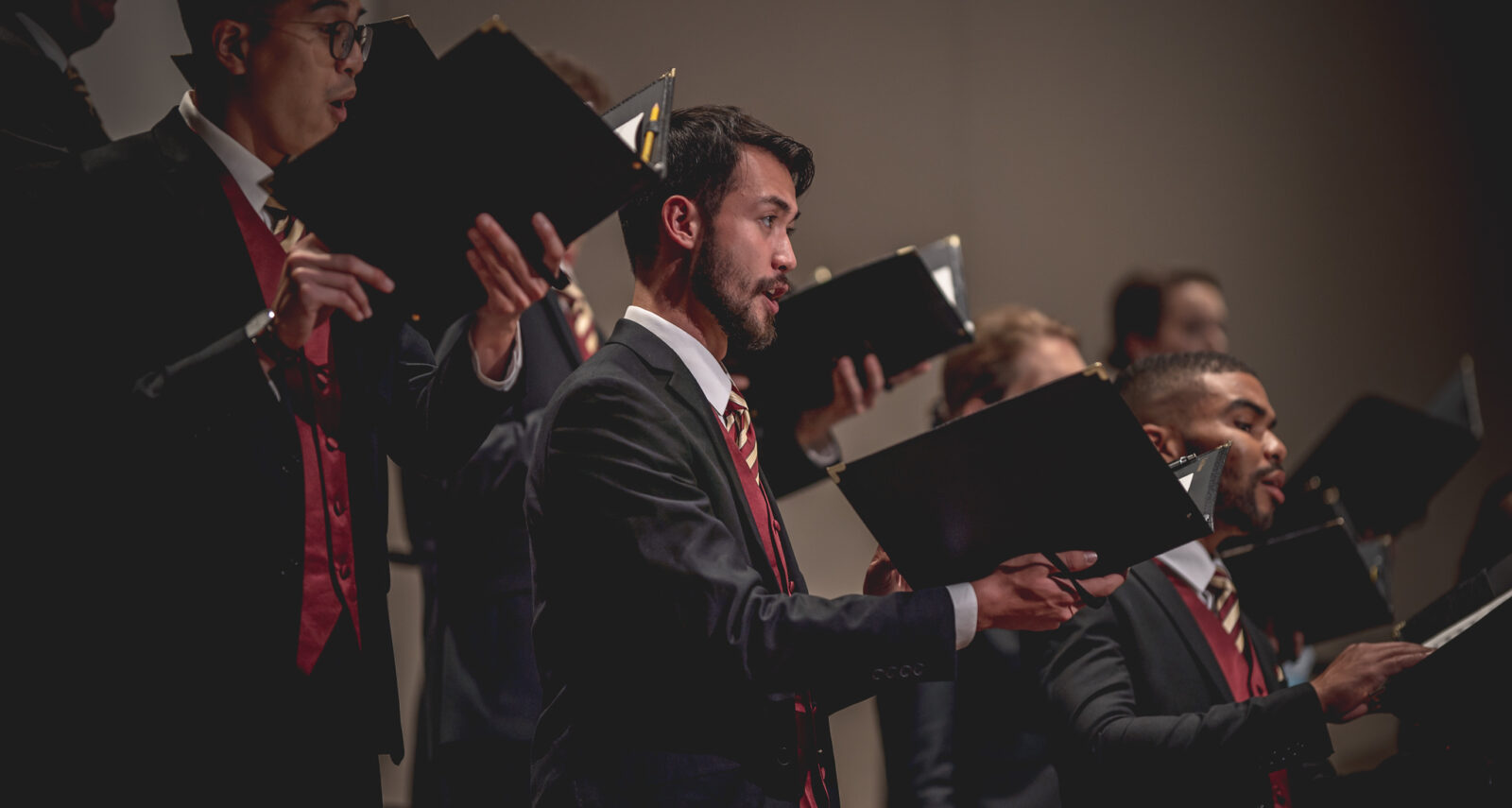 Program
"Rustics and Fishermen"
from Gloriana
Andrew Cadie
arr. Duncan Tuomi
Down by the Salley Gardens
Traditional Irish folk tune
arr. Douglas Wagner
Traditional work song
arr. Anthony Trecek-King
"The Pasture"
from Frostiana: Seven Country Songs
"Der Herr segne euch"
from Cantata #196
We Remember Them
combined Apollo and Oriana performance
"Laudamus Te"
from Gloria, RV 589
Salut Printemps
Phoebe Rosquist, soloist
Modimo, re boka Wena
Yueyuan Liu, Udo Okororie, Jiamu Tao, Brooklyn Torphy, Tess Sanford, Chantal T.E. Wittrock, soloists
Traditional Sesotho song
arr. Thembinkosi Khumalo
Traditional Georgian song
We Are the Storm
Yueyan Liu, Jiamu Tao, Grace Zhang, soloists
Jared Impichchaachaaha' Tate
"Hammond Song"
from The Roches
Amanda Ang, soloist
Margaret A. Roche
arr. Ali Sandweiss Hodges
Composer Notes
Benjamin Britten

Benjamin Britten (1913-1976) was an English composer, conductor and pianist. An exceedingly practical and resourceful musician, Britten worked with increasing determination to recreate the role of leading national composer held during much of his own life by Vaughan Williams, from whom he consciously distanced himself. Notable among his musical and professional achievements are the revival of English opera, initiated by the success of Peter Grimes in 1945; the building of institutions to ensure the continuing viability of musical drama; and outreach to a wider audience, particularly children, in an effort to increase national musical literacy and awareness. Equally important in this was his remaining accessible as a composer, rejecting the isolationism of the postwar avant garde and developing a distinctive tonal language that allowed amateurs and professionals alike to love his work and to enjoy performing and listening to it. Above all, he imbued his works with his own personal concerns, some of them hidden, principally those having to do with his love of men and boys, some more public, like his fiercely held pacifist beliefs, in ways that allowed people to sense the passion and conviction behind them even if unaware of their full implication.

–Grove Music Online


William Cornysh

William Cornysh (1465-1523) became Master of the Children of the Chapel Royal in 1509, the same year as the coronation of his primary benefactor, King Henry VIII of England (1491-1547). While holding this post, Cornysh oversaw the training of new choristers as well as the music performed at the chapel. In addition to his contributions to the sacred music repertory of England, he produced a great deal of secular music, and appears to have been a talented playwright and actor, though none of his dramatic works remain.


Douglas E. Wagner

Douglas E. Wagner, a native of Chicago, Illinois, is an internationally recognized composer and arranger. With 30 years as a high school music educator and administrator behind him, Doug now devotes all of his time and energy to writing, editing and their allied activities. He is an A.S.C.A.P. award-winning composer, an editor for a major publishing company, and has served several denominations as a church musician. Doug has published more than 3,000 music titles since 1973, including works for choir (sacred and secular), concert band, orchestra, handbell ensemble, organ, piano, instrumental solo and voice. Sixteen million copies of his music have been sold to date. Doug's music has been performed in concert settings, on television and on radio broadcasts in the United States, as well as on concert programs in more than two dozen foreign countries. Doug resides in Indianapolis with his wife, Sandy, a professional lettering artist and music engraver.


Anthony Trecek-King

Dr. Anthony Trecek-King is a highly acclaimed choral conductor, scholar, pedagogue, and media personality with a career spanning over 20 years. He is an active guest conductor and serves as a Resident Conductor (chorus) with the Handel and Haydn Society. Recognized for his ability to create moving performances that exhibit a surprising range of dynamics and depth of expression, Dr. Trecek-King excels at cultivating vocal and instrumental musicians at all levels. Through his collaborative rehearsal style, he bridges the gap between high art and humanity, captivating audiences while maintaining exceptional sonic quality.


Randall Thompson

Randall Thompson (1899-1984) was an American composer whose choral works are especially noted. Upon graduating from Harvard University in 1922, he won the Prix de Rome and studied in Italy for three years. He returned to the US after his studies and was appointed lecturer in music at Wellesley College, thus beginning his academic career. Thompson taught in some significant institutions across the country, such as the University of California, Berkeley, Princeton University, and the Curtis Institute of Music, where Leonard Bernstein was one of his pupils. His composition catalogue includes genres ranging from chamber music to symphonies to music for radio broadcasts, yet it is his choral works remain the audience's favorite through the years. His sensitivity to vocal contour, and sonority, as well as his unique sense of utilizing musical structures for dramatic effects set him apart as one of the most successful choral composers in America.


J.S. Bach

Johann Sebastian Bach (1685-1750) was a composer and organist whose genius combined outstanding performing musicianship with supreme creative powers in which forceful and original inventiveness, technical mastery and intellectual control are perfectly balanced. While it was in the former capacity, as a keyboard virtuoso, that in his lifetime he acquired an almost legendary fame, it is the latter virtues and accomplishments, as a composer, that by the end of the 18th century earned him a unique historical position. His musical language was distinctive and extraordinarily varied, drawing together and surmounting the techniques, the styles and the general achievements of his own and earlier generations and leading on to new perspectives which later ages have received and understood in a great variety of ways.

–Grove Music Online


Emily Crocker

Emily Holt Crocker (b. 1949) taught public school music at all levels for 15 years in Texas. In 1989, she joined Hal Leonard, becoming VP of Choral Publications in 2000, and retiring in 2017 after 29 years. She was founder/director of the Milwaukee Children's Choir from 1994-2009 and named Director Emeritus in 2019 and was founder/director of the Vocal Arts Academy from 2009-2015. As a composer, Ms. Crocker's works have been performed worldwide and she is well known for her work in developing choral instructional materials. She now resides in Fort Worth, Texas where she composes and is a supporter of the arts.


Susan LaBarr

Susan LaBarr (b. 1981) is a composer and choral editor living and working in Springfield, Missouri. Susan has completed commissions for choirs worldwide, most notably Seraphic Fire, the National ACDA Women's Choir Consortium, and the Texas Choral Directors Association's Director's Chorus. Central to Susan's musical vocabulary is the knowledge she gained from studying with Alice Parker at her home in Hawley, Massachusetts, where she attended the Composer's Workshop and Melody Studies Workshop. Susan attended Missouri State University in Springfield, where she received a Bachelor of Arts in music and a Master of Music in music theory. Susan, her husband Cameron, and their son Elliott reside in Springfield, Missouri, where Cameron is the Director of Choral Studies at Missouri State University and Susan works as Editor of Walton Music.


Ysaye M. Barnwell

Ysaye M. Barnwell, Ph.D. is an American composer, scientist, and decades-long former member of the acclaimed African American female a cappella group Sweet Honey in the Rock. Though she is a sought after composer for dance, choir, film, and stage, her initial studies were in speech pathology, leading to a doctorate in cranio-facial studies and her faculty appointment at the Howard University School of Dentistry where she taught for 10 years. For the past 30 years, Dr. Barnwell has led the workshop "Building a Vocal Community – Singing the African American Tradition," which utilizes oral tradition, an African worldview, and African American history, values, cultural and vocal traditions to build communities of song among singers and non-singers alike.


Antonio Vivaldi

Antonio Vivaldi (1678-1741), a pioneering Italian Baroque composer, is celebrated as one of the era's most original and influential musical figures. It is believed that his musical training as a violinist from his father, a barber, and later became a professional violinist. In his early teenage years, Vivaldi pursued training for the priesthood, perhaps influenced by the family's economic circumstances. At the age of 25, he assumed his first role as maestro di violino at the Pio Ospedale della Pietà, a Venetian institution dedicated to caring for orphans and fostering musical talents among young girls, earning a notable reputation. Vivaldi's association with the Pietà lasted for over a decade, culminating in his role as maestro de' concerti. During this period, he created a wealth of treble choral compositions, orchestral works, and sacred liturgies, as well as secular ones. In 1718, Vivaldi embarked on tours beyond Venice, presenting his secular operas and secular pieces with wider audiences. Notably, he continued to craft sacred pieces, occasionally offering them to the Pietà and even selling some to the institution.

–Grove Music Online


Claude Debussy

Claude Debussy is most easily described as the leader of the 19th-20th century French movement of musical Impressionism (though he rejected that term for his music), best known for works like "Claire de Lune" and his Nocturnes and Images for piano. He spent his lifetime developing his own style of composition, following only the rule of "Mon plaisir" (My pleasure), and influenced many future generations of composers by unlocking new genres, timbres, and colors within his works for orchestra and piano.


Jerod Impichchaachaaha' Tate

Jerod Impichchaachaaha' Tate is a distinguished American Indian composer, renowned for his unwavering commitment to the advancement of American Indian classical music. He is celebrated for his distinct musical creativity that blends classical music with his rich American Indian heritage. Hailing from the Chickasaw Nation in Oklahoma, a self-governed Native American community, Tate's compositions are deeply rooted in his Chickasaw culture. Moreover, he has made significant contributions by delving into the music and languages of various other Native American tribes, including the Choctaw and Navajo. Tate's artistic talents extend beyond composition; he is a proficient pianist and conductor. He earned his Bachelor of Music in piano performance from Northwestern University, and he pursued his Master of Music in both piano performance and composition from the Cleveland Institute of Music.


Margaret A. Roche

Margaret "Maggie" A. Roche was the main songwriter of a trio of sisters called The Roches, a band which existed relatively out of the spotlight of mainstream American music in the 1970s-90s but made its mark on American popular music. Their brief moment of stardom was the backing vocals they provided on Paul Simon's There Goes Rhymin' Simon (1973), who would also play a role in securing them their own Saturday Night Live performance slot. Even though it was not nearly their "hit" song, "Hammond Song" from their debut album The Roches (1979) has left such a mark on music lover's hearts that the iconic music review authority Pitchfork dedicated over half of their review of The Roches to this one song. Of the band, they said, "[They were] too funny, too weird, too insular to face the camera, or at least to connect with it." Of "Hammond Song," they said, "it's music of clarity and distance."
Program Notes
"Rustics and Fishermen"
from Gloriana
Benjamin Britten

"Rustics and Fishermen" comes from Britten's opera Gloriana. It belongs to a set of pieces that are often excerpted from the opera called "Choral Dances from Gloriana." The opera was written for the coronation of Elizabeth II, and was rather famously a flop at its premiere. As a result, it is not often staged today. The choral dances, however, live on in concert and represent exciting choral writing. "Rustics and Fishermen" is scored for TTBB a cappella, and if you blink, you might miss it! With a tempo marked "Very lively" the piece is over in just under one minute.


Keep Hauling
Andrew Cadie
arr. Duncan Tuomi

This tune, originally written by Andrew Cadie of the German folk duo Broom Bezzums, achieved international popularity with the release of the film Fisherman's Friends in 2019. Cadie, having studied folk music at Newcastle University, made use of the conventions of a traditional sea shanty to construct this song, especially utilizing a "call and response" framework for the verses, wherein soloists sing the changing text of each verse and the rest of the singers respond with the same text. These verses are separated by a refrain sung by the full choir. This form (and variations on it) were common in sea shanties and other work songs in the mid-nineteenth century. With a singular voice establishing key and tempo, workers—or in this context, sailors—would use the music to synchronize their flow of work and make the long hours of intense labor more bearable with themes ranging from sentimentality to bacchanalia. As its title suggests, Keep Hauling is a take on a specific form of seafaring work song called a "hauling shanty". These songs would most often be sung while sailors pulled on ropes to change sail configurations at sea. Tuomi's arrangement of the tune is a simplification of the version heard in Fisherman's Friends, which retains much of Broom Bezzums's original structure, but straightens out some of the more complicated ornamentation in favor of preserving rhythmic drive and adds lower vocal harmonies to enrich the overall sonic texture of the work.


Down by the Salley Gardens
Traditional Irish folk tune
arr. Douglas E. Wagner

The text to Down by the Salley Gardens was written by Irish poet William Butler Yeats (1865-1939) and was later set to the traditional Irish air The Moorlough Shore by Herbert Hughes (1882-1937). The simple two-stanza poem recounts two lovers meeting, courting, and ultimately parting due to the speaker's youth and foolishness, and makes use of repeated phrases to add layers of reflection both figurative, as in the speaker's reflection on his life and lost love, and literal, as the poem reflects its text upon itself. Wagner's arrangement adds flowing accompaniment figures in voices and in piano that paint a soundscape of idyllic innocence and bittersweet memory.


Ah, Robin, Gentle Robin
William Cornysh

Ah, Robin, Gentle Robin is one of Cornysh's secular part-songs that was included in the songbook of King Henry VIII. While two voices of the canon repeat the same material throughout, the highest voice intersperses verses on different text between iterations of the refrain. The speaker in the poem addresses a robin and asks it to tell of its beloved so that the speaker may in turn talk about theirs. One senses that the speaker is simply looking for a reason to think aloud, regardless of whether or not their conversation partner can understand a word that is said! The speaker alternates between lamenting that their lady actually loves someone else, and reassuring themself that she is in fact faithful and would not leave them. This subject matter is especially interesting, given Henry VIII's history of frequently changing his mind about his own romantic partners.


Ho Boys, Can't Line 'Em
Traditional work song
arr. Anthony Trecek-King

Like Spirituals, Work Songs portray the conditions in which African Americans found themselves living and working. They revealed everyday experiences and often reflected life during the post Civil War reconstruction. Life for African Americans in the reconstruction south was often not better than in slavery. Men were falsely arrested and assigned to work in chain gangs all while providing labor to rebuild the infrastructure. Ho Boys, Can't Line 'Em scored for bass solo and TTBB chorus, was inspired by a recording of Leonard de Paur's arrangement found in The Long Road to Freedom anthology. It stands as an example of a call and response "tie-shuffling" work song whose rhythm accompanies the arduous task of lining or straightening out of a railroad track.

–Anthony Trecek-King


"The Pasture"
from Frostiana: Seven Country Songs
Randall Thompson

Frostiana is a set of Robert Frost's (1874-1963) poetry set to music by Thompson. This composition was commissioned for the 200th anniversary of the town of Amherst. The Pasture is one of the poems chosen to be set to music. The poetry speaks of ordinary life in the countryside, with the poet inviting his loved one to join him to soak up the serenity in the simplest things. Thompson sets the music primarily in three-part harmony–where the top voice sings the melody and the middle and low voices enrich the harmony–but splits into four voices whenever the poet extends the invitation to his loved one by saying, "You come too," adding yet another layer to the warmth one already can feel in the sonority Thompson created.


"Der Herr segne euch"
from Cantata #196
J.S. Bach

"Der Herr segne euch" (may the Lord bless you) is the fourth movement from the cantata Der Herr denket an uns, BWV 196 (the Lord is mindful of us). It is scored for tenor and bass soloists, 2 violins, viola, cello, and continuo. It is often excerpted and performed by tenor-bass choirs accompanied by a keyboard instrument. The music is based on dance and features an intimate intertwining of vocal lines. These lines rise and fall in pitch out of synch with each other, but at the end of the piece, the voices synchronize their rhythm and motion, tapering gently to the end of the work together.


Three Russian Folk Songs
arr. Emily Crocker

This medley arrangement presents three folk songs from Russia: "The Birch Tree," "Kalinka," and "Tumbalalaika." The medley opens with the first folk song that speaks of the birch, which is a plant that has cultural significance to the Russian people: it represents youth, beauty, and tranquillity. Yet, this serenity is soon interrupted by the introduction of "Kalinka." It is believed that this energetic tune was originally composed Ivan Larionov (1830-1889), a Russian composer, writer, and folklorist. This catchy melody starts slowly and gradually speeds up, which is the music that is featured in the Russian squat dance. After this exhilarating section, the music returns to a moment of peacefulness at the reintroduction of The Birch Tree. However, this moment does not last long as the music swirls another exciting passage with "Tumbalalaika," a Russian Jewish folk song sung in Yiddish. It is a popular song that many arrangements are based on as the lyrics are a playful back-and-forth of riddles and answers. Finally, the medley ends with a proclamation: "To love, to life!"


We Remember Them
Susan LaBarr

We Remember Them is a four-part work scored for SATB voices and piano accompaniment. Susan LaBarr wrote We Remember Them for Brooklyn Choral Artists (South Africa) in 2019. The work is in memory of Garrett Scheeper's parents, Hardus and Dalene Scheepers, who passed away under mysterious circumstances. Gerrit Scheepers, is a choral conductor who studied with LaBarr's husband, Cameron. We Remember Them draws its text from Gates of Prayer: A New Union Prayerbook, published in 1975 by the Central Conference of American Rabbis. The text reminds us that those we have lost live on through us: "As long as we live, they too will live." We can always remember those whom we've lost: we can remember them "at the blueness of the skies" and "when we are lost and sick at heart."


On Children
Ysaye M. Barnwell

"On Children" is a poem excerpted from Lebanese-American poet Kahlil Gibran's famed collection The Prophet (1923). Barnwell wrote this timeless setting for Sweet Honey in the Rock's 1988 album Breaths, on which she sang bass. The candid message of Gibran's poetry might have moved other composers to set it more seriously, because it is a universal pain that parents cannot control their children. It's clear, however, that Barnwell finds this message invigorating in its truth, and chooses to set the text in simple, major harmony with a rhythm so light it's practically dancing. She takes great care with her setting to make sure the words are heard and understood––these words encompass 2/3 of the original poem and she states them twice, just in case the message wasn't clear the first time. As Gibran goes on to say: "For life goes not backward nor tarries with yesterday. You are the bows from which your children as living arrows are sent forth."


"Laudamus Te"
from Gloria, RV 589
Antonio Vivaldi

"Laudamus Te" is taken from the third movement of Vivaldi's Gloria, RV 589 and was originally composed as a soprano duet. The lyrics are derived from the Roman liturgy, and Vivaldi composed two Gloria settings, with RV 589 being the most renowned. This Gloria was composed around 1716 during Vivaldi's time at the Pietà, and it was likely performed by young female voices from the institution. Overall, this composition brims with joy and liveliness, and the text is accentuated by its three repetitions, with each iteration of the final phrase, "Glorificamus te," featuring an elongated melisma on the syllable "ca-." This musical technique adds a sense of exuberance and praise, making it a cherished and resonant piece in Vivaldi's repertoire.


Salut Printemps
Claude Debussy
text by Anatole Henri Philippe

Debussy wrote this exuberant work about "the young season" when he himself was only 20 years old, and this piece is a distinct look at Debussy's early style before he really began to forge his own path. The flow of his harmonic progressions is still very rooted in the same traditions that defined other 19th-century composers, but we can still hear the early signs of his "plaisir" at work–the added notes that bring lushness to an otherwise ordinary chord, the scene-setting buoyancy of the piano line. Something we don't see in Debussy's later work is straightforward "text painting"–an old compositional technique of the music literally acting out the text. He does this to great effect on the words "L'eau sur le caillou qui résonne," where the sopranos quite literally bubble over into the top part of their range just like the sap they are describing, with the other parts reverberating in a gentle overlap like the water flowing over the pebbles. They then come together precisely for the words "sa claire chanson:" its clear song. Everything about Salut Printemps is youthful: not in its naivité or inexperience, but in its optimism and vitality.


Modimo, re boka Wena
Traditional Sesotho song
arr. Thembinkosi Khumalo

Modimo re boka Wena is a traditional Sesotho spiritual song from South Africa, arranged by contemporary composer/arranger Thembinkosi Khumalo (of TLP Music) and adapted for treble voices by Oriana. Gospel music is a popular genre in South Africa and at one time was used as a voice against apartheid. It is a music that expresses protest and triumph over injustice and hardship. There are many languages spoken in South Africa: Zulu, Xhosa, Ndebele, Afrikaans, English, Venda, Swati, Tswana, and Tsongo, and of course, the language of this spiritual, Sesotho (Southern Sotho). This song features a solo and a trio over a steady foundation of repeated harmonies in the choir.


Shen Khar Venakhi
Traditional Georgian song

Shen Khar Venakhi (Thou Art a Vineyard) is a medieval hymn whose text is attributed to 12th century King Demetrius I of Georgia. The composer of the music is unknown. King Demetrius is supposed to have written it during his time as a monk in the Gareja Monastery. It is often sung at weddings, but is also sung a prayer of praise to Mary in the Georgian Orthodox Church. Because the text doesn't specifically mention God or any saints, this sacred song was one of very few that was permitted in the fiercely secular Soviet Union. Our version is the East Georgian one (from the Kartli-Kakheti region) but there is a West Georgian (Gurian) version of this chant as well, with a completely different musical setting. Shen khar is usually sung by a choir without instrumental accompaniment and is a classic example of three-part medieval Georgian choral music in which the middle line is the melody, the lower line is often static or drone-like, and the top line is a supportive harmony.


We Are the Storm
Jerod Impichchaachaaha' Tate

We Are the Storm features three North American Indian melodies (Zuni, Chickasaw and Ojibway) and proclaims solidarity, seeking peace and the power to heal the past. The lyrics were composed by the acclaimed poet Charles Anthony Silvestri (b. 1965). With the texts, Tate creates vivid characters in four sections. The musical sonorities of the "cold and dry" fields of future in the first section are expressed with unique, long-lasting chords. These chords are derived from the scale of the melodies. In the second section, images of lightning, thunder, and storm evoke the power to heal the earth, wounded from the past, for the future generations, using the sound of drums. The third section conveys the voice of nature, which longs for rain, through long-lasting chords characterized by Indian American sonority. Finally, in the last section, storms become healers of divisions, and we declare, "WE are the storm." Here, you can hear a four-part canon with splendid piano accompaniment. The very last phrase, "Yakkookay," is an Indian expression meaning "Thank You."


"Hammond Song"
from The Roches
Margaret A. Roche
arr. Ali Sandweiss Hodges

"Hammond Song" is a remarkable achievement of the plainspoken storytelling style of songwriting that's much more popular today than it was in the 1970s. It contains an unusual amount of unison singing for either a folk-pop or choral song, choosing to break into harmony just at the moment when the emotional pressure has built to a breaking point. The role of the three voices is more varied than in other soprano-alto literature – sometimes they are united as the lead character, sometimes two play the role of Greek chorus, and at others it seems as though they play three different voices within the same mind. Oriana conductor Ali Sandweiss Hodges took care to change as little as possible when adapting this choral version for the Oriana Choir, since this song is, in her words, "perfect."
Text & Translations
"Rustics and Fishermen"
from Gloriana

From fen and meadow
In rushy baskets
They bring ensamples
Of all they grow.
In earthen dishes
Their deep-sea fishes;
Yearly fleeces,
Woven blankets;
New cream and junkets,
And rustic trinkets
On wicker flaskets,
Their country largess,
The best they know.


Keep Hauling

When love just seems so far away
(Keep hauling, keep hauling)
The tide will flood your heart someday
(Keep hauling boys)

When your guiding star's in the cloudy sky
(Keep hauling, keep hauling)
You'll find your way to the bright sunrise
(Keep hauling boys)

Keep hauling, ho!
Rouse and raise your voice
Hold your course and don't let go
Keep hauling boys

If you gave your best and your heart stayed true
(Keep hauling, keep hauling)
There's only one thing left to do
(Keep hauling boys)

If you fought so hard and you lost your hold
(Keep hauling, keep hauling)
Remember fate rewards the bold
(Keep hauling boys)

Keep hauling, ho!
Rouse and raise your voice
Hold your course and don't let go
Keep hauling boys

Whatever your ship and wherever your sea
(Keep hauling, keep hauling)
Whatevеr your storm or your rocks may be
(Keep hauling boys)

Keep hauling, ho!
Rouse and raise your voicе
Hold your course and don't let go
Keep hauling boys

Keep hauling, ho!
Rouse and raise your voice
Hold your course and don't let go
Keep hauling boys

Hold your course and don't let go
Keep hauling boys


Ah Robin, Gentle Robin

Ah, Robin, gentle Robin,
Tell me how thy leman doth,
And thou shalt know of mine.
Ah, Robin …
My lady is unkind, iwis,
Alac why is she so?
She lov'th another better than me,
And yet she will say no.
Ah, Robin …

I cannot think such doubleness,
For I find women true;
In faith my lady lov'th me well,
She will change for no new.
Ah, Robin


Down by the Salley Gardens

Down by the salley gardens my love and I did meet;
She passed the salley gardens with little snow-white feet.
She bid me take love easy, as the leaves grow on the tree;
But I, being young and foolish, with her would not agree.

In a field by the river my love and I did stand,
And on my leaning shoulder she laid her snow-white hand.
She bid me take life easy, as the grass grows on the weirs;
But I was young and foolish, and now am full of tears.


Ho Boys, Can't Line 'Em

Ho, boys, is you right?
I've done got right!
I said if I could I surely would
Stand on that rock were Moses stood.

I said ho, boys, cancha line em?
I said ho, boys, cancha line em?
Ho, Boys, cancha line em?
See Eloise go linen' track.

July the red bug, July the fly,
If August ain't a hot month I sure hop to die

Ho, boys, well they can't wait.
I said ho, boys, well there ain't time.
Ho, boys, well they can't wait.
See Eloise go linen' track.

I got a woman in Jennielee square.
If ya wanna die easy lemme catch you there.


"The Pasture"
from Frostiana: Seven Country Songs

I'm going out to clean the pasture spring
I'll only stop to rake the leaves away
And wait to watch the water clear, I may
I shan't be gone long
You come too
I'm going out to fetch the little calf
That's standing by the mother
It's so young
It totters when she licks it with her tongue
I shan't be gone long
You come too


"Der Herr segne euch"
from Cantata #196

Der Herr segne euch je mehr und mehr, euch und eure Kinder.

English Translation
May the Lord bless you more and more, all of you and your children.


Three Russian Folksongs

See the lovely birch in the meadow.
See the leaves a-dancing when the wind blows.
Loo-lee loo-lee stoiala,
Loolee loo, lovely birch tree.
Hark the bell rings.

When the snowflakes round us swirl,
Suddenly we spy a girl.
Frightened now she runs away.
Little one, oh won't you stay, stay, stay.

Kalinka of mine.
In a garden grows a berry so sweet on the vine. Hey!

Little stoiala,
Lovely stoiala
Here I'll meet my own true love. Ah!

Kalinka…

Tell me, tell me I want to know what it is needs no rain to grow?
What is a story that has no end?
What weeps no tears though it's weeping within?

Toom bala, laika. Play balalaika to love, to life!

Foolish child, oh didn't you know, a stone it is needs no rain to grow.
The story of I love you it has no end.
A heart weeps no teasers though it's weeping within.

Toom bala, laika. Play balalaika to love, to life!


We Remember Them

At the blueness of the skies and in the warmth of summer,
At the op'ning of the buds and in rebirth of spring,
At the rising of the sun and at its going down,
We remember them, we remember them.

At the blowing of the wind and in the chill of winter,
At the rustling of the leaves and beauty of autumn time,
At the start of the year and when it ends, We remember them, we remember them.

Refrain: As long as we live, they too will live.
As long as we live, they are a part of us.
As long as we live, we remember them.

When we are weary and in need of strength,
When we are lost and sick at heart,
When we have joy we crave to share,
We remember them, we remember them. Refrain.

When we are weary, when we are lost,
In chill of winter, they're a part of us.
In the warmth of summer, in blue skies,
When we have joy, we remember them. Refrain.


On Children

Your children are not your children.
They are the sons and the daughters of Life's longing for itself.
They come through you but they are not from you,
And though they are with you, they belong not to you.

You may give them your love but not your thoughts,
For they have their own thoughts.
You may house their bodies but not their souls,
For their souls dwell in the place of tomorrow, which you cannot visit, not even in your dreams.
You may strive to be like them, but you cannot make them just like you.


"Laudamus Te"
from Gloria, RV 589

Laudamus te. Benedicimus te.
Adoramus te. Glorificamus te.

English Translation

We praise thee. We bless thee.
We worship thee. We glorify thee.


Salut Printemps

Salut printemps, jeune saison
Dieu rend aux plaines leur couronne
La sève ardente qui bouillon
S'é panache et brise sa prison
Bois et champs sont en floraison
Un monde invisible bourdonne
L'eau sur le caillou qui résonne
Court et dit sa claire chanson

Le genet dore la colline;
Sur le vert gazon l'aubépine
Verse la neige de ses fleurs
Tout est fraîcheur, amour, lumière,
Et du sein fécond de la terre
Montent des chants et des senteurs.

English Translation

Hail spring, young season!
God restores the crown to the plains.
The warm and bubbling sap
Overflows and breaks its prison.
Woods and fields are in flower.
An invisible world hums,
The water, reverberating over the pebbles,
Flows and sings its clear song.

The broom gilds the hill;
On the green lawn, the hawthorn
Pours its snowy flowers.
All is freshness, love, light,
And from the fertile bosom of the earth
Ascend the songs and the scents.


Modimo, re boka Wena

Modimo re boka wena
Tsotlhe di entswe ke wena
Thimomo Jehova Jireh

English Translation

Mighty God, we praise you
Creator! All things are made by you
The Lord provides


Shen Khar Venakhi

შენ ხარ ვენახი, ახლად
აყვავებული,
ნორჩი კეთილი, ედემს
შინა ნერგული,
(ალვა სუნელი,
სამოთხეს ამოსული,)
(ღმერთმან შეგამკო
ვერვინა გჯობს ქებული,)
და თავით თვისით მზე
ხარ და
გაბრწყინვებული.

Shen khar venakhi,
akhlad aq'vavebuli.
Norchi k'etili,
edems shina nerguli.
Alva suneli,
samotkhes amosuli.
Ghmertman shegamk'o
vervina gjobs kebuli.
Da tavit tvisit
mze khar da gabrts'q'invebuli.

English Translation

You are a vineyard
newly blossomed.
Young, beautiful,
growing in Eden,
A fragrant poplar sapling
in Paradise.
May God adorn you—
no one is more worthy of praise.
You yourself are the sun,
shining brilliantly.


We Are the Storm

On this horizon there gathers a storm;
Thickening air hangs heavy and warm.
The fields of future lie among us cold and dry
The few among us know not the reason why.

We are lightning; we are thunder;
Generation of wonder!
We are the storm that gathers at last;
We are the future healing the past.

Storm gathers water and fire,
Stirring the earth, lifting it higher,
A storm, its beauty, tempest of light and love,
Its voice of nature below and above.

Storms will heal what divides,
Let us storm and turn the tides!
The earth cries out, ready for rain
The fields of our future grow green again.

Lightning and thunder!
Yakkookay (Thank You)!


"Hammond Song"
from The Roches

If you go down to Hammond you'll never come back
In my opinion you're on the wrong track
We'll always love you but that's not the point
If you go with that fella, forget about us
As far as I'm concerned that would be just
Throwing yourself away, not even trying
Come on, you're lying to me

Well I went down to Hammond
I did as I pleased
I ain't the only one who's got this disease
Why don't you face the fact, you old upstart
We fall apart

You'd be okay if you just stayed in school
Don't be a fool

Do your eyes have an answer to this song of mine?
They say we'll meet again on down the line
Where is "on down the line"? How far away?
Tell me I'm okay
Acknowledgements
Flora L. Thornton Administration
Jason King, Dean
Susan M. Lopez, Associate Dean for Administration and Finance
Jeffrey de Caen, Associate Dean for Operations
A. Phoenix Delgado, Associate Dean for Advancement
Joanna Demers, Associate Dean for Faculty Affairs
Brian Head, Associate Dean of Academic Affairs
Phillip Placenti, Associate Dean for Admission and Student Affairs
Ronald C. McCurdy, Assistant Dean of Diversity, Equity and Inclusion
Rotem Gilbert, Vice Dean, Division of Research and Scholarly Studies
Cristian Grases, Vice Dean, Division of Classical Performance and Composition
Sean Holt, Vice Dean, Division of Contemporary Music
Job Springer, Doctoral Advisor, Thornton Student Affairs
Viet Bui, Director of Student Affairs
Daniel Andrade, Academic Advisor, Thornton Student Affairs
Heather Pio Roda, Head of Production and Events
Tori Nagle, Senior Production Coordinator
Woody Gatewood, Choral & Sacred Music Administrative Coordinator

Department of Choral & Sacred Music Faculty
Tram Sparks, Chair and Associate Professor of Practice, Choral & Sacred Music
Cristian Grases, Professor, Choral & Sacred Music
Emily Sung, Assistant Professor of Practice, Choral & Sacred Music
Suzi Digby, Adjunct Professor, Choral & Sacred Music
Jennifer Ellis Kampani, Adjunct Instructor in Early Music
Troy Quinn, Part-time Lecturer in Conducting
Steve Rothstein, Lecturer of Choral & Sacred Music

Department of Choral & Sacred Music Graduate Teaching Assistants
Collin Boothby
Ann Chen
Ali Sandweiss Hodges
Michael Raleigh
Connor Scott
Duncan Tuomi
Shijia Ye

Department of Choral & Sacred Music Donors
We are grateful to the following individuals who have made contributions to the USC Thornton Department of Choral & Sacred Music since July 1, 2017.

Anonymous, Charles Albers, Victor Apanovitch, Elizabeth Armour & Jonathan Lewis, Kristin & Larry Ball, Jane & Robin Blomquist, Jennifer & Donald Brinegar, Robert E. Brooks, Kellie & Aaron Custino, Dr. Harold A. Daugherty Jr., Elizabeth Molly Flier, Joanne & Nathaniel Fryml, Lisa Hane & Hugh Rienhoff, Jazmine Harnishfeger-Brand, Dr. Todd J. Harper & Connie C. Kim, Lisa H. Harrington, Tamara & Mark Hatwan, Dr. Carl W. Haywood, Dr. Stephanie Henry, Margaret P. & Guilbert C. Hentschke, Barbara A. & Wayne Hirabayashi, Nancy & James Holland, Debora Lee Huffman, Dr. Buddy Oscar James, Young Lee-Ko & Seungseop Ko, Daniel Lee, Dr. Yewon Lee, Dr. Iris Sue Levine, Shou-Ping Liu, Hazel & James Lord, Dr. Marguerite Marsh, Joan Mattei, Dr. Stanley R. McDaniel, Patricia & John McIntyre, Dr. Donald B. & Mary C. Miller, Shirley & John G. Morgan, Music Celebrations International, LLC, Mr. David Noble, Christine Marie Ofiesh, Peter & Masha Plotkin Memorial Foundation, Pawasut Piriyapongrat, Thomas B. Ringland, Kenneth Sanson, Rose F. Sapia, Margaret & Christopher Saranec, Virginia Sato & Raymond Bates, Mary & Jo-Michael Scheibe, Nicole D. Singer, Virginia & Thomas Somerville, Tram N. Sparks, Christian D. Stendel, Toni & Nick Strimple, The Donald & Alice Noble Foundation, Town & Gown of USC, Leslie J. & Jeffrey B. Unger, Barbara & James Harold Vail, Gregory Wait, John P. Wiscombe, Pamela & Donald ("Jeff") Wright, Janice Lynn Wyma, Ruth & David Yoder

Please contact the USC Thornton Office of Advancement at music.advancement@usc.edu or (213) 740-6474 if you would like more information on how to contribute to the USC Thornton Department of Choral & Sacred Music.
Ensemble
Apollo Chorus

Mike Raleigh, lead conductor
Duncan Tuomi, associate conductor
Elaine Kong, associate conductor
Connor Scott, collaborative pianist

Ted Ao
Thomas Bittencourt
Ruben Chavarria
Denton Cohen
Joshua Elizalde
Roberto (Tino) Garcia-Gross
Cal Geib
Lolu Ijidakinro
David Johnson
Nidhi Kumar
Kyndred Lewis
Aurora Liu
Tyler Milliren
Alexis Morales Mendiola
Sean Natarajan
Andy Nguyen
Chiyuan (Chris) Qu
Rohit Ramachandran
Charlie Richardson
Joan Ruiz
Lucca Salazar
Yidu Sun
Hoangnha Vo
Violet Wang
Harrison Weinberg
Zach Whalen
Evan Williams
Daniel Young
Richard Zhang
Percy Zhou
Oriana Choir

Ali Sandweiss Hodges, lead conductor
Hyejin Jung, associate conductor
Phoebe Rosquist, associate conductor
Timothy Peterson, collaborative pianist
Cristian Grases, percussion

Zara Ahmed
Christin Albertus
Amanda Ang
Autumn Blackford
Rebecca Carlson
Ruoqi Chen
Anisha Chitta
Nicole Colvett
Christina Corrales
Naomi Cowan
Lexi Cruz
Valerie Fang
WenTing Fei
Audrey Guo
Deborah Ho
Gwendoline Hoch
Delaney Rose Holland
Amelia Horney
Michelle Kardos
Himani Ketkar
Eva Kracht
Bowen Leng
Yueyuan Liu
Jia Lyu
Kaaya Minocha
Lily Morse
Udo Okororie
Veronica Camille Ratliff
Sharon Salgado Martínez
Tess Sanford
Leah Seldon
Allie Y. Song
Avantika Swaminathan
Jiamu Tao
Indulekha Tharun
Brooklyn Torphy
Satwika Vemuri Naga Kaivalya
Lyra Wang
Chantal T.E. Wittrock
Grace Zhang
Wen Zhou