USC Thornton Chamber Orchestra
November 8, 2023
7:30 p.m.
Acclaimed guest conductor Grant Llewellyn leads the USC Thornton Chamber Orchestra in Francis Poulenc's Sinfonietta and Georges Bizet's Symphony in C.
Grant Llewellyn is a Welsh conductor in his eighth season as music director of Orchestre National de Bretagne. He is also music director laureate of the North Carolina Symphony.
Established in 1988, the USC Thornton Chamber Orchestra performs works from the eighteenth and twentieth centuries that were written for a smaller, more intimate ensemble.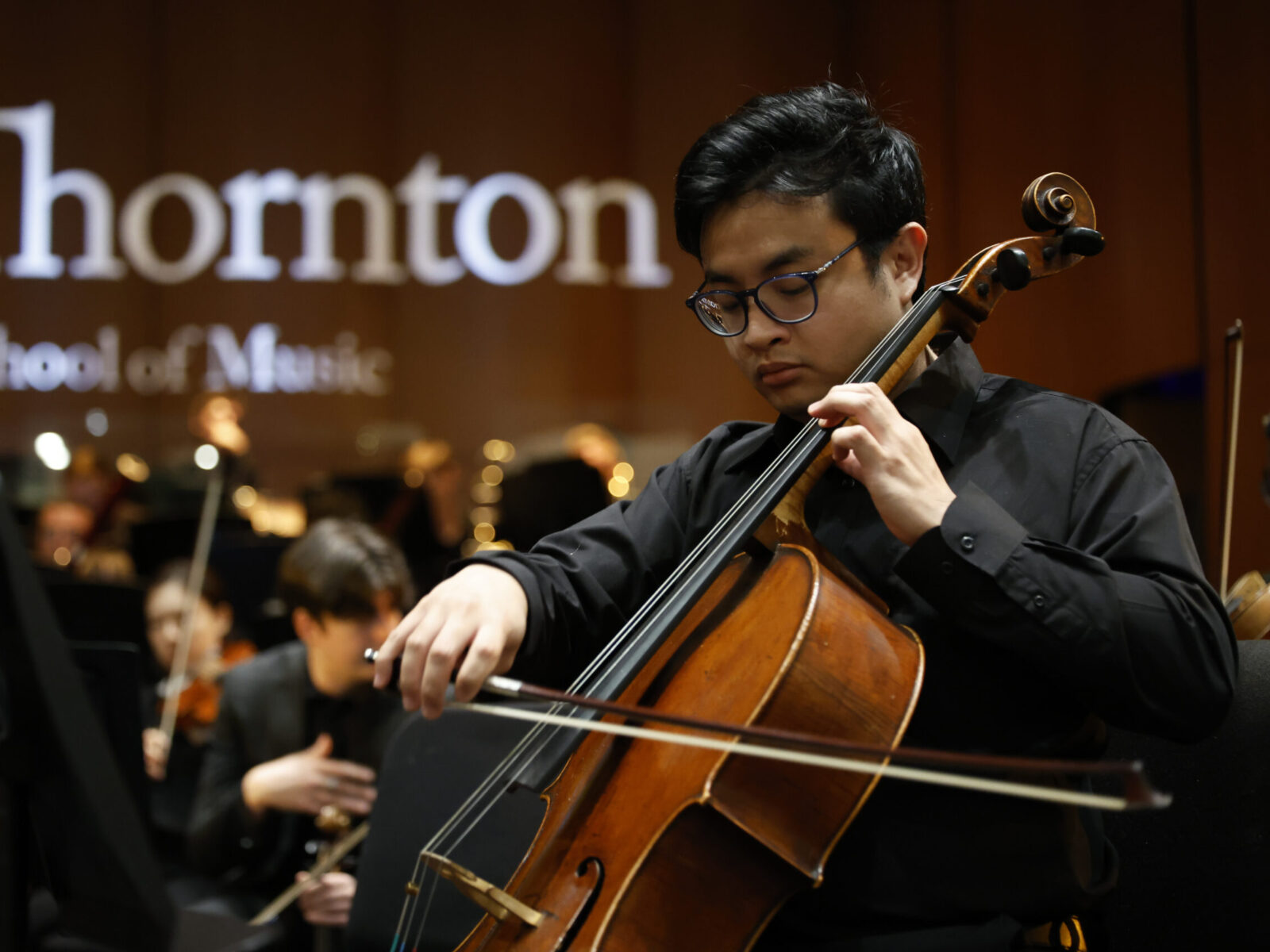 Program
Sinfonietta
I. "Allegro con fuoco"
II. "Molto vivace"
III. "Andante cantabile"
IV. "Très vite et très gai"
Francis Poulenc
(1899-1963)
Symphony No. 1 in C Major
I. "Allegro vivo"
II. "Andante. Adagio"
III. "Allegro vivace"
IV. "Finale. Allegro vivace"
Georges Bizet
(1838-1875)
Program Notes
Sinfonietta
Francis Poulenc

Francis Poulenc faced an ongoing delay in his pursuit of composition throughout his childhood and early adult life. Born the only child of a wealthy Parisian business owner, Poulenc received an exceptional formal education and was nearly forced to join his father's pharmaceutical and chemical company, despite his desire to study music. Poulenc complied with his family's wishes but was only able to begin his journey as a composer after the death of both of his parents, which, at 18 years of age, left him access to his massive inheritance.

Poulenc jumped quickly into the Parisian music scene, beginning a tutelage under Erik Satie, however, his studies were put on hold as he was drafted into the French army. He served in the last few months of World War I as well as during the post-war years, from 1918-1921. His duties in the army still allowed him time for composition, and Poulenc was able to experiment with writing for whatever instruments were available, as many were sparse within the military; today some of his most famous works are for "unusual" combinations. Although concerned by his lack of formal training, Poulenc quickly received international recognition for his compositions – his emergence as a composer coincided with the cultural rejection of the late romantic styles in favor of the fresh and insouciant works of the younger generation.

Poulenc's service in the military exposed him to the horrific death and destruction of WWI; perhaps it is for this reason that his compositions generally avoid heavy topics and are often light, charming, and at times satirical. His Sinfonietta, commissioned by the BBC Orchestra in 1947, is marked by this compositional style, containing many popular tunes and dance rhythms, and trades a formal symphonic structure for an indulgence in changing characters and scenes. The work does contain the basic structure of a symphony in four movements but often lacks the weightiness and gravitas of a traditional symphony: an "Allegro con fuoco" in sonata form, a "Molto vivace" scherzo, an "Andante cantabile", and finishing with "Très vite et très gai" (Very fast and very gay). When confronted on the structural "weaknesses" of his works, Poulenc's response was "Don't analyze my music – love it!"

Melissa Frisch (MM, '24)


Symphony No. 1 in C Major
Georges Bizet

The operatic genius of Bizet's Carmen has charmed the hearts of generations of music lovers since its premiere in 1875, and one must wonder how many more masterpieces Bizet would have produced had he not died suddenly at the age of 36. Several of his greatest works, however, were only discovered and celebrated posthumously, such as his Symphony in C. Bizet's premature death forced a closer look at his early works and revealed their youthful brilliance, similar in charm and spontaneity to those of young Mozart and Mendelssohn. Bizet wrote his only symphony when he was barely 17 years of age while studying at the Paris Conservatoire under Charles Gounod, and the work is marked by the cool objectivity of Classicism and French lyricism.

Bizet's Symphony in C is widely assumed to have been a student assignment largely inspired by his teacher, Gounoud's, Symphony No. 1 in D, written only a year before. As a student, Bizet accepted several commissions to arrange Gounoud's works, and he was engaged in a transcription of the Symphony in D for two pianos while composing his own symphony. His close involvement with Gounod's orchestral score gave Bizet the opportunity to explore his teacher's compositional techniques and incorporate them into his own work. This explains the numerous stylistic, orchestral, melodic, and harmonic similarities between the Bizet and Gounod symphonies; there are several parodies and direct quotations from Gounod and it is likely that Bizet was paying homage to his celebrated teacher. In a letter to his Gounod, Bizet later wrote, "You were the beginning of my life as an artist. I spring from you. You are the cause, I am the consequence."

Bizet chose to never perform or publish his symphony during his lifetime, presumably because of its resemblance to his teacher's work, but he did use certain material from the symphony in his later works. Bizet's widow, Genevieve Halevy, passed along the symphony's manuscript after his death, but the work was not premiered until 50 years later, in Basel, Switzerland under the conductor Felix Weingartner. Written for a standard orchestra without trombones, the Symphony in C follows the classical symphonic form in four movements: I. "Allegro vivo," II. "Andante. Adagio," III. "Scherzo. Allegro vivace," IV. "Finale. Allegro vivace."

Melissa Frisch (MM, '24)
About the Artists
Grant Llewellyn

Music Director Laureate of the North Carolina Symphony, Grant Llewellyn is renowned for his exceptional charisma, energy, and easy authority in music of all styles and periods. Born in Tenby, South Wales, Llewellyn won a Conducting Fellowship to the Tanglewood Music Center in Massachusetts in 1985 where he worked with Bernstein, Ozawa, Masur, and Previn.

Having concluded his tenure as Music Director of the Orchestre National de Bretagne after eight years, he returns this year to conduct their final concert of the season featuring Hodinott, Walton and Brahms' Symphony No.3. Last season, under Llewellyn's direction, the orchestra performed the world premiere of Sarah Lianne Lewis' L'Île des jamais trop tard, a symphonic tale exploring and reflecting upon the sounds of seascapes and the threats of climate change, and finished the season with a spectacular concert at Festival Saint Denis in Paris with Bryn Terfel and Carlos Nunez.

Elsewhere, Llewellyn's guest engagements have included the BBC Symphony Orchestra, Helsinki Philharmonic, Philharmonia Orchestra, Royal Philharmonic Orchestra, and Royal Scottish National Orchestra, amongst others. Llewellyn enjoys a continuing relationship with the BBC National Orchestra of Wales whom he led on tour to Patagonia and South America as well as joining their 90th anniversary celebrations and conducting their Proms in the Park in September 2018.

An accomplished opera conductor, Grant Llewellyn has appeared at the opera companies of English National Opera, Opera North, and the Opera Theatre of Saint Louis, where his repertoire has ranged from The Magic Flute to Alexander Goehr's Arianna. Productions include the US premiere of Handel's Richard the Lionheart with the Opera Theatre of Saint Louis and Fidelio with the Opéra de Rennes, where he recently led Mathieu Bauer's production of Stravinsky's The Rake's Progress, which received the Claude Rostand prize from the Syndicat Français de la Critique for Best Opera Outside of Paris (meilleur spectacle lyrique en régions).

After seventeen years as the North Carolina Symphony's Music Director, Llewellyn currently holds the post of Music Director Laureate. Llewellyn returns there twice this season for a symphonic programme, and an education project. Llewellyn has conducted widely across North America, most notably the symphony orchestras of Atlanta, Boston, Houston, Milwaukee, Montreal, Philadelphia, St. Louis, and Toronto and recently at Caramoor Festival with the Orchestra of St Luke's. During his time as Music Director of the Handel and Haydn Society, America's leading period orchestra, he gained a reputation as a formidable interpreter of music of the baroque and classical periods.

Notable recordings with the North Carolina Symphony include American Spectrum, featuring 20th century works with the saxophonist Branford Marsalis, and Britten's Cello Symphony and Prokofiev's Sinfonia Concertante with the cellist Zuill Bailey; and with the BBC Symphony Orchestra he recently recorded a disc of Lowell Liebermann's orchestral works.

Deeply committed and passionate about engaging young people with music, Llewellyn regularly leads education and outreach projects; in 2017 he led the first ever "relaxed" BBC Prom with the BBC National Orchestra of Wales, a concert specially designed for those with autism, sensory and communication impairments, and learning disabilities.
Ensemble
Violin I
Veronika Manchur, concertmaster
Bradley Adam Bascon
Ariana O'Connell
Sarah Yoo
Maya Masaoka
Haesol Lee
Emily Hsu

Violin II
Sarah Beth Overcash, principal
Anna Renton
Kaiyuan Wu
Diana Dawydchak
Qiaorong Ma
Sofia Llacer Chamberlain

Viola
Prosper Luchart, principal
Daniel Miles
Gloria Choi
Ziyan Zeng
Paulina Flores
Jay Maldonado

Cello
Yuqi Wang, principal
Joseph Kim
Ji Sun Jung
Celilo Swain
Jonathan Lin

Bass
Sarah Wager, principal
Avery Weeks
Eric Windmeier
Ethan Moffitt

Harp
Kaitlin Miller
Flute
Antonina Styczen-Leszczynska*+
Sylvia Ettinger
Dennis Papazyan

Oboe
Sonia Matheus*
Lauren Breen+
Ha Eun An

Clarinet
Elad Navon*
Bram Schenk+
Andrei Bancos

Bassoon
John Gonzalez*
Callahan Liengh+
Taki Salameh
Heeseung Lee

Horn
Abraham Murillo+
Kira Goya*
Joe Oberholzer
Lauren Goff

Trumpet
Talitha Duckworth*
Jazzmine Van Veld+

Timpani
David Lee

* denotes principal on Poulenc
+ denotes principal on Bizet