USC Thornton Edge Concert Program
November 15, 2022
7:30 pm
Faculty member Frank Ticheli leads new music ensemble Thornton Edge in an evening performance focusing on works composed by USC student and alumni-composers.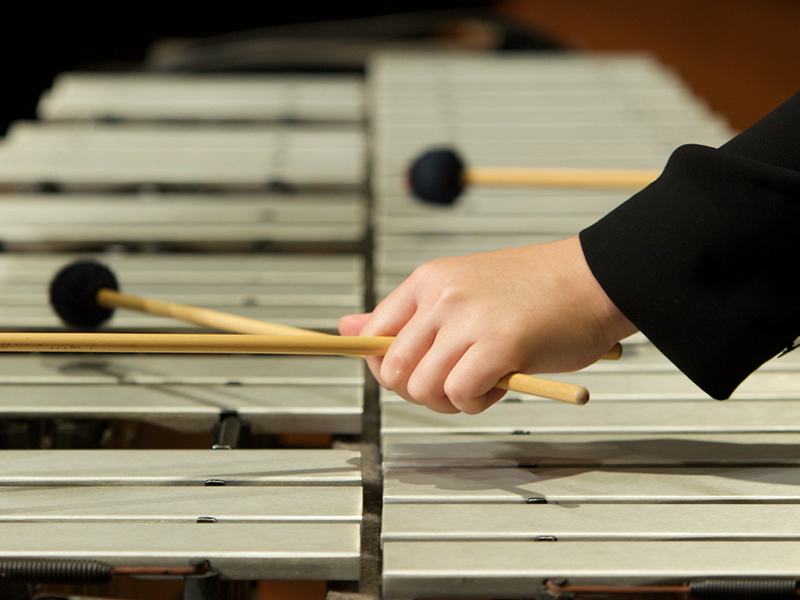 Program
Judd Greenstein
(b. 1979)
Allison Loggins-Hull
(b. 1982)
Program Notes
Clearing Dawn Dance
Judd Greenstein
Clearing, Dawn, Dance was written specifically for the six virtuoso musicians of ymusic who commissioned this work for their debut album, Beautiful Mechanical. It's a piece that tries to take advantage of their unique skills and personalities; they are a chamber group that can behave as a tight, seamless ensemble, but they also embrace and even flaunt their individual personalities within the group. That's a rare combination and it was a pleasure to write this piece for them, and to have them truly make it their own.
—Judd Greenstein
Judd Greenstein is a composer of structurally complex, viscerally engaging works for varied instrumentation. Judd's philosophy as both a composer and a curator involves music that is an organic blend of multiple styles, sounds, and instruments, open to all influences. Recent projects include an orchestral song cycle for indie rock vocalist DM Stith, an opera about Robert Moses and Jane Jacobs, a ballet score for Isabella Boylston and choreographer Gemma Bond, and a flute concerto for Alex Sopp and the Knights. He is the co-director of New Amsterdam Records, an artists' service organization that supports post-genre musicians in developing their most personal new projects, and the curator of the Ecstatic Music Festival in New York's Merkin Hall, an annual showcase of new collaborative concerts between artists from different musical worlds.
afloat
Quenton Blache
afloat is about keeping one's head up and "above water" during hardship, which many may find relevant during these times. The piece is comprised of three main underlying motifs that transform throughout, undergoing constant harmonic and rhythmic changes, which is my representation of focus and determination even through the surrounding chaos.
—Quenton Blache
Quenton Blache is a composer and cellist attending the University of Southern California Thornton School of Music. He has performed in Carnegie Hall, South America, Europe, and Asia as a member of Sphinx Virtuosi and National Youth Orchestra USA. As a composer, he has written for chamber ensembles, short films, and documentaries.
Electric Aroma
Viet Cuong
Between painting, sculpting, and printmaking, Pablo Picasso found the time to write some very intriguing poetry. Electric Aroma was creatively sparked by a line he wrote on October 10, 1936 which reads "an electric aroma a most disagreeable noise." By using electronic-inspired sounds such as buzzy snare drum and vibraphone effects, glitch-like flutter tonguing, and raucous saxophone multiphonics, the piece forces some disagreeable sounds to agree with each other as they are woven into a distorted, dance-like romp. This piece was commissioned by Elizabeth and Justus Schlichting for the 2017 Eighth Blackbird Creative Laboratory.
—Viet Cuong
Viet Cuong has had his music performed by musicians and ensembles such as the New York Philharmonic, Eighth Blackbird, Saint Paul Chamber Orchestra, Sō Percussion, Alarm Will Sound, Atlanta Symphony, Sandbox Percussion, Albany Symphony, PRISM Quartet, and Dallas Winds, among many others. Passionate about bringing these different facets of the contemporary music community together, his upcoming projects include a concerto for Eighth Blackbird with the United States Navy Band. Viet also enjoys exploring the unexpected and whimsical, and he is often drawn to projects where he can make peculiar combinations and sounds feel enchanting or oddly satisfying. He is currently the California Symphony's Young American Composer-in-Residence, and recently served as the Early Career Musician-in-Residence at the Dumbarton Oaks.
The Pattern
Allison Loggins-Hull
The Pattern serves as a case for reparations for the African American community and embodies the tumultuous relationship between white Americans and black Americans—from the beginning of slavery, to today. Moments throughout American history demonstrate the many ways in which white supremacy has, very intentionally, created roadblocks against progress for African Americans. For example, after the Civil War and during Reconstruction, black Americans began to participate in government and build their own communities. This was met by riots throughout the South, led by white mobs, and policy was enacted to overthrow the participation of blacks in politics. During Jim Crow, blacks were not only segregated from whites and received less resources, but they were also disenfranchised as voting citizens. Among many oppressive acts leading up to the Civil Rights Movement, black Americans experienced redlining, making it next to impossible to legitimately purchase a home and build wealth. These incidences are indicative of a pattern that's as American as apple pie.
The beginning of The Pattern is inspired by the last battle of the Civil War, the Battle of Palmito Ranch. Once the war ends, black Americans are declared free from slavery, but left with no guidance or resources. Though during Reconstruction many blacks were able to acquire land and build their own communities, there was lingering disdain from defeated confederates, and terroristic behaviors towards blacks ensued. The music moves into a section that represents the hope and optimism felt by black Americans, but also the looming and inevitable attack from white supremacy. There is a moment where true freedom seems possible, established by a groove in the vibraphone and piano with liberated winds, but there is still a sense that history will repeat itself. In the final section, it is made clear that this is a cycle proven to be exhausting, painful, and psychologically harmful.
Because of this toxic pattern, black Americans have struggled to experience the same privileges as their white counterparts. Putting an end to this abuse is a much needed and overdue form of reparations.
—Allison Loggins-Hull
Allison Loggins-Hull is a flutist, composer, and producer who has worked with groups across the spectrum of popular and classical music including Flutronix, Hans Zimmer, Lizzo, Imani Winds, Alarm Will Sound, the International Contemporary Ensemble, Alicia Hall Moran, and Jason Moran. She is currently the Cleveland Orchestra's eleventh Daniel R. Lewis Composer Fellow. Her music is resonant with social and political themes of the current moment, encompassing motherhood, Blackness, and cultural identity. Loggins-Hull and Nathalie Joachim co-founded the critically acclaimed duo Flutronix, which has been praised by The Wall Street Journal for being able "to redefine the instrument" and for "redefining the flute and modernizing its sound by hauling it squarely into the world of popular music."
Death Valley Junction
Missy Mazzoli
Death Valley Junction is a sonic depiction of the town of the same name, a strange and isolated place on the border of California and Nevada. The "town" is home to three people and consists of a café, a hotel, and a fully functional opera house. Death Valley Junction is dedicated to Marta Becket, the woman who resurrected and repaired the crumbling opera house in the late 1960's and performed one-woman shows there every week until her retirement last year at age 86. The piece begins with a sparse, edgy texture — the harsh desert landscape — and collapses into a wild and buoyant dance. Marta Becket once compared herself to the single yellow flower that is able to, against all odds, flourish in the desert. This piece attempts to depict some of her exuberant energy and unstoppable optimism, and is dedicated to her.
—Missy Mazzoli
Missy Mazzoli is a Grammy-nominated composer who has been performed all over the world by by groups such as the Kronos Quartet, eighth blackbird, Opera Philadelphia, Scottish Opera, LA Opera, Cincinnati Opera, New York City Opera, the LA Philharmonic, the Minnesota Orchestra, the American Composers Orchestra, and JACK Quartet. She is currently the Mead Composer-in-Residence at the Chicago Symphony Orchestra. In 2018 she made history when she became one of the two first women (along with composer Jeanine Tesori) to be commissioned by the Metropolitan Opera. In 2016, Mazzoli founded the Luna Composition Lab, a mentorship program for young female-identifying, non-binary, and gender nonconforming composers. Mazzoli is also an active TV and film composer.
New Addresses
Chris Cerrone
The title New Addresses was suggested by a collection of poetry by Kenneth Koch, a member of the much-beloved New York School. I was inspired by the emotional immediacy of Koch's work and wanted to echo that in my quartet for the fabulous Boston-based quartet, Hub New Music. The poems in Koch's collection are addressed, in the second person, to a specific object or person of interest ('The Italian Language,' 'My Father's Business,' 'Piano Lessons').
"Each of the three interconnected movements in New Addresses are inspired by one of the poems from the eponymous collection. The first, 'To Breath,' features the insisting chuffing of the flutist. The second 'To My Heart at the Close of Day' evokes, via a long violin solo, the protagonist's melancholic mood at dusk. And the last, 'To "Yes,"' is a rhythmic, energetic march that insists—affirmatively—on the same note. It is dedicated, with affection, to Hub.
—Chris Cerrone
Chris Cerrone is a Grammy-nominated composer whose work is characterized by a subtle handling of timbre and resonance, a deep literary fluency, and a flair for multimedia collaborations. Balancing lushness and austerity, immersive textures and telling details, dramatic impact, and interiority, Cerrone's music is utterly compelling and uniquely his own. Cerrone's first opera, Invisible Cities, was a 2014 Pulitzer Prize finalist and his most recent opera, In a Grove, was jointly produced by LA Opera and Pittsburgh Opera. Cerrone is the winner of the 2015-2016 Samuel Barber Rome Prize in Music Composition and is currently a fellow at the Laurenz Haus Foundation in Basel, Switzerland in 2022–2023.
About the Artists
Frank Ticheli, conductor
Frank Ticheli's music has been described as being "optimistic and thoughtful" (Los Angeles Times), "lean and muscular" (New York Times), "brilliantly effective" (Miami Herald) and "powerful, deeply felt crafted with impressive flair and an ear for striking instrumental colors" (South Florida Sun-Sentinel). Ticheli (b. 1958) joined the faculty of the University of Southern California's Thornton School of Music in 1991, where he is Professor of Composition. From 1991 to 1998, Ticheli was Composer in Residence of the Pacific Symphony.
Frank Ticheli's orchestral works have received considerable recognition in the U.S. and Europe. Orchestral performances have come from the Philadelphia Orchestra, Atlanta Symphony, Detroit Symphony, Dallas Symphony, American Composers Orchestra, the radio orchestras of Stuttgart, Frankfurt, Saarbruecken, and Austria, and many others.
Frank Ticheli is the recipient of a 2012 "Arts and Letters Award" from the American Academy of Arts and Letters, his third award from that prestigious organization. He is a two-time winner of the NBA/William D. Revelli Memorial Band Composition Contest (Symphony no. 2 in 2006, andLux Perpetua in 2021). In 2018, Ticheli received the University of Michigan Alumni Society's highest honor, the Hall of Fame Award, in recognition for his career as a composer. He was also awarded national honorary membership to Phi Mu Alpha Sinfonia, "bestowed to individuals who have significantly contributed to the cause of music in America."
Ensemble
Clearing Dawn Dance
Chloe Descher, flute
Melissa Frisch, clarinet
Tali Duckworth, trumpet
Sara Beth Overcash, violin
Julia Moss, viola
Quenton Blache, cello

afloat
Evan Llafet, violin
Quenton Blache, cello
Kiko Velasco, piano

Electric Aroma
Joshua Herbert, saxophone
Melissa Frisch, clarinet
Tony Cardella, piano
Dominic Grande, percussion
The Pattern
Jeongwon Bae, flute
Melissa Frisch, clarinet
Olena Kaspersky, violin
Madelynn Bolin, cello
Benjamin Yu, piano
Dominic Grande, percussion

Death Valley Junction
Olena Kaspersky, violin
Vikram Iyer, violin
Julia Moss, viola
Madelynn Bolin, cello

New Addresses
Chloe Descher, flute
Melissa Frisch, clarinet
Sara Beth Overcash, violin
Alex Mansour, cello