USC Thornton Symphony Concert Program
September 9, 2022
7:30 p.m.
Carl St.Clair, artistic leader and principal conductor of the USC Thornton orchestras, leads the USC Thornton Symphony in the opening concert of Thornton's Fall 2022 season.
The performance includes Maurice Ravel's Daphnis et Chloe, Suite No. 2, Angélica Negrón's What Keeps Me Awake, and Pictures at an Exhibition, composed by Modest Mussorgsky and arranged by Ravel, in Bovard Auditorium.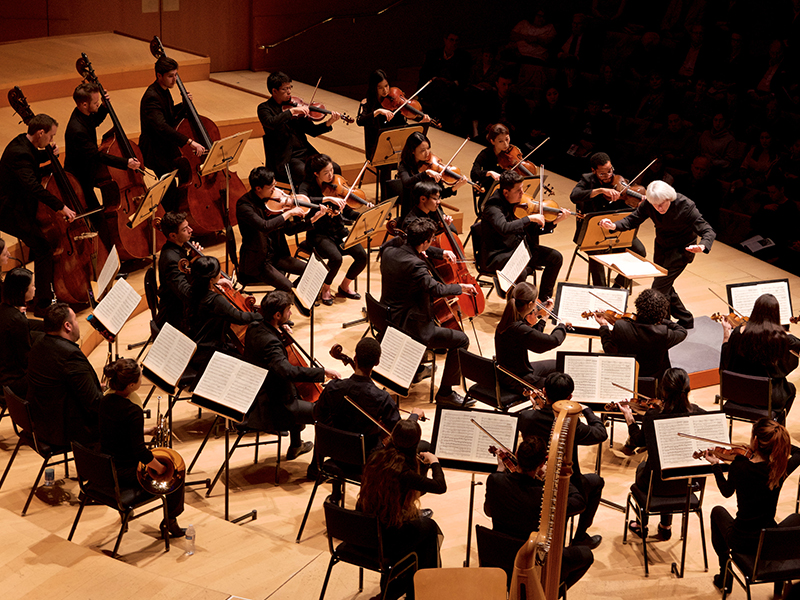 Program
Daphnis et Chloe, Suite No. 2
   "Lever du jour"
   "Pantomime"
   "Danse générale"
Maurice Ravel
(1875-1937)
Angélica Negrón
(b. 1981)
Pictures at an Exhibition (arr. Ravel)
Promenade
   1. Gnomus
Promenade
   2. The Old Castle
Promenade
   3. Tuileries
   4. Bydło
Promenade
   5. Ballet of the Chicks in Their Shells
   6. Samuel Goldenberg and Schmuÿle
   7. Limoges
   8. Catacombs
Cum mortuis in lingua mortua
   9. The Hut on Fowl's Legs
   10. The Great Gate of Kiev
Modest Mussorgsky
(1839-1881)
Composer Notes
Angélica Negrón (b. 1981)
What Keeps Me Awake
Puerto Rican-born composer and multi-instrumentalist Angélica Negrón writes music for accordions, robotic instruments, toys, and electronics as well as for chamber ensembles, orchestras, choir, and film. Her music has been described as "wistfully idiosyncratic and contemplative" (WQXR/Q2) while The New York Times noted her "capacity to surprise." Negrón has been commissioned by the Bang on a Can All-Stars, Kronos Quartet, loadbang, MATA Festival, Brooklyn Youth Chorus, Sō Percussion, the American Composers Orchestra, and the New York Botanical Garden, among others. She has composed numerous film scores, including Landfall (2020) and Memories of a Penitent Heart (2016), in collaboration with filmmaker Cecilia Aldarondo. She was the recipient of the 2022 Hermitage Greenfield Prize. Upcoming and premieres include works for the Seattle Symphony, LA Philharmonic, NY Philharmonic Project 19 initiative and multiple performances at Big Ears Festival 2022. Negrón continues to perform and compose for film.

Program Notes
Maurice Ravel (1875-1937)
Daphnis et Chloe, Suite No. 2
Maurice Ravel was born to a music-loving family in 1875 in Ciboure, France. He began studying piano at the age of seven, and although his teachers complained about Ravel's unpolished playing at times, they did not question his ability as a composer. During his years at the Paris Conservatory, Ravel studied with the two of his most influential teachers Gabriel Fauré and André Gedalge, learning composition from Fauré and orchestration and counterpoint from Gedalge.
Ravel was commissioned to write Daphnis et Chloé for the Ballets Russes by the founder of the company, Serge Diaghilev. Russian choreographer and a dancer Michel Fokine was the mastermind behind the production of Daphnis, adapting Longus's Greek romance into a ballet and proposing it to the director of the Russian Imperial Theatres himself. In finding out that Ravel, who was regarded as France's greatest living composer of the time, would be collaborating with him, Fokine remarked "I was delighted that a musician of such talent was going to write music for my Daphnis ballet, and I felt that the music would be unusual, colorful and, most important, what I sincerely wished–totally unlike any other ballet music."
Initial excitement faded when Ravel and Fokine discovered their conflict of interests in navigating the artistic direction of Daphnis. Fokine wanted the reimagining of ancient Greece with white tunics and sandals, to "recapture, and dynamically express, the form and image of the ancient dancing depicted in red and black on Attic vases." Ravel on the other hand was inspired by the hypothetical image of Greece created by painters. Ravel hoped to achieve "a vast musical fresco, less concerned with archaism than with faithfulness to the Greece of my dreams, which is similar to that imagined and painted by French artists at the end of the eighteenth century." Ravel revealed his frustration of this process in a letter to one of his benefactors: "To confuse matters, Fokine does not know a word of French, and I can only curse in Russian. Irrespective of the translators, you can imagine the timbre of these conversations."
Despite the disagreement, the end result is a luscious "choreographic symphony" that is unlike any other ballet music just as Fokine wished for. After its moderate success as a ballet, Ravel took sections of Daphnis et Chloé and created two orchestral suites. The second suite draws from the last part of the ballet and depicts Daphnis' grievance over the loss of Chloé, his dream about Pan's intervention, and finally, the reunion of Daphnis and Chloé. The piece opens with repeated arpeggios in woodwinds and harp, creating the famous sunrise. Another famous sound from this suite is the flute solo over the pizzicato strings, accompanying Chloé's dance.
Ravel later confessed that he struggled with creating a proper end of the ballet: "Yes, I was in a very bad mood over it, so much so that I put Rimsky's Scheherazade on the piano and tried, very humbly, to write something like it." Knowing this, one could say that the segment of the melody that's passed around within the brass section in Nikolai Rimsky-Korsakov's second movement of Scheherazade makes an appearance in the end of Daphnis right before the E-flat clarinet solo starts, but it is clear that what Ravel did was more than a mere imitation of Rimsky. The story of Daphnis and Chloé ends with the bacchanal celebration of their reunion, fitting conclusion to Ravel's "vast musical fresco" in an exhilarating and triumphant fashion.
-Jeongwon Bae (Flute, MM 2024)


Angélica Negrón (b. 1981)
What Keeps Me Awake
What Keeps Me Awake is a highly personal piece that deals with events that have been keeping me from sleeping at night. The title is meant to be taken literally as a representation of everything that can affect the seemingly simple act of falling asleep. The piece is built around four main sections, which are constantly interrupted by different ideas that later undertake transformations and end up overlapping with the main sections. The repetitive tones, usually against long sustained chords, suggest the persistent I hear inside my head when trying to think of nothing and the atmospheric quality of the work aims to immerse the listener in this paradoxical reality. The piece is also an exploration on the artistic process itself and the flow of creative thoughts in the conscious mind. In a way, it's an invitation to follow one's intuition but at the same time acknowledge and internalize the significance of logical reasoning. Through blurred lines, malleable patterns, and colored clouds of sound, I intend to explore the intensity that the process of "creating something" demands. The last measures of the work lack a sense of stability sustaining the idea that there is no decisive conclusion or definite answer but only the inevitability of moving forward.
-Angélica Negrón


Modest Mussorgsky (1839-1881)
Pictures at an Exhibition (arr. Ravel)
Modest Mussorgsky's Pictures at an Exhibition was composed as a tribute to Mussorgsky's friend, a painter and an architect Victor Hartmann after his passing. Inspired by a memorial exhibition of Hartmann's work organized by a critic Vladimir Stasov, Mussorgsky promptly wrote this ten-piece suite of piano work in 1874, following the completion of his opera Boris Godunov. In his letter to Stasov, Mussorgsky revealed just how inspired he was: "Hartmann is seething as Boris did. Sounds and ideas float in the air, and my scribbling can scarcely keep pace with them."
Arts critic Alfred Frankenstein claimed to have identified seven pieces of Hartmann's work that correspond to the movements of Pictures, which suggests that the ten movements of Pictures correspond to eleven of Hartmann's work, with "Samuel Goldenberg and Schmuÿle" accounting for two. Each movement being tied to a work of Hartmann is fitting, considering the title of the piece. Another element that Mussorgsky used to deliver the audience an experience of an exhibition is the appearance of "Promenade" movements throughout the piece. "Promenade" first acts as a prelude with the infamous trumpet opening of Ravel's orchestration, then as a link between several movements, and finally as the integral element of the movements "The Catacombs" and the finale "The Great Gate of Kiev." Mussorgsky explained to Stasov that return of the "Promenade" is meant to suggest his "roving through the exhibition, now slowly, now quickly, and at times thinking sadly of his departed friend."
Ravel was not the first composer to orchestrate Mussorgsky's Pictures at an Exhibition when he was commissioned by a Russian-born conductor Serge Koussevitzky in 1922, and he would not be the last. Many took on the challenge of taking Mussorgsky's piano piece with extensive use of unison and hollow two-part writing and turning it into an orchestral work, but Ravel's orchestration stands out with his creative artistic choices while keeping the integrity of the original work.
Being a skilled orchestrator and a pianist, transcribing Mussorgsky's piano work wouldn't have been too hard a task for Ravel. The hardship came from Ravel's inability to obtain Mussorgsky's original piano score. In his letter to a friend Michel Dimitri Calvocoressi, a music writer and a critic, Ravel shared his frustration in not being able to get his hands on the "édition originale de Moussorgsky" despite his effort. The original score of Mussorgsky he so hoped-for wouldn't be published until 1931, which left Ravel to work with Rimsky-Korsakov's edition which included much reworkings, errors, and misreadings.
Despite this less-than-ideal circumstance, Ravel's orchestration of Pictures is arguably the most performed and the best remembered one of all the others. In his conversations with Calvocoressi, Ravel stated that he "used all possible ingredients" in orchestrating Pictures. Ravel's use of glissando, flutter tonguing, and muting, as well as his attention to distribution of parts, bowing, articulation, double stopping and pizzicato in strings is a showcase of Ravel's technical brilliance. Ravel shined a new light to Mussorgsky's Pictures at an Exhibition and doing so, proved the musical world yet again his ability as a virtuoso orchestrator.
-Jeongwon Bae (Flute, MM 2024)

About the Artists
Carl St.Clair
Artistic Leader and Principal Conductor of the USC Thornton Orchestras
Carl St.Clair is internationally recognized for his distinguished career as a professional conductor and master teacher. He has had a continuing relationship with the USC Thornton School of Music for over 25 years as conductor of the USC Thornton orchestras and a faculty lecturer in conducting. In 2012, he took on an expanded role as artistic leader and principal conductor of the USC Thornton orchestras.
The 2022-2023 season marks his thirty-third year as music director of the Pacific Symphony. He is one of the longest-tenured conductors of the major American orchestras. St.Clair's lengthy history solidifies the strong relationship he has forged with the musicians and the community. His continuing role also lends stability to the organization and continuity to his vision for the symphony's future. Few orchestras can claim such rapid artistic development as the Pacific Symphony—the largest-budgeted orchestra formed in the United States in the last 50 years—due in large part to St.Clair's leadership.
During his tenure, St.Clair has become widely recognized for his musically distinguished performances, his commitment to building outstanding educational programs and his innovative approaches to programming. In April 2018, St.Clair led the Pacific Symphony in its sold-out Carnegie Hall debut as the finale to the Carnegie's yearlong celebration of pre-eminent composer Philip Glass's eightieth birthday, ending in a standing ovation and with The New York Times calling the symphony "a major ensemble!" He led the Pacific Symphony on its first tour to China in May 2018, the orchestra's first international tour since touring Europe in 2006. The orchestra made its national PBS debut in June 2018 on Great Performances with Peter Boyer's "Ellis Island: The Dream of America," conducted by St.Clair. Among St.Clair's many creative endeavors are the highly acclaimed American Composers Festival, which began in 2000; and the opera initiative, "Symphonic Voices," which continues for the ninth season in 2019-20 with Verdi's Othello, following the concert-opera productions of Madame Butterfly, The Magic Flute, Aida, Turandot, Carmen, La Traviata, Tosca and La Bohème in previous seasons.
St.Clair's commitment to the development and performance of new works by composers is evident in the wealth of commissions and recordings by the Pacific Symphony. The 2016-17 season featured commissions by pianist/composer Conrad Tao and composer-in-residence Narong Prangcharoen, a follow-up to the recent slate of recordings of works commissioned and performed by the symphony in recent years. These include William Bolcom's Songs of Lorca and Prometheus (2015-16), Elliot Goldenthal's Symphony in G-sharp Minor (2014-15), Richard Danielpour's Toward a Season of Peace (2013-14), Philip Glass' The Passion of Ramakrishna (2012-13) and Michael Daugherty's Mount Rushmore and The Gospel According to Sister Aimee (2012-13). St.Clair has led the orchestra in other critically acclaimed albums including two piano concertos of Lukas Foss, Danielpour's An American Requiem and Goldenthal's Fire Water Paper: A Vietnam Oratorio with cellist Yo-Yo Ma. Other commissioned composers include James Newton Howard, Zhou Long, Tobias Picker, Frank Ticheli, Chen Yi, Curt Cacioppo, Stephen Scott, Jim Self (Pacific Symphony's principal tubist) and Christopher Theofanidis.
In 2006 and 2007, St.Clair led the orchestra's historic move into its home in the Renée and Henry Segerstrom Concert Hall at Segerstrom Center for the Arts. The move came on the heels of the landmark 2005-2006 season that included St.Clair leading the symphony on its first European tour—nine cities in three countries playing before capacity houses and receiving extraordinary responses and reviews.
From 2008-2010, St.Clair was general music director for the Komische Oper in Berlin. He also served as general music director and chief conductor of the German National Theater and Staatskapelle (GNTS) in Weimar, Germany, where he led Wagner's Ring Cycle to critical acclaim. He was the first non-European to hold his position at the GNTS; the role also gave him the distinction of simultaneously leading one of the newest orchestras in America and one of the oldest in Europe.
In 2014, St.Clair became the music director of the National Symphony Orchestra in Costa Rica. His international career also has him conducting abroad several months a year, and he has appeared with orchestras throughout the world. He was the principal guest conductor of the Radio Sinfonieorchester Stuttgart from 1998 to 2004, where he completed a three-year recording project of the Villa–Lobos symphonies. He has also appeared with orchestras in Israel, Hong Kong, Japan, Australia, New Zealand, South America, China, Thailand and Malaysia and in summer festivals worldwide. In North America, St.Clair has led the Boston Symphony Orchestra (where he served as assistant conductor for several years), New York Philharmonic, Philadelphia Orchestra, Los Angeles Philharmonic and the San Francisco, Seattle, Detroit, Atlanta, Houston, Indianapolis, Montreal, Toronto and Vancouver symphonies, among many.
Carl St.Clair is a strong advocate of music education for all ages and is internationally recognized for his distinguished career as a master teacher. He has been essential to the creation and implementation of the Pacific Symphony's education and community engagement programs including Pacific Symphony Youth Ensembles, Heartstrings, Sunday Matinées, OC Can You Play With Us?, arts-X-press and Class Act. In addition to his professional conducting career, St.Clair has worked with most major music schools across the country. In 2018, Chapman University President Danielle Struppa appointed St.Clair as a Presidential Fellow, working closely with the students of the College of the Performing Arts at Chapman University. St.Clair has been named "Distinguished Alumni in Residence" at the University of Texas Butler School of Music beginning 2019. And, for over 25 years, he has had a continuing relationship with the USC Thornton School of Music where he is artistic leader and principal conductor of the orchestral program.