USC Thornton Symphony Concert Program
January 27, 2023
7:30 p.m.
Carl St.Clair, artistic leader and principal conductor of the USC Thornton orchestras, leads the USC Thornton Symphony in Gustav Mahler's ninth symphony, the final symphony the iconic composer completed.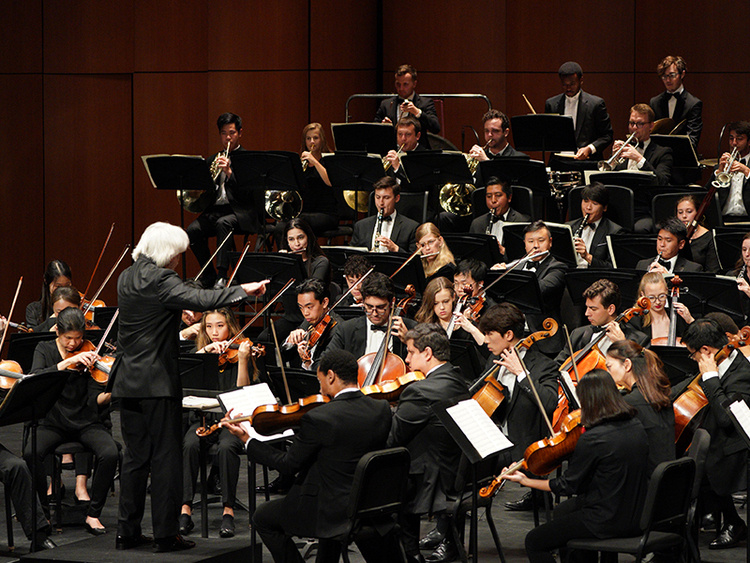 Program
Symphony No. 9 in D Major

   I. Andante comodo
   II. Im Tempo eines gemächlichen Ländlers
   III. Rondo – Burleske
   IV. Adagio
Program Notes
Gustav Mahler, Symphony No. 9
(1909)
Gustav Mahler's Symphony 9 is an expansive piece wrought with the dread and beauty of life and death. It is the culmination of a life spent with mortality in mind (his earliest work, written as a child, entitled "Polka with Funeral March"), and final years filled with heartbreak and solitude. This symphony is part of what many refer to as Mahler's "farewell" trilogy, beginning with Das Lied von der Erde (1908-09) and ending with the incomplete tenth symphony.
"It seems that the Ninth is the limit. He who wants to go beyond it must pass away. It seems as if something might be imparted to us in the Tenth for which we are not yet ready. Those who have written a Ninth have stood too near to the hereafter."
Mahler's apparent superstition surrounding great composers' ninth symphonies became a prophecy he himself fell prey to before he could reach the hidden truth he believed the tenth symphony may have held.
There were two primary triggers to the initiation of this farewell, both occurring in 1907: the death of his four year-old daughter after a short battle with scarlet fever, and his own diagnosis of the heart condition that would kill him four years later. The combination of these traumatic events and his increasingly isolated existence formed a creative breeding ground from which the "farewell" trilogy, including the ninth symphony, sprouted. With an overall running time of 75 to 90 minutes, there may have been a part of him that knew this would be his final completed work.
Each movement of this Symphony 9 serves as a final hurrah leading towards the end of his life and career. The first movement, a combination of sonata and rondo forms, is practically a symphony in its own right, within which a recurring 4 note motif rhythmically derived from the words "Leb' wohl" (farewell) let slip his fixation on finality during this compositional process. The second movement alternates between the slow triple meter of the earthy Austrian folk dance Ländler (one of Mahler's favourite dance forms) and more lively waltz-like segments. In sharp contrast, the third movement Burleske is an intense flurry of contrapuntal magnificence – a jab at critics of his time who felt that counterpoint may not have been his strong suit. Finally, the fourth movement creates an overall symmetrical experience in the work, as it rivals the first in its length. Most importantly, within this movement are quotes from the fourth of his Kindertotenlieder ("Songs on the Death of Children"), written shortly before the death of his daughter.
While Mahler had hoped to divine the truth hidden within the unreachable tenth symphony, it is hard to imagine any other work he could have produced that would have as effectively encompassed the final period of his life and development as this Symphony 9.
Lindsay Bryden, (DMA Spring 2024)
About the Artists
Carl St.Clair is internationally recognized for his distinguished career as a professional conductor and master teacher. He has had a continuing relationship with the USC Thornton School of Music for over 25 years as conductor of the USC Thornton orchestras and a faculty lecturer in conducting. In 2012, he took on an expanded role as artistic leader and principal conductor of the USC Thornton orchestras.
The 2022-2023 season marks his thirty-third year as music director of the Pacific Symphony. He is one of the longest-tenured conductors of the major American orchestras. St.Clair's lengthy history solidifies the strong relationship he has forged with the musicians and the community. His continuing role also lends stability to the organization and continuity to his vision for the symphony's future. Few orchestras can claim such rapid artistic development as the Pacific Symphony—the largest-budgeted orchestra formed in the United States in the last 50 years—due in large part to St.Clair's leadership.
During his tenure, St.Clair has become widely recognized for his musically distinguished performances, his commitment to building outstanding educational programs and his innovative approaches to programming. In April 2018, St.Clair led the Pacific Symphony in its sold-out Carnegie Hall debut as the finale to the Carnegie's yearlong celebration of pre-eminent composer Philip Glass's eightieth birthday, ending in a standing ovation and with The New York Times calling the symphony "a major ensemble!" He led the Pacific Symphony on its first tour to China in May 2018, the orchestra's first international tour since touring Europe in 2006. The orchestra made its national PBS debut in June 2018 on Great Performances with Peter Boyer's "Ellis Island: The Dream of America," conducted by St.Clair. Among St.Clair's many creative endeavors are the highly acclaimed American Composers Festival, which began in 2000; and the opera initiative, "Symphonic Voices," which continues for the ninth season in 2019-20 with Verdi's Othello, following the concert-opera productions of Madame Butterfly, The Magic Flute, Aida, Turandot, Carmen, La Traviata, Tosca and La Bohème in previous seasons.
St.Clair's commitment to the development and performance of new works by composers is evident in the wealth of commissions and recordings by the Pacific Symphony. The 2016-17 season featured commissions by pianist/composer Conrad Tao and composer-in-residence Narong Prangcharoen, a follow-up to the recent slate of recordings of works commissioned and performed by the symphony in recent years. These include William Bolcom's Songs of Lorca and Prometheus (2015-16), Elliot Goldenthal's Symphony in G-sharp Minor (2014-15), Richard Danielpour's Toward a Season of Peace (2013-14), Philip Glass' The Passion of Ramakrishna (2012-13) and Michael Daugherty's Mount Rushmore and The Gospel According to Sister Aimee (2012-13). St.Clair has led the orchestra in other critically acclaimed albums including two piano concertos of Lukas Foss, Danielpour's An American Requiem and Goldenthal's Fire Water Paper: A Vietnam Oratorio with cellist Yo-Yo Ma. Other commissioned composers include James Newton Howard, Zhou Long, Tobias Picker, Frank Ticheli, Chen Yi, Curt Cacioppo, Stephen Scott, Jim Self (Pacific Symphony's principal tubist) and Christopher Theofanidis.
In 2006 and 2007, St.Clair led the orchestra's historic move into its home in the Renée and Henry Segerstrom Concert Hall at Segerstrom Center for the Arts. The move came on the heels of the landmark 2005-2006 season that included St.Clair leading the symphony on its first European tour—nine cities in three countries playing before capacity houses and receiving extraordinary responses and reviews.
From 2008-2010, St.Clair was general music director for the Komische Oper in Berlin. He also served as general music director and chief conductor of the German National Theater and Staatskapelle (GNTS) in Weimar, Germany, where he led Wagner's Ring Cycle to critical acclaim. He was the first non-European to hold his position at the GNTS; the role also gave him the distinction of simultaneously leading one of the newest orchestras in America and one of the oldest in Europe.
In 2014, St.Clair became the music director of the National Symphony Orchestra in Costa Rica. His international career also has him conducting abroad several months a year, and he has appeared with orchestras throughout the world. He was the principal guest conductor of the Radio Sinfonieorchester Stuttgart from 1998 to 2004, where he completed a three-year recording project of the Villa–Lobos symphonies. He has also appeared with orchestras in Israel, Hong Kong, Japan, Australia, New Zealand, South America, China, Thailand and Malaysia and in summer festivals worldwide. In North America, St.Clair has led the Boston Symphony Orchestra (where he served as assistant conductor for several years), New York Philharmonic, Philadelphia Orchestra, Los Angeles Philharmonic and the San Francisco, Seattle, Detroit, Atlanta, Houston, Indianapolis, Montreal, Toronto and Vancouver symphonies, among many.
Carl St.Clair is a strong advocate of music education for all ages and is internationally recognized for his distinguished career as a master teacher. He has been essential to the creation and implementation of the Pacific Symphony's education and community engagement programs including Pacific Symphony Youth Ensembles, Heartstrings, Sunday Matinées, OC Can You Play With Us?, arts-X-press and Class Act. In addition to his professional conducting career, St.Clair has worked with most major music schools across the country. In 2018, Chapman University President Danielle Struppa appointed St.Clair as a Presidential Fellow, working closely with the students of the College of the Performing Arts at Chapman University. St.Clair has been named "Distinguished Alumni in Residence" at the University of Texas Butler School of Music beginning 2019. And, for over 25 years, he has had a continuing relationship with the USC Thornton School of Music where he is artistic leader and principal conductor of the orchestral program.
Ensemble
Violin I

Yue Qian, concertmaster
Olena Kaspersky
Owen Lin
Belle Wang
Floriane Naboulet
Sarah Yoo
Veronika Manchur
Agatha Blevin
Laura Gamboa
Anna Renton
Haesol Lee
Sarah Beth Overcash
Johnathan Wu
Sofia Chamberlain

Violin II

Bradley Bascon*
Charlie Lin
Yu Gong
Emily Hsu
Eric Cheng
Qiaorong Ma
Diana Dawydchak
Maya Masaoka
Sara Yamada
Peiwen Su
Anusha Madapura
Ariana O'Connell

Viola

Nicolas Valencia*
Prosper Luchart
Sunwoo Lee
Gloria Choi
David Kang
Connie Song
Daniel Miles
Paulina Flores
Jay Maldonado

Cello

Yuqi Wang*
Quenton Blache
Myles Yeazell
Jonathan Lin
Joseph Kim
Mairead Flory
Madelynn Bolin

Bass

Ethan Moffitt*
Alan Wang
Sarah Wager
Avery Weeks
Sam Miller
Andrew Hungness

Harp

Paulina Delgadillo
Carter Williams

Flute

Antonina Styczen-Leszcynska*
Jeongwon Bae
Chloe Descher
Juwon An

Piccolo

Emily Harrington
Oboe

Sonia Matheus*
Lauren Breen
Neil Cole
Sara Petty

English Horn

Sara Petty

Clarinet

Victor Martinez Jara*
In Soo Oh
Yan Liu

E Flat Clarinet

Elad Navon

Bass Clarinet

Besnik Abrashi

Bassoon

John Gonzales*
Anne Ranzani
Emily Lazernik
Daniel St. John

Contrabassoon

Daniel St. John

Horn

Susannah Greenslit*
Jean Smith
Rachel Lauson
Kathy Yang
Abraham Murillo

Trumpet

Imani Duhe*
Amy Millesen
Tali Duckworth

Trombone

Alex Melzer*
Stephen Hannan

Bass Trombone

Kevin Truong
Rocky Fox

Tuba

Patrick Zhang

Timpani

Preston Spisak*
Luciano Valdes

Percussion

Dominic Grande*
Luciano Valdes
Jeremy Davis
Zoe Beyler

*denotes principal