USC Thornton Symphony Concert Program
Guest conductor Maximiano Valdes leads the USC Thornton Symphony in Ravel's Alborada Del Gracioso, Altar de Viento by Gabriela Ortiz, and Shostakovich's Symphony No. 5 in D minor.
The Chilean conductor is music director of the Puerto Rico Symphony Orchestra. Recently ending a 16-year tenure as music director of the Orquesta Sinfonica del Principado de Asturias in Spain and now the orchestra's conductor laureate, he is also the former music director of the Buffalo Philharmonic.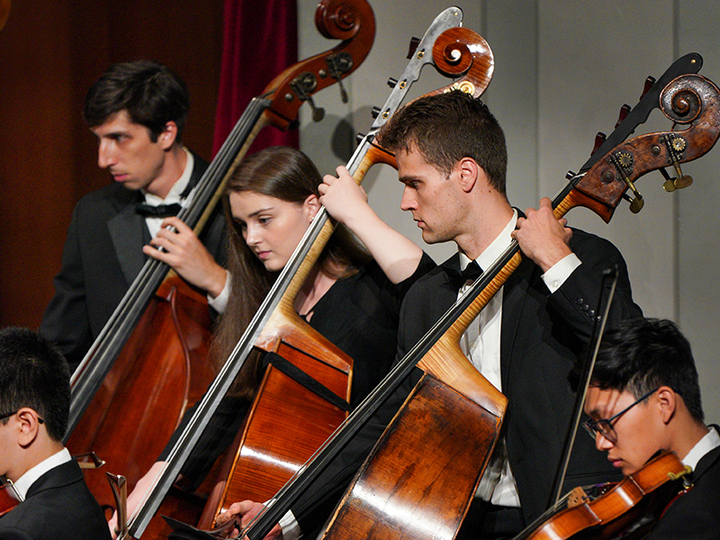 Program
Maurice Ravel
(1875-1937)
Altar de Viento
   I. Luz Eolica
   IV. Tornado

   Antonina Styczen-Leszczynska, flute
Symphony No. 5 in D Minor, Op. 47
   I. Moderato
   II. Allegretto
   III. Largo
   IV. Allegro non troppo
Dmitri Shostakovich
(1906-1975)
Program Notes
Maurice Ravel, Alborada del Gracioso (1918)

Born to a Spanish speaking mother in a town near the border between France and Spain, Ravel wrote many pieces throughout his career inspired by the country to the South. Originally a movement for solo piano from his work Miroirs, Ravel orchestrated Alborada del Gracioso in 1918. The name is most often translated as "Morning song of the Jester," but was left intentionally untranslated by Ravel. In 1907 Ravel penned a letter to Ferdinand Sinzig of Steinway and Sons explaining himself:

"I understand your bafflement over how to translate the title 'Alborada del Gracioso'. That is precisely why I decided not to translate it. The fact is that the gracioso of Spanish comedy is a rather special character and one which, as far as I know, is not found in any other theatrical tradition. We do have an equivalent, though, in the French theatre: Beaumarchais's Figaro. But he is more philosophical, less well-meaning than his Spanish ancestor. The simplest thing, I think, is to follow the title with the rough translation 'Morning Song of the Clown'. That will be enough to explain the humoristic style of this piece."
(Reproduced in Nichols, Roger. (1995) Miroirs – Urtext Edition. London: Peters)

This is all to say that this piece is meant to be taken as a fun and lighthearted jaunt. Beginning with cheeky pizzicato in the strings imitating strummed guitar we fall into a light dance which foreshadows the seguidilla interspersed throughout. This is a fast, light dance in triple time often paired with verses of love an or satire, fitting for our titular jester. The bouncy strings and percussion highlight this style, whereas frequently the winds, and particularly the bassoon, have longer lyrical lines which marks the voice of the jester on their awkward but sweet morning song.

-Dominic Grande (MM Spring 2022)


Gabriela Ortiz, Altar de Viento (2015)

Several years ago, I had the fortune of collaborating with the talented Mexican flutist Alejandro Escuer on various works where the flute is one of the main instruments. This close collaboration has resulted in works such as "Códigis Secretos" for flute and electroacoustic media, "Luz de lava" for flute, soprano choir, and orchestra, and "tres haikus" for flute, voice, and cello. Logically, we needed to include in this list a concerto for flute and orchestra.
&nbsp
The title "Altar de viento [Wind altar]" presents several poetic ideas, images, reflections, and metaphors that serve as a starting point for the musical elaboration of this concerto.

Wind is air in motion, the flutist blowing causes the column of air to vibrate inside the flute's body to produce sound. Wind, like sound, is heard and felt but not seen; both are repositories of mystery, invisible force, and hidden metaphor. They reveal the power of sound and the lack of light and sight. The wind, an ancestral sound, is intimately related to the flute, one of the oldest musical instruments. For Alejandro, his instrument is not really the flute but the wind itself. For me, the altar, an elevated place, pays homage to the wind and sound, knowing that by listening rather than seeing, we reach the presence of the deepest intimacy.

The concerto consists of four movements, two of them, the first: "Luz Eólica [Aeolian Light]" and the third: "Viento Nocturno [Nocturnal Wind]," are inspired by two haikus by the Japanese poet Matsuo Basho (1644-1649). The other two remaining movements, "geometría del aire [geometry of air]" second, and "Tornado" fourth, are based on more concrete musical ideas whose principal function is not only to contrast with the preceding movements but to explore a musical dialogue of much greater virtuosity and rhythmic force for both the orchestral and solo parts.

The two haikus used for the first and third movements are as follows:

1
In the open field
A breeze has wound itself around
My heart of joy

2
The winter wind
Has hidden in the bamboo
Screened by heavy snow

This concerto is dedicated to Alejandro Escuer, to whom I am enormously grateful for his valuable technical contributions and his enormous artistic talent, a source of inspiration for writing and elaborating the musical material.

Gabriela Ortiz
Mexico City, October 5, 2015
(Program notes translated by Dominic Grande, MM Spring 2023)


Dmitri Shostakovich, Symphony No. 5 in D minor, Op. 47 (1937)

Dmitri Shostakovich's Fifth Symphony was premiered by the Leningrad Philharmonic Orchestra on November 21st, 1937, earning great enthusiasm from critics and audiences alike. In composing the work in Stalinist Russia, Shostakovich had to be incredibly deliberate in his writing so that he might convey his musical intention while not displeasing Soviet authorities. His recent opera, Lady Macbeth, had cast criticism on the realities of life in Soviet society and had been condemned by Joseph Stalin himself. Therefore, many elements of Shostakovich's Fifth Symphony appear to outwardly appease the political powers at hand. For example, the work follows the Beethovenian struggle-to-victory model—it begins in D minor yet moves to an apparent "victory" in D major in the finale. However, within the notes themselves many listeners have perceived undertones of oppression and forced celebration, that—if intentional—would represent a subtle act of rebellion on the part of the composer. As to the reality of whether Shostakovich had a "programmatic" (or extramusical) intention in composing the Fifth Symphony, there exists no concrete evidence to point in either direction. The composer did admit that he found delight in one reviewer's labeling of the work as a "Soviet artist's no-nonsense response to fair criticism."

The first movement, in D minor, is marked by the pervasive use of dotted rhythms and features many characteristics that are outwardly ominous and foreboding, such as the infamous low horn tutti. The horn has an opportunity to counterbalance this imposition with a beautiful, light, and conversational duet with the flute at the end of the movement. The second movement Allegretto is more humorous in tone and contrasts a lumbering ländler with beautifully lyrical and buoyant violin and flute solos. In the Largo third movement, Shostakovich scales back the orchestra by leaving out the brass, allowing the devastatingly tragic string writing to be the object of focus. The final movement begins with a menacing march and embarks on the aforementioned journey to a questionably victorious D major. The Symphony No. 5 is undoubtedly a symphonic masterwork, with incredible depth of expression and thematic continuity between movements.

-Susannah Greenslit (MM Spring 2023)
About the Artists
Maximiano Valdes

In February 2008, Chilean conductor Maximiano Valdés was named Music Director and Principal Conductor of the Puerto Rico Symphony in San Juan. Recently ending a 16 year tenure as Music Director of the Orquesta Sinfonica del Principado de Asturias in Spain and now the orchestra's Conductor Laureate, he is also the former Music Director of the Buffalo Philharmonic. Mr. Valdes served as Chief Conductor of both the orchestra and opera at the Teatro Municipal in Santiago, Chile, where he returns annually for both symphonic and opera performances and is currently the Music Director of the Chilean Youth Orchestra. In March 2010, Mr. Valdés also accepted the position of Artistic Director of the famed Festival Casals in San Juan, Puerto Rico.

Mr. Valdés made his American symphonic debut in October 1987 with the Buffalo Philharmonic and was immediately re-invited for the following season. After a successful return to the orchestra in 1989, he was appointed Music Director, a position he held for almost 10 years. In North America he has guest conducted many of the leading orchestras including the Philadelphia Orchestra, the St. Louis, National, Montreal, Baltimore, Seattle, Houston, Dallas and New World symphonies and the Calgary Philharmonic. Summer festival appearances have included engagements at the Caramoor, Interlochen, Grand Teton, Music Academy of the West and Grant Park festivals.

In addition to regular appearances with the Buffalo Philharmonic, recent and upcoming engagements include guest conducting the Indianapolis, Vancouver, Colorado, Phoenix, San Diego, Alabama and Toledo symphonies; the Louisiana Philharmonic; the National Arts Centre Orchestra in Ottawa; and the Eastern Music and Chautauqua festivals. Equally active as an international guest conductor, he has lead the Dresden Philharmonie, Russian State Symphony Orchestra, the Warsaw, Krakow and Katowice Philharmonics, Nice Opera Orchestra, Lisbon Philharmonic and Israel Chamber Orchestra; all of the major Spanish orchestras; the Malaysian Philharmonic; the State Symphony Orchestra of Sao Paulo, Sao Paulo Opera Orchestra and Philharmonica of Minas Gerais in Brazil; the Buenos Aires Philharmonic at the Teatro Colon; and in Mexico, the Mexico City Philharmonic, Mexico National Symphony Orchestra and UNAM Philharmonic. In October 2011, Mr. Valdés led the Orquesta Sinfonica del Principado de Asturias in a concert for the Pope at the Vatican and he was one of the first international conductors to conduct the Orquesta Sinfonica Nacional de Cuba in Havana in January 2016.

Beginning with the 21/22 season, Maestro Valdes was appointed the Distinguished Professor of Musicology at the University of Puerto Rico in San Juan. He also received an Honorary Doctorate Degree. And in August 2022, he took the Puerto Rico Symphony to Chicago for a historic performance in Orchestra Hall. Sponsored by the National Museum of Puerto Rican Arts and Culture, the orchestra presented a program of popular and classical works by composers associated with Puerto Rico.

An experienced opera conductor who has led productions in many of Europe's leading opera houses, Mr. Valdés made his highly successful opera debut conducting La Traviata at the Nice Opera. Since then he has conducted productions in Paris, Lausanne, Rome, Berlin, London, Barcelona, Oslo, Copenhagen, Bonn, Asturias and Santiago, Chile. Mr. Valdés made his American operatic debut with the Seattle Opera conducting Cosi fan tutti and returned there in the fall of 1998 to lead Gounod's Faust. Recent and upcoming opera appearances include Katya Kabanova, Samson and Delilah, Ravel's L'heure Espagnole and Poulenc's Les Mamelles de Tiresias in Oviedo, Spain; La Traviata, Gounod's Romeo and Juliet, Othello, Tosca and Madame Butterfly in San Juan; Lakme, Damnation of Faust, Rigoletto and Rosenkavalier at the Teatro Municipal in Santiago, Chile; and Don Carlo in Madrid.

Born in Santiago,Chile, Maximiano Valdés began his studies in piano and violin at the Conservatory of Music in Santiago and continued his studies at the Accademia de Santa Cecilia in Rome where he took courses in composition and conducting. Completing his diploma in piano, he decided to concentrate entirely on conducting and enrolled in the conducting classes of Franco Ferrara in Bologna, Siena and Venice, and worked with Sergiu Celibidache in Stuttgart and Paris. In 1976 Mr. Valdés was engaged as Assistant Conductor at the Teatro la Fenice in Venice and the following year was a conducting fellow at Tanglewood, where he worked with Leonard Bernstein and Seiji Ozawa. He won First Prize at the Nicolai Malko Competition in Copenhagen, First Prize at the Vittorio Gui Competition in Florence, and Second Prize at the Rupert Foundation Conducting Competition in London.

Maximiano Valdés has recorded with London's Royal Philharmonic, the Monte Carlo and Nice Philharmonics, and the Simon Bolivar Orchestra and had an exclusive agreement with Naxos to record works by Latin American and Spanish composers with his orchestra in Asturias. His most recent recording is a CD of works by Roberto Sierra with the Puerto Rico Symphony, also for Naxos.
Ensemble
Violin I
Owen Lin, concertmaster
Olena Kaspersky
Agatha Blevin
Eric Cheng
Veronika Manchur
Ariana O'Connell
Yu Gong
Haesol Lee
Abigail Park
Emily Hsu
Laura Gamboa
Anusha Madapura

Violin II
Floriane Naboulet, principal
Bradley Bascon
Belle Wang
Johnathan Wu
Qiaorong Ma
Sofia Chamberlain
Evan Llafet
Sara Yamada
Sarah Beth Overcash
Maya Masaoka

Viola
Prosper Luchart, principal
Sunwoo Lee
Jenny Sung
Connie Song
Sophia Valenti
David Kang
Gloria Choi
Jay Maldonado
Paulina Flores

Cello
Yuqi Wang, principal
Mairead Flory
Joseph Kim
Jonathan Lin
Madelynn Bolin
Taewon Park
Celilo Swain

Bass
Alan Wang, principal
Andrew Hungness
Avery Weeks
Zach Hislop
Ethan Moffitt

Harp
Carter Williams
Kaitlin Miller
Paulina Delgadillo

Piano
Susanna MacDonald
Flute
Chloe Descher*
Alicia Kim^
David Ramirez

Piccolo
Alicia Kim
David Ramirez

Oboe
Lauren Breen*+
Alex Changus
Sara Petty

English Horn
Sara Petty

Clarinet
Adam Floyd*+
Besnik Abrashi+
Bram Schenk
Melissa Frisch

Eb Clarinet
Ray Wyant

Bassoon
John Gonzalez*
Anne Ranzani+
Taki Salameh
Emily Lazernik

Contrabassoon
Daniel St. John

Horn
Jean Smith*
Abraham Murillo^
Kathy Yang+
Rachel Lauson
Joe Oberholzer

Trumpet
Logan Anderson*
Emily Nastelin^
Jorge Araujo Felix+
Kobina Sampson-Davis
Ben Gunarson
Jessica Farmer

Trombone
Stephen Hannan*^+
Raymundo Vizcarra
Rocky Fox

Bass Trombone
Rocky Fox

Tuba
Derek Zimmerman

Timpani
Luciano Valdes

Percussion
Zoe Beyler*^+
Dominic Grande
Jeremy Davis
Austin Cernosek

*denotes principal on Ravel
^denotes principal on Ortiz
+denotes principal on Shostakovich