USC Thornton Symphony Concert Program
September 8, 2023
7:30 p.m.
Sharon Lavery, resident conductor of the USC Thornton Orchestra Program, leads the USC Thornton Symphony in the opening concert of the Fall 2023 semester, featuring Fanfare for Flora by Douglas Lowry, Caryatids by Composition faculty member Veronika Krausas and Tchaikovsky's Symphony #5 in E Minor, Opus 64.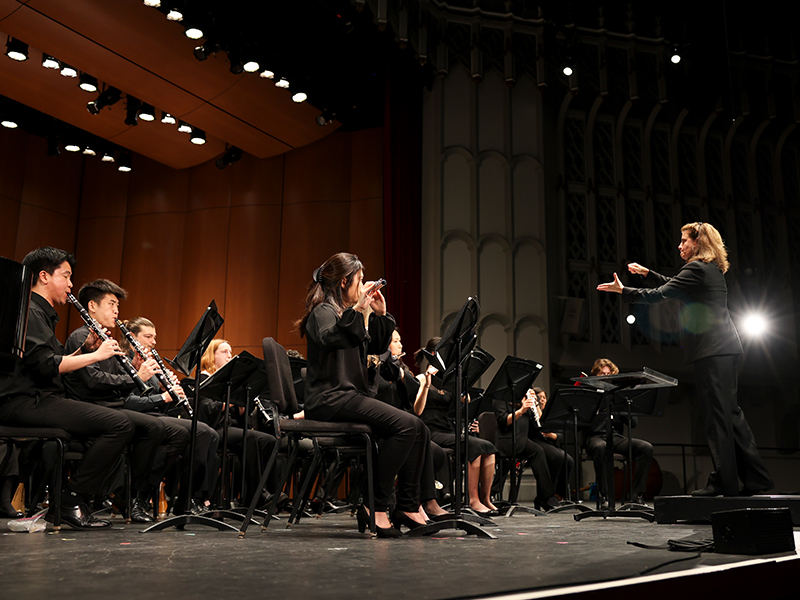 Program
Symphony No. 5 in E minor, Op. 64
Pyotr Ilyich Tchaikovsky
1840-1893
Program Notes
Douglas Lowry – Fanfare for Flora (2003)
The work is dedicated to Flora Thornton, whose generosity and vision have enabled music at USC to aspire to new heights. The work is also dedicated to my longtime friend and colleague, Larry Livingston, whose own vision and gifts were so instrumental in bringing this astonishing moment to pass.
"Fanfare for Flora" formed the introduction of a larger work entitled Exordium Nobile ("Grand Opening") that was commissioned by, and opened the season of, the Cincinnati Symphony Orchestra at Cincinnati's Music Hall on September 10, 11, and 12, 2003, Paavo Jarvi conducting.
-Douglas Lowry
(M.M. '76, Trombone Performance)
(M.M. '78, Orchestral Conducting)
USC Thornton Faculty, Associate Dean (1983-2007)
Dean Emeritus, Eastman School of Music


Veronika Krausas – Caryatids
I've always been fascinated with rocks and stones and sculpture- their strength, their beauty, and their magic. In detroit, there are twelve caryatids on the baroque Book Tower. A caryatid is a sculpted female figure that also serves as a column or a supportive architectural element. a traditional caryatid is holding the roof with her head or her arms. As support and sculpture, the caryatids' function intersects both art and architecture.
The name caryatid is derived from the Greek word, karyatides, referring to the maidens of Karyai. Karyai was an ancient Peloponnesian town with the temple devoted to Artemis Karyatis. In Greek mythology, Artemis was the goddess of wild animals, the hunt, vegetation, of chastity, childbirth, and a patron of girls and young women. to Honor Artemis Peloponnesian women would often perform folk dances with baskets of plants on their heads.
The piece follows the architecture of a building with eight sections representing the four corners and four walls. Architecturally, the piece has four structural (or column) sections (I've called Fanfare, Midfares, and Postfare). They represent the strength and columnar nature of caryatids. Each of the twelve caryatids is represented by a chord. The series of chords finally appears in order at the end of the work but each chord is spread between the orchestra instruments, much like light at different times of the day is refracted and creates different shadows.
Between these chordal (fanfare-like) sections, are a series of Baroque-like dances, or my interpretation of a bourree, a gigue, and a sarabande.
There have been so many strong, influential, and powerful women from Detroit who have helped shape and support not only the local but also the national and international fabrics of our society (cultural, political, and scientific) that writing a work inspired by them felt very appropriate.
I've dedicated this work to the strongest and most wonderful woman in my life, my mother Elvyra Krausas.
Commissioned by the Detroit Symphony Orchestra for the 10th Annual Elaine Lebenbom Memorial Award for Female Composers.
-Veronika Krausas
(DMA '01, Composition)
Professor, USC Thornton School of Music (Composition/Theory & Analysis)


Pyotr Ilyich Tchaikovsky, Symphony No. 5 in E minor, Op. 64

Pyotr Ilyich Tchaikovsky composed his fifth symphony during a time of severe self-doubt, contributed to by the harsh criticism his prior works had already received. His unique style went against the grain by intentionally combining both Russian and Western compositional techniques, and critics and audience members alike were not shy in voicing their disdain over this choice. Despite the initial backlash, Tchaikovsky's eclectic approach is what set him apart from other Russian composers of his time. Presently, he is thoroughly beloved and celebrated, with many recognizable works such as the ballet Swan Lake and the opera Eugene Onegin. Sadly, after Symphony No. 5 had its second performance, Tchaikovsky confided in a letter to a friend: "I have come to the conclusion that it is a failure."
After completing the symphony in August of 1888, it premiered three months later on November 17th in Saint Petersburg, with Tchaikovsky himself behind the baton. This was a nostalgic choice of location for him, given that Tchaikovsky received his music training from the Saint Petersburg Conservatory, and was a part of its inaugural graduation class of 1865.
There are no records of Tchaikovsky's specific inspiration for Symphony No. 5, however one quote from his personal notebook is believed to be the founding idea for the piece: "… a complete resignation before fate, which is the same as the inscrutable predestination of fate …" Because of this quote, the main theme of the symphony is referred to as the "fate theme" and is repeated throughout the movements, heard for the first time by the solemn clarinets at the very beginning of the piece.
Departing from the dismal mood established in the opening, Tchaikovsky leads a musical journey that eventually ends triumphantly. The symphony concludes with vigorous strings and an uproar of brass, a possible depiction of one final confrontation with fate.

-Evelyn Webber
(Current student, M.M. Horn Performance)
Ensemble
Violin I
Veronika Manchur, concertmaster
Bradley Adam Bascon
Soomi Park
Kaiyuan Wu
Robert Henson
Diana Dawydchak
Sarah Yoo
Eric Cheng

Violin II
Haesol Lee, principal
Anna Renton
Qiaorong Ma
Yu Gong
Laura Gamboa
Maya Masaoka
Abigail Park
Sara Yamada
Sofia Llacer Chamberlain

Viola
Sunwoo Lee, principal
Nico Valencia
Daniel Miles
Yu-Chen Yang
Prosper Luchart
Cecile McNeill
Gloria Choi
Jay Maldonado
Ziyen Zeng
Paulina Flores

Cello
Ji Sun Jung, principal
Jeremy Tai
Joseph Kim
Samuel Guevara
Olivia Marcks
Jonathan Lin
Shuo Ma
Taewon Park

Bass
Avery Weeks, principal
Ethan Moffitt
Jared Prokop
Andrew Hungness
Xinyun Tu
Julien Henry

Flute
Jeongwon Bae+
Ellen Cheng*
Antonina Styczen-Leszczynska^
Gaby Beltran
Celine Chen

Piccolo
Celine Chen

Oboe
Sonia Matheus *+^
Sara Petty

Clarinet
Yan Liu*
Melissa Frisch+
Victor Martinez Jara^
Yan Liu

Bassoon
Cal Lieungh*+
Heesung Lee^
Taki Salameh
Chris Lee

Horn
Jean Smith*
Evelyn Webber+
Kathy Yang^
Abraham Murillo
Lauren Goff
Stephen Phan

Trumpet
Talitha Duckworth*
Emily Nastelin+
Ben Gunnarson^
Logan Anderson
Lauren Spring
Kobina Sampson-Davis
EJ Miranda

Trombone
Terry Cowley*^
Sean Cooney+

Bass Trombone
Kevin Truong

Tuba
Neha Kudva

Timpani
Leigh Wilson^
Brandon Lim*+

Percussion
Preston Spisak*+
Leigh Wilson
Brandon Lim
David Lee

* denotes principal on Lowry
+ denotes principal on Krausas
^ denotes principal on Tchaikovsky