USC Thornton Symphony Concert Program
October 11, 2023
7:30 p.m.
Carl St.Clair, artistic director of the Thornton Orchestras, leads the USC Thornton Symphony in the annual Concerto Night performance featuring three exceptional student soloists, pianist Man Ling Bai, cellist Quenton Blache and euphoniumist Arisa Makita.

This evening includes Schelomo Rhapsodie Hébraïque by Ernest Bloch, Pantomime by Philip Sparke and Piano Concerto No. 2 in C Minor, op. 18 by Sergei Rachmaninoff.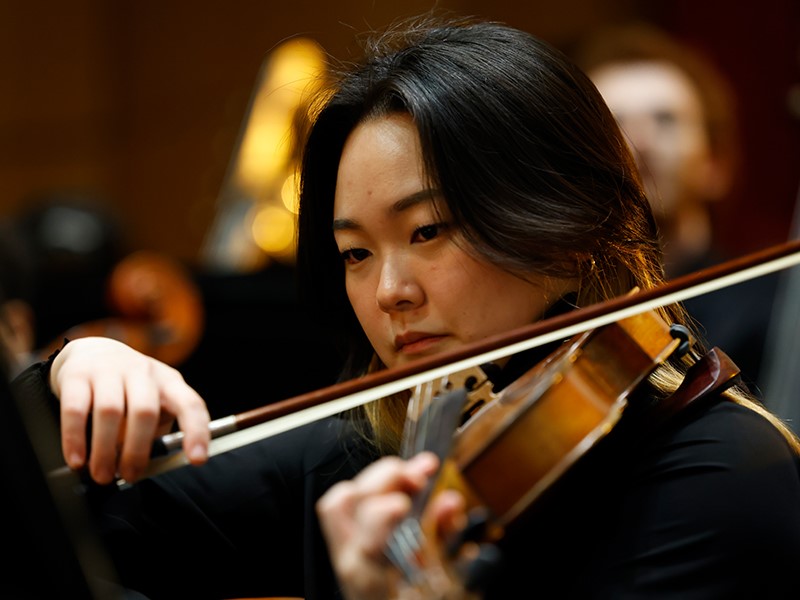 Program
Pantomime
Arisa Makita, euphonium
Schelomo: Rhapsodie Hébraïque for Violoncello and Orchestra
Quenton Blache, cello
Piano Concerto No. 2 in C Minor, op. 18
Man Ling Bai, piano
I. "Moderato"
II. "Adagio sostenuto"
III. "Allegro scherzando"
Sergei Rachmaninoff
1873 – 1943
Program Notes
Ernest Bloch
Schelomo: Rhapsodie Hébraïque for Violoncello and Orchestra (1916)

Ernest Bloch was born in Geneva, Switzerland on July 24th, 1880, to a Jewish clockmaker and his wife. After choosing to dedicate his life to the art of composition at the age of 10, Bloch attended various conservatories throughout Europe, studying with great composition masters such as Eugene Ysaÿe, François Rasse, Jaques-Dalcroze, Ivan Knorr, and Ludwig Thuille. His music career eventually brought him to the United States in 1916 where he went on to hold various faculty and administrative positions at the Mannes School of Music in New York, Cleveland Conservatory of Music, San Francisco Conservatory, and University of California at Berkeley.

Shortly before his move to the United States, Bloch was grappling with the bleak times following the first World War. It was from this darkness that Schelomo: Rhapsodie Hébraïque for Violoncello and Orchestra arose. Bloch took inspiration for this piece from the messages written by King Solomon in his Book of Ecclesiastes. One of the verses that inspired him was "vanity of vanities, all is vanity…. For in much wisdom is much grief: and he that increaseth knowledge increaseth sorrow". Although Bloch initially wanted to capture the message of King Solomon using voice and orchestra, he changed his mind upon hearing the emotional and intense sound of cellist Alexandre Barjansky in 1915. Thanks to their friendship, this brilliant cello concerto came into being.

The piece is structured in three subtle sections with the sound of the cello portraying the voice of King Solomon. The orchestra represents the world surrounding him, full of priests, concubines, and other worldly distractions. There is a constant dialogue between King Solomon and his world, with the beginning section of the piece presenting several themes which suggest the flattery and seduction within his world. King Solomon rejects these temptations through multiple cadenzas. The dialogue continues until the final climax occurs, initiating the end of the piece, in which the cello ends on a low D, displaying King Solomon's resignation to the vainness of life.

Kaitlin Miller (DMA, '26)


Philip Sparke
Pantomime (1986)

Born in London, Philip Sparke (b. 1951) studied trumpet, piano, and composition at the Royal College of Music. Ever since he was a student at the College, he has composed numerous works for concert band, brass band, and fanfare band. He is currently working as a full-time composer after founding his own publishing company, Anglo Music Press, in 2000.

After publishing his first few works (Concert Prelude for brass band and Gaudium for wind band), Sparke was commissioned by the Centennial Brass Band Championships in New Zealand, resulting in his work titled, The Land of the Long White Cloud. He went on to win EBU New Music for Band Competition a total of three time and garnered additional commissions for brass band competitions throughout New Zealand, Switzerland, Holland, Australia, and the UK.

One of the pinnacles in Sparke's career was when the Tokyo Kosei Wind Orchestra commissioned him to compose a piece for their ensemble, resulting in his music being commissioned world-wide, with additional commissions coming from the United States. The U.S. Air Force Band commissioned him to write his Dance Movements in 1996, which won him the prestigious Sudler Prize in Composition in 1997. Another composition of his, Music of the Spheres, won the 2005 National Band Association's William D. Revelli Memorial Band Composition Award. Some of his most recent accolades include being presented with the International Award at the Midwest Clinic in Chicago in 2018 and being made an Honorary Member of the American Bandmasters Association in 2020.

Sparke's Pantomime for euphonium and orchestra was commissioned by euphonium legend Nick Childs in 1986. In this piece, Sparke showcases the lyrical prowess and technical agility of this instrument, drawing inspiration from the vibrant characters of the Italian tradition Commedia dell'Arte.

Kaitlin Miller (DMA, '26)


Sergei Rachmaninoff
Piano Concerto No. 2 in C Minor, op. 18 (1901)

Born in 1873 Russia, Sergei Rachmaninoff was a composer, virtuoso pianist, and conductor. Considered to be one of the last Russian representatives of the Romantic style, he began piano studies at the age of 4, later attending the Moscow Conservatory for piano and composition. Despite his life-long passion and dedication to his craft, the premiere of his first symphony in 1897 was so disastrous that he fell into a deep depression. For four long years, Rachmaninoff dared not bring himself to compose; the longer he staved off his musical desires, the deeper his anguish became. Finally, the despondent composer sought help in the form of therapy and hypnosis. He began treatment with Dr. Nicolai Dahl, a therapist studying hypnosis, and a skilled violist and cellist. Dr Dahl's unique combination of hypnotic suggestion and musical knowledge created the environment and support needed for Rachmaninoff to rediscover his passion in the form of the Piano Concerto No. 2.

This milestone in Rachmaninoff's career had, in a sense, two premieres. He first presented two completed movements (later the second and third movements) in the mid-1900s. This initial quasi-premiere allowed him the opportunity to dip his toes back into the waters of professional composition and performance, giving him the motivation he needed to complete the first movement. Mere days prior to the world premiere of the entire work in Moscow on November 9th, 1901, Rachmaninoff became terrified of the possibility he may be premiering a piece doomed for perhaps an even more epic failure than his first symphony. Thankfully, his fears were vanquished and confidence was restored when he received raucous applause. It is no wonder, then, that one of the most memorable piano concertos of all time is dedicated to the therapist instrumental in Rachmaninoff's recovery.

Lindsay Bryden (DMA, '24)
About the Artists
Carl St.Clair
Carl St.Clair is internationally recognized for his distinguished career as a professional conductor and master teacher. He has had a continuing relationship with the USC Thornton School of Music for over 25 years as conductor of the USC Thornton orchestras and a faculty lecturer in conducting. In 2012, he took on an expanded role as artistic leader and principal conductor of the USC Thornton orchestras.
The 2022-2023 season marks his thirty-third year as music director of the Pacific Symphony. He is one of the longest-tenured conductors of the major American orchestras. St.Clair's lengthy history solidifies the strong relationship he has forged with the musicians and the community. His continuing role also lends stability to the organization and continuity to his vision for the symphony's future. Few orchestras can claim such rapid artistic development as the Pacific Symphony—the largest-budgeted orchestra formed in the United States in the last 50 years—due in large part to St.Clair's leadership.
During his tenure, St.Clair has become widely recognized for his musically distinguished performances, his commitment to building outstanding educational programs and his innovative approaches to programming. In April 2018, St.Clair led the Pacific Symphony in its sold-out Carnegie Hall debut as the finale to the Carnegie's yearlong celebration of pre-eminent composer Philip Glass's eightieth birthday, ending in a standing ovation and with The New York Times calling the symphony "a major ensemble!" He led the Pacific Symphony on its first tour to China in May 2018, the orchestra's first international tour since touring Europe in 2006. The orchestra made its national PBS debut in June 2018 on Great Performances with Peter Boyer's "Ellis Island: The Dream of America," conducted by St.Clair. Among St.Clair's many creative endeavors are the highly acclaimed American Composers Festival, which began in 2000; and the opera initiative, "Symphonic Voices," which continues for the ninth season in 2019-20 with Verdi's Othello, following the concert-opera productions of Madame Butterfly, The Magic Flute, Aida, Turandot, Carmen, La Traviata, Tosca and La Bohème in previous seasons.
St.Clair's commitment to the development and performance of new works by composers is evident in the wealth of commissions and recordings by the Pacific Symphony. The 2016-17 season featured commissions by pianist/composer Conrad Tao and composer-in-residence Narong Prangcharoen, a follow-up to the recent slate of recordings of works commissioned and performed by the symphony in recent years. These include William Bolcom's Songs of Lorca and Prometheus (2015-16), Elliot Goldenthal's Symphony in G-sharp Minor (2014-15), Richard Danielpour's Toward a Season of Peace (2013-14), Philip Glass' The Passion of Ramakrishna (2012-13) and Michael Daugherty's Mount Rushmore and The Gospel According to Sister Aimee (2012-13). St.Clair has led the orchestra in other critically acclaimed albums including two piano concertos of Lukas Foss, Danielpour's An American Requiem and Goldenthal's Fire Water Paper: A Vietnam Oratorio with cellist Yo-Yo Ma. Other commissioned composers include James Newton Howard, Zhou Long, Tobias Picker, Frank Ticheli, Chen Yi, Curt Cacioppo, Stephen Scott, Jim Self (Pacific Symphony's principal tubist) and Christopher Theofanidis.
In 2006 and 2007, Carl St.Clair led the orchestra's historic move into its home in the Renée and Henry Segerstrom Concert Hall at Segerstrom Center for the Arts. The move came on the heels of the landmark 2005-2006 season that included St.Clair leading the symphony on its first European tour—nine cities in three countries playing before capacity houses and receiving extraordinary responses and reviews.
From 2008-2010, St.Clair was general music director for the Komische Oper in Berlin. He also served as general music director and chief conductor of the German National Theater and Staatskapelle (GNTS) in Weimar, Germany, where he led Wagner's Ring Cycle to critical acclaim. He was the first non-European to hold his position at the GNTS; the role also gave him the distinction of simultaneously leading one of the newest orchestras in America and one of the oldest in Europe.
In 2014, Carl St.Clair became the music director of the National Symphony Orchestra in Costa Rica. His international career also has him conducting abroad several months a year, and he has appeared with orchestras throughout the world. He was the principal guest conductor of the Radio Sinfonieorchester Stuttgart from 1998 to 2004, where he completed a three-year recording project of the Villa–Lobos symphonies. He has also appeared with orchestras in Israel, Hong Kong, Japan, Australia, New Zealand, South America, China, Thailand and Malaysia and in summer festivals worldwide. In North America, St.Clair has led the Boston Symphony Orchestra (where he served as assistant conductor for several years), New York Philharmonic, Philadelphia Orchestra, Los Angeles Philharmonic and the San Francisco, Seattle, Detroit, Atlanta, Houston, Indianapolis, Montreal, Toronto and Vancouver symphonies, among many.
Carl St.Clair is a strong advocate of music education for all ages and is internationally recognized for his distinguished career as a master teacher. He has been essential to the creation and implementation of the Pacific Symphony's education and community engagement programs including Pacific Symphony Youth Ensembles, Heartstrings, Sunday Matinées, OC Can You Play With Us?, arts-X-press and Class Act. In addition to his professional conducting career, St.Clair has worked with most major music schools across the country. In 2018, Chapman University President Danielle Struppa appointed St.Clair as a Presidential Fellow, working closely with the students of the College of the Performing Arts at Chapman University. St.Clair has been named "Distinguished Alumni in Residence" at the University of Texas Butler School of Music beginning 2019. And, for over 25 years, he has had a continuing relationship with the USC Thornton School of Music where he is artistic leader and principal conductor of the orchestral program.
Quenton Blache
Quenton Blache is a cellist and composer based in Los Angeles and a graduate of the University of Southern California (USC) Thornton School of Music. He has a bachelor's degree in cello performance and composition, and a minor in Chinese. He is currently attending USC's acclaimed master's program in screen scoring. Quenton has performed in Carnegie Hall, South America, Europe, and Asia as a member of Sphinx Virtuosi, a professional string ensemble of Black and Latinx players, and National Youth Orchestra USA. He soloed the Dvorak Concerto with the Peninsula Symphony in February 2022. In August 2022, he performed in France as a member of the USC Honors Quartet at the Rencontres franco-américaines de Musique de Chambre Festival in collaboration with musicians from the Paris Conservatory. Serving as a cello hand double and background musician actor in the Blumhouse Productions 2020 Amazon Prime movie Nocturne allowed him to merge his love of music and film. He is the 2021 winner of the USC Bach Competition, Undergraduate Division and the 2023 winner of the USC Strings Concerto Competition.
As a composer, Quenton has written works for the Little Orchestra Society, North Carolina Chamber Music Institute, MYCO Youth Chamber Orchestra, Sphinx Organization and more. His most recent string orchestra work, Habari Gani, will be performed by Sphinx Virtuosi on their 2023-24 tour, including a New York premiere at Carnegie Hall in October 2023. He is especially passionate about composition for visual media and has scored numerous short films and documentaries. Quenton was also the composer for the Resilience Project, a climate change "art-ivist" performance series that is a part of the inaugural USC Arts and Climate Collective. In his spare time, he enjoys playing chess and aspires to be an International Master (IM). He currently studies screen scoring under celebrated composer Patrick Kirst and cello under accomplished cellist Andrew Shulman.
Arisa Makita
Arisa Makita is an international euphonium player. She moved to Los Angeles from Tokyo last year and is currently studying with Jim Self and Doug Tornquist at USC Thornton School of Music. Arisa has achieved notable success, including winning 1st prize at the 2019 International Euphonium Tuba Conference Competition Electronic Euphonium Division and 2nd prize at the 2023 International Tuba Euphonium Conference Competition in the Euphonium Solo Artist Division. Arisa was invited as a guest artist for a masterclass at the Brazilian Brass Festival, the Sopra Metais, in 2020, an online event. In addition to her solo achievements, Arisa is a member of the Japanese Euphonium quartet 'OrigAmi,' which released its debut album earlier this year. 'OrigAmi' also had the honor of performing as a guest artist at the 2023 International Tuba Euphonium Conference.
Man Ling Bai
At age 6, Man Ling Bai started learning piano and has found a passion in music and performance. Starting at a very young age, Man Ling was already getting national presence in her homeland Taiwan on several well-known TV shows as the "Young Composer Prodigy." Man Ling started her competition career at the young age of 10, bringing home trophies from multiple international competitions. In 2013, Man Ling started her apprenticeship under world renowned performing pianist Ning An in Tennessee, and in 2016 she transferred over to Cal-State Fullerton still studying under Mr. NiAn. In 2018, Man Ling got accepted into the Master of Music program at Thornton School of Music, University of Southern California with scholarship. While working on both Bachelor of Music degree and Master of Music degree, she kept on bringing home winner in many competitions such as the Carmel Music Society International Competition, Music Teacher National Association Competition, Lansum Piano International Competition, William C. Byrd Young Artist Competition, New West Symphony International Competition, and Rio Hondo Symphony Concerto Competition. Man Ling is now pursuing her Doctor of Musical Arts degree and studying under world renowned pianist/conductor Jeffrey Kahane at Thornton School of Music, University of Southern California with scholarship.
Ensemble
Violin I
Soomi Park, concertmaster
Robert Henson
Anna Renton
Sarah Yoo
Bradley Adam Bascon
Diana Dawydchak
Qiaorong Ma
Ariana O'Connell
Eric Cheng
Semaj Murphy
Violin II
Kaiyuan Wu, principal
Charlie Lin
Sarah Beth Overcash
Yu Gong
Haesol Lee
Agatha Blevin
Maya Masaoka
Laura Gamboa
Marena Miki
Viola
Yu-Chen Yang, principal
Nico Valencia
Prosper Luchart
Cecile McNeill
Katherine Brown
Ziyan Zeng
Gloria Choi
Cello
Olivia Marckx, principal
Yuqi Wang
Maddie Bolin
Samuel Guevara
Taweon Park
Celilo Swain
Shuo Ma
Bass
Xinyun Tu, principal
Eric Windmeier
Ethan Moffitt
Lillian young
Jared Prokop
Julien Henry
Harp
Paulina Delgadillo
Mischael Jones
Flute
David Ramirez*+
Celine Chen
Jeongwon Bae^
Oboe
Ha Eun An*+
Jingming Zhao
Sonia Matheus^
English Horn
Sonia Matheus
Clarinet
Louis Milne+
Anders Peterson^
Elad Navon*
Chanul Kim
E-flat Clarinet
Chanul Kim
Alto Clarinet
Bram Schenk
Bass Clarinet
Yoomin Sung
Bassoon
John Gonzalez*+
Callahan Lieungh^
Heesung Lee
Saxophone
Christian Ross
Ezequiel Castaneda
Gaoyuan Chen
Reese Whitley
Horn
Jean Smith*
Evelyn Webber+
Lauren Goff^
Christian Siqueiros
Caleb Durant
Trumpet
Kobina Sampson-Davis*
Lauren Spring+^
Svend Lykkegaard
Trombone
Sean Cooney+^
Terry Cowley*
Alicia Miller
Euphonium
Raymundo Vizcarra
Bass Trombone
Rocky Fox
Tuba
Derek Zimmerman
Timpani
Leigh Wilson*+
Marcos Salgado^
Percussion
Leigh Wilson^
Preston Spisak
David Lee
Marcos Salgado
* denotes principal on Bloch
+ denotes principal on Sparke
^ denotes principal on Rachmaninoff