USC Thornton University Chorus Concert Program
April 14, 2023
8:00 p.m.
Westwood United Methodist Church
In this evening of choral music, the USC University Chorus pairs favorites from the standard repertoire with lesser-known gems and a piece by the ensemble's Thornton faculty advisor, Nick Strimple, at Westwood United Methodist Church.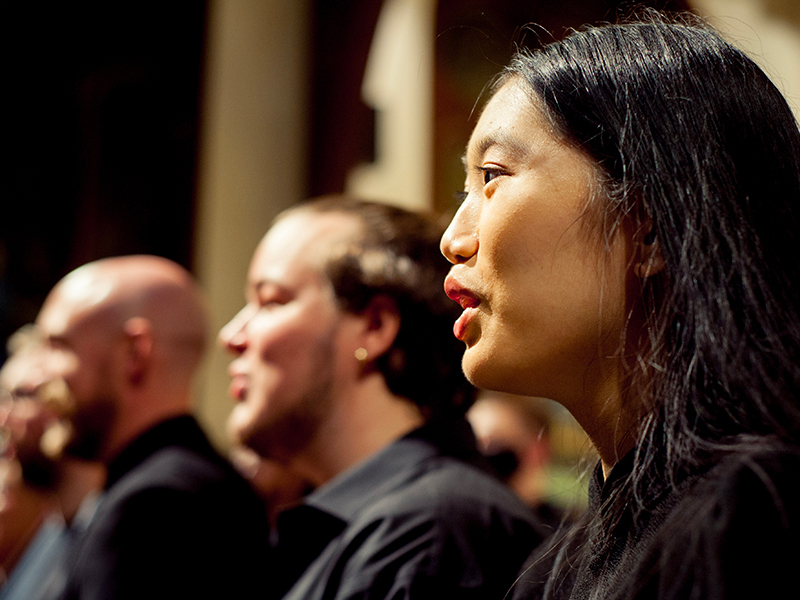 Program
Rose of Sharon
   Collin Boothby, conductor
William Billings (1746-1800)
Pater Noster III S.41
   Hsin-Yu Hung, conductor
Hear My Prayer
   Duncan Tuomi, conductor
   Amanda Light, soprano
   Collin Boothby, organ
Felix Mendelssohn Bartholdy (1809-1847)
"Windy Nights" from Five English Poems
   Duncan Tuomi, conductor
Takatomi Nobunaga (b. 1971)
Wailing Woman
   Collin Boothby, conductor
   Andrea Church, soprano
William Grant Still (1895-1978)
Set Me as a Seal
   Hsin-Yu Hung, conductor
   Rita Barakat, mezzo soprano
Ave verum corpus
   Duncan Tuomi, conductor
   Collin Boothby, organ
Wolfgang Amadeus Mozart (1756-1791)
Untraveled Worlds
   Collin Boothby, conductor
"Floret Silva Nobilis" from Carmina Burana
   Hsin-Yu Hung, conductor
   Brandon Linhard and Connor Scott, piano
Program Notes
Rose of Sharon, William Billings (1746-1800)

The most notable of the itinerant singing masters, William Billings (1746-1800) was highly regarded during his life as both a composer and a pedagogue. His efforts centered in Boston, but regularly spanned across the American northeast. A number of physical disabilities, including "a short leg, one eye, a withered arm" (Grove) did not impair his productivity. Over 340 compositions, the majority of which are extant, are primarily vocal works and include hymns, psalm settings, fuging tunes, and anthems. His popularity waned after his death, but has experienced a revival since the mid-20th century, when scholars focused their research on the beginnings of Western classical music in America.
Like the majority of his œuvre, "I am the Rose of Sharon" is composed for 4-part a cappella chorus. Published in The Singing Master's Assistant (1778), the piece is an anthem style setting of the popular text from the second chapter of Song of Solomon. While Billings was known to frequently alter texts, in this anthem he stays true to the King James Version of the Bible, save for the omission of a few verses. While many of Billings' hymn settings were designed for singers of average ability, this anthem requires a sure-footed technique for the melismatic passages. Navigating the numerous time changes also proves challenging. The piece is conceived with a delightful interplay between homophonic textures, solo, and duet lines, with the occasional polyphonic entrance to new homophonic sections.


Pater Noster III, S.41, Franz Liszt (1811-1886)

Franz Liszt (1811-1886) was a Hungarian composer, pianist, and conductor who was one of the most prominent and influential musicians of the Romantic era. He was renowned for his virtuosic piano performances and for pushing the boundaries of traditional musical forms, paving the way for the modernist movement in music. Liszt began playing the piano at a young age, quickly gained a reputation as a prodigy, and was soon performing in concerts throughout Europe. He studied music in Vienna and later in Paris, where he became acquainted with many of the leading composers and performers of the day. As a composer, Liszt's music was characterized by its emotional intensity and technical brilliance. He wrote numerous works for piano, as well as orchestral and chamber music, choral pieces, and operas. He composed several significant choral works, particularly during the latter part of his career when he focused more on sacred music. Some of his most notable choral works include Christus, Missa Solemnis, Via Crucis, and Psalm 13.
"Pater Noster III" was composed in 1869. Scored for mixed choir and organ, it is one of three settings of the Lord's Prayer composed by Liszt and subsequently edited by Philipp Wolfrum (1854–1919), scored for TTBB choir and piano accompaniment. The piece is characterized by a soaring, expressive melody that is passed between different sections of the choir. Liszt's use of harmony and counterpoint is particularly effective in creating a sense of depth and richness in the sound. The piece alternates between sections that are calm and meditative and others that are more dramatic and impassioned, reflecting the changing emotions of the text. "Pater Noster III" incorporates elements of Gregorian chant in the music, opening with a chant-like melody in the basses, and chant-inspired motifs and harmonies throughout the work, which create a sense of connection to the ancient roots of Christian worship.


Hear My Prayer, Felix Mendelssohn Bartholdy (1809-1847)

The music of Felix Mendelssohn Bartholdy (1809-1847) represents a powerful synthesis of styles from J.S. Bach (1685-1750) to Ludwig van Beethoven (1770-1827) and beyond. In the last two decades of his life, Mendelssohn stood at the forefront of music in Germany, having matured his musical style before the age of twenty. Much of his time was spent traveling, including several trips to England, where he befriended William Bartholomew (1793-1867). With an immense amount of international travel, routinely moving between Berlin and Leipzig for regular employment, and long-term work on his massive oratorio, Elijah, Mendelssohn ultimately suffered a number of strokes, ultimately resulting in the composer's death. It is conceivable that his overwhelming workload and schedule contributed to the stressful circumstances that led to his strokes, though this notion is speculative.
While Bartholomew wrote the English translation of Elijah, it is of note that this was not the first time that he and Mendelssohn collaborated. In 1844, Mendelssohn set Bartholomew's paraphrase of Psalm 55:1-7, Hear My Prayer. The anthem is separated into two major parts, each beginning with an introduction by soprano soloist, who is later joined by the choir to more fully illustrate the meaning of the text. The first half of the work is a dramatic cry for help against the enemies of God, while the second half is a gentle and peaceful wish to be able to fly away and find peaceful rest.


"Windy Nights" from Five English Poems, Takatomi Nobunaga (b. 1971)

Initially graduating in fields of education and literature, Takatomi Nobunaga (b. 1971) has since become recognized internationally as a composer, an art in which he is self-taught. The composer's background in literature is evidenced by much of the choral music he has written, perhaps best illustrated by his set Five English Poems for Mixed Voices. The set features a number of nineteenth century English poems from the likes of Percy Bysshe Shelley (1792-1822), William Wordsworth (1770-1850), and Robert Louis Stevenson (1850-1894). From this set comes "Windy Nights," a rapid and frenetic composition on Stevenson's poem of the same name. The poem describes a mysterious rider in the night, which seems to be a living representation of the storm, riding by "in the dark and wet" and when "the trees are crying" or "ships are tossed at sea." Nobunaga's own writing illustrates these concepts in the highly rhythmic piano part, which contains a racing, galloping texture with occasional flashes of lightning in the upper register. One can also hear elements of the storm and the rider in the choral parts which feature a haunting melody that often changes dynamic suddenly, and nearly always strikes in syncopation to give it a jarring rhythmic effect.


Wailing Woman, William Grant Still (1895-1978)

Usually described as "the Dean of African-American Classical Composers" (williamgrantstillmusic.com), William Grant Still (1895-1978) was a prolific composer whose output spans orchestral, band chamber, solo (both instrumental and vocal), and choral genres. In 1939, Grant Still married Los Angeles native Verna Arvey (1910-1987), the daughter of Russian Jewish emigrants, in Tijuana, Mexico, because until 1948 interracial marriage was banned in California. They lived in the Oxford Square neighborhood of Los Angeles, just a few miles northwest of USC's University Park Campus. Arvey became Grant Still's chief advocate and collaborator, writing several librettos for him, as well as the biography In One Lifetime (1984).
The harmonic language of Wailing Woman is typical of Grant Still's, but with a Jewish twist materialized by incorporating modal elements. The poignant text, penned by his wife, grippingly compares the experiences of an African American man with the musings of a Jewish woman, one line particularly stands out: "We're all of one flesh." This humanist idea transcends race and religion; it is my hope that it can be an inspiration to continue the challenging, often messy, but wholly necessary work of examining racism in our country.


Set Me as a Seal, Nick Strimple (b. 1946)

Nick Strimple is an American composer, conductor, scholar, educator, and author whose interests include twentieth century music, Jewish music, the music of Dvořák and other Czech composers, the aesthetics of sacred music and virtually all aspects of choral music. Born in Amarillo, Texas, Strimple holds degrees from Baylor University and USC, and is the author of two critically acclaimed books: Choral Music in the Twentieth Century (2002) and Choral Music in the Nineteenth Century (2008). A prolific conductor, he has conducted some of the world's most prominent ensembles, including the London Symphony Orchestra, the Nuremberg Symphony Orchestra, and the Prague Radio Choir. A prolific composer, he has written both concert and liturgical works as well as film and television scores. Strimple often receives commission requests from professional ensembles such as The Golden Bridge, an ensemble conducted by Suzi Digby. OBE. He is currently in the 27th and final year of his professorship at USC, also he is faculty advisor for University Chorus.
– From the USC Thornton School of Music website, https://music.usc.edu/nick-strimple/
A setting of Song of Songs, Chapter 8:6a and 7a, Set Me as a Seal was composed as a vehicle for the prominent cantor Ira Bigeleisen and his particularly rich basso voice. However, the solo will be sung touchingly by an alto in this performance. Structurally, it is a simple AABA' form, and presents no unusual vocal demands on the chorus. Cascading vocal entries on the text "Many waters cannot quench love, neither can the floods drown it" provide text painting and contrast to music that is otherwise gently lyrical and songlike.
– From ECS Publishing Group website, https://www.ecspublishing.com/


Ave Verum Corpus, Wolfgang Amadeus Mozart (1756-1791)

A skilled composer in nearly all forms of Western classical music at his time, Wolfgang Amadeus Mozart (1756-1791) has become one of the most recognizable names in all of the Western classical repertoire. Despite this, accounts from during the composer's lifetime suggest that he fell upon financial hardship in the later years of his life, having moved between several homes of increasingly modest means between 1784 and 1788, and having written several letters begging for financial assistance (Grove Music Online). The year of his death, 1791, is most associated with the large works that demanded his attention, such as Die Zauberflöte (The Magic Flute) and his Requiem, famously unfinished by the composer himself. There were, however, numerous large and small form compositions published early in that year that are worthy of attention.
The motet Ave Verum Corpus (K618) stands among this collection, and has distinguished for itself a special place in the choral repertoire. Given Mozart's strong history with high drama, evidenced by his numerous operas, this motet displays a gentler, more introspective side to the composer. The moments of the greatest drama are marked with the soprano voices in isolation sounding a soft and soaring high note before the remaining voices join them. These moments occur on the pivotal lines of text referencing death: "in cruce pro homine ([sacrificed] on the cross for the sake of man" and "in mortis examine (in the trial of death)".


Untraveled Worlds, Paul Halley (b. 1952)

Paul Halley (b. 1952) is the Director of Music at both the Chapel of the University of King's College and the Cathedral Church of All Saints', Halifax, Nova Scotia. Halley is Creative Director and Co-Founder of Pelagos Music with his wife, Margaret Race. The winner of multiple Grammy Awards as principal composer and keyboardist for the Paul Winter Consort, Halley was Director of Music of The Cathedral of St. John the Divine, New York, NY, from 1977-1990 and then Founder and Director of the choirs Chorus Angelicus and Gaudeamus in Torrington, CT. He relocated to Halifax, Nova Scotia, in 2007.
From the composer's website, www.paulhalley.com
"Untraveled Worlds" grabs the listeners attention with a moto perpetuo piano introduction in the solemn key of D minor. While the majority of the piece is in compound duple meter, Halley creates interest by interspersing various rhythmic patterns within the larger beats. The choir proclaims text excerpted from Alfred, Lord Tennyson's poem "Ulysses" in long notes above the florid accompaniment. Halley's rich harmonic language and modulations to distant keys spark the imagination of what it might feel like to discover "untraveled worlds."


"Floret Silva Nobilis" from Carmina Burana, Carl Orff (1895-1982)

Carl Orff (1895-1982) was a German composer, music educator, and innovator in music pedagogy. He is best known for his cantata Carmina Burana. Orff's approach to music education, known as the "Orff Schulwerk", emphasizes the use of rhythm, movement, and improvisation to teach children about music. He believed that everyone has an innate musical ability and that music should be taught in a way that engages the whole body and all the senses. Orff also wrote a number of other works, including operas, choral pieces, and instrumental music, which often feature Orff's characteristic use of rhythmic energy, colorful orchestration, and text setting that highlights the natural rhythms and inflections of the text.
Carmina Burana is a cantata composed by Carl Orff in 1936 and 1937. The piece is based on a collection of medieval poems and songs that were discovered in the early 19th century in the Benedictine monastery of Benediktbeuern in Bavaria, Germany. The texts in Carmina Burana are in Latin, Middle High German, and Old Provençal, and cover a wide range of topics, from drinking songs and love poems to religious and moral themes. Orff selected 24 of these texts and set them to music for soloists, choir, and orchestra. The music of Carmina Burana is characterized by its driving rhythms, colorful orchestrations, and powerful choral passages.
"Floret Silva" is the seventh movement of Carmina Burana, scored for mixed choir and orchestra. The choir enters with the first line of the text, "Floret Silva nobilis," which means "the noble forest blooms." The music is characterized by a simple, chant-like melody that is repeated throughout the movement, accompanied by lush harmonies in the orchestra.
About the Artists
Rita Barakat (she/ her) serves as teaching faculty in the department of biological sciences at USC. She currently teaches undergraduate general education and major courses in neurobiology, cellular biology and physiology, including BISC-220 and BISC-230. She has been singing in the alto and tenor sections of the USC University Chorus since Fall 2018, and has been featured in solos and small ensembles performances within the
University Chorus and Repertory Singers ensembles.

Andrea Church is a vocalist from Lindon, Utah and is a first year Master's student at University of Southern California in Vocal Arts. She participated in Flight by Jonathan Dove at USC last semester as The Controller and recently sang in the scenes program. She is performing as Lola in Gallantry by Moore next month and was awarded an Encrantz Professional Fellowship position in the Hawaii Performing Arts Festival this summer to sing Queen of the Night (Die Zauberflöte). She graduated from Utah Valley University in Orem, Utah, where she performed the roles of Rosalinde (Die Fledermaus), Violetta (La Traviata), Lucia (Lucia di Lammermoor), and Mimì (La Boheme). Andrea simultaneously studied collaborative piano and was hired onto the UVU Theater arts staff. She was taken on as a TA voice teacher and pianist to accompany shows and programs through Utah Vocal Arts Academy and Utah Lyric Opera.
Last summer she attended the Mediterranean Opera Studio and Festival in Caltagirone, Sicily, where she performed the roles of Mimì in La Bohemè and Suor Angelica in Suor Angelica. She also performed with Utah Opera Chorus and Lyrical Opera Theater Utah in their 2021-2022 seasons.
She loves learning from her new teacher Thomas Michael Allen at USC. Andrea is extremely grateful to the loving and supportive family members, teachers, mentors, friends, and health professionals that have helped her on this journey. In her free time Andrea enjoys baking, hiking, and good company.

Mandee Light graduated Magna Cum Laude from Southern Oregon University with a BA in Vocal Performance in 2013. She was a frequent soloist throughout the Rogue Valley and Portland, OR, being featured in the Southern Oregon University Concert and Chamber Choirs, the Southern Oregon Repertory Singers, the Rogue Valley Chorale, Oregon Chorale, and the Beaverton Symphony Orchestra. Mandee has also performed with Brava! Opera, Rogue Opera, and Light Opera of Portland. In 2011, she won the American Protégé International Music Talent Competition along with a best performance award and performed at Carnegie Hall. In January of 2011, she studied music in Vienna, Austria. Mandee has studied privately with Ellie Murray, Laurie Hunter, and Maria Droulou, and workshopped with Barbara Bonney. Mandee currently sings in Los Angeles with the USC University Chorus and is the soprano section leader at St. Thomas Episcopal Hollywood.

Connor Scott is a Graduate Teaching Assistant and Lead Conductor of the Apollo Chorus. This
year Connor started performing with the Thornton Early Music Ensemble. He continues as
Assistant Conductor for Choral Arts Initiative, where he was assistant producer of the highly
acclaimed studio recording of From Wilderness, music by Jeffrey Derus. This year, Connor
premiered Dylan Trần's Tupelo Poems with CAI. Connor is co-artistic director of the St. Louis
Weekend Choir and the Music Director and Organist at St. John the Divine Episcopal Church in
Costa Mesa, CA.
Text & Translations
Rose of Sharon, William Billings (1746-1800)

I am the rose of Sharon, and the lily of the valleys.
As the lily among thorns, so is my love among the daughters.
As the apple tree among the trees of the wood,
so is my beloved among the sons.
I sat down under his shadow with great delight,
and his fruit was sweet to my taste.
He brought me to the banqueting house,
his banner over me was love.
Stay me with flagons, comfort me with apples:
for I am sick of love.
I charge you, O ye daughters of Jerusalem,
by the roes, and by the hinds of the field,
that ye stir not up, nor awake my love, till he please.
The voice of my beloved! behold, he cometh
leaping upon the mountains,
skipping upon the hills.
My beloved spake, and said unto me,
Rise up, my love, my fair one, and come away.
For, lo, the winter is past,
the rain is over and gone. (Song of Solomon 2:1-5,7-8,10-11)


Pater Noster III, S.41, Franz Liszt (1811-1886)

Pater noster, qui es in caelis:
sanctificetur Nomen Tuum;
adveniat Regnum Tuum;
fiat voluntas Tua,
sicut in caelo, et in terra.
Panem nostrum cotidianum da nobis hodie;
et dimitte nobis debita nostra,
sicut et nos dimittimus debitoribus nostris;
et ne nos inducas in tentationem;
sed libera nos a malo. Amen.
Our Father, who art in heaven,
Hallowed be thy Name.
Thy Kingdom come.
Thy will be done,
On earth as it is in heaven.
Give us this day our daily bread.
And forgive us our trespasses,
As we forgive those who trespass against us.
And lead us not into temptation;
But deliver us from evil. Amen.


Hear My Prayer, Felix Mendelssohn Bartholdy (1809-1847), text by William Bartholomew (1793-1867)

Hear my prayer, O God, incline Thine ear!
Thyself from my petition do not hide!
Take heed to me! Hear how in prayer I mourn to Thee!
Without Thee all is dark, I have no guide.
The enemy shouteth, The godless come fast!
Iniquity, hatred upon me they cast!
The wicked oppress me, Ah, where shall I fly?
Perplexed and bewildered, O God, hear my cry!
My heart is sorely pained within my breast,
My soul with deathly terror is oppressed,
Trembling and fearfulness upon me fall,
With horror overwhelmed, Lord, hear me call!
O for the wings of a dove!
Far away would I rove!
In the wilderness build me a nest,
And remain there for ever at rest.


"Windy Nights" from Five English Poems, Takatomi Nobunaga (b. 1971), text by Robert Louis Stevenson (1850-1894)

Whenever the moon and stars are set,
Whenever the wind is high,
All night long in the dark and wet,
A man goes riding by.
Late in the night when the fires are out,
Why does he gallop and gallop about?
Whenever the trees are crying aloud,
And ships are tossed at sea,
By, on the highway, low and loud,
By at the gallop goes he.
By at the gallop he goes, and then
By he comes back at the gallop again.


Wailing Woman, William Grant Still (1895-1978)

He said they shunned him because his skin was black.
Underneath I felt akin because my nose was hooked, my folk despised.
Adonoy! Adonoy! O Adonoy!
I stood beside a wailing wall a thousand years ago in Palestine.
I prayed. I beat my head against the stone,
But not all my crying nor my pleading could bring back the glory of Zion.
O Adonoy!
My race was hated, but my people rose.
Skyward we rose, while others gave us only scorn.
And not all their hatreds nor their despisals could assure them that we were not great.
Adonoy! Adonoy! O Adonoy!
So they built walls around my people: Shut us off from themselves.
They did not know they needed us, nor did they know we needed them.
We're all of one flesh, all of one father, the Jew and the Christian.
Their Christ was of us: Son of Mary, Son of Joseph, their Holy Jesus.
They saw his Christian purity,
but never guessed there might be purity even among the despised.
Adonoy! Adonoy! O Adonoy!


Set Me as a Seal, Nick Strimple (b. 1946)

Set me as a seal upon your heart,
As a seal upon your arm;
For love is as strong as death,
Many waters cannot quench love,
Neither can the floods drown it.


Ave Verum Corpus, Wolfgang Amadeus Mozart (1756-1791), text from the Liber Usualis

Ave, verum corpus natum
De Maria Virgine:
Vere passum, immolatum
In cruce pro homine:
Cuius latus perforatum
Unda fluxit et sanguine:*
Esto nobis praegustatum,
In mortis examine.
*variant text
English translation from CPDL:
Hail the true body, born
Of the Virgin Mary:
You who truly suffered and were sacrificed
On the cross for the sake of man.
From whose pierced side
Flowed water and blood:
Be a foretaste for us
In the trial of death.


Untraveled Worlds, Paul Halley (b. 1952), text from "Ulysses" by Alfred, Lord Tennyson
I cannot rest from travel; I will drink
Life to the lees. All times I have enjoyed
Greatly, have suffered greatly, both with those
That loved me, and alone.
I am a part of all that I have met;
Yet all experience is an arch wherethrough
Gleams that untraveled world whose margin fades
For ever and for ever when I move.
How dull it is to pause, to make an end,
To rust unburnished, not to shine in use!
As though to breathe were life! Life piled on life
Were all too little, and of one to me
Little remains; but every hour is saved
From that eternal silence, something more,
A bringer of new things; and vile it were
For some three suns to store and hoard myself,
And this grey spirit yearning in desire
To follow knowledge like a sinking star,
Beyond the utmost bound of human thought.
Come, come my friends,
'Tis not too late to seek a newer world.
Push off, and sitting well in order smite
The sounding furrows; for my purpose holds
To sail beyond the sunset, and the baths
Of all the western stars, until I die.
Though much is taken, much abides; and though
We are not now that strength which in old days
Moved earth and heav'n, that which we are, we are,
One equal temper of heroic hearts,
Made weak by time and fate, but strong in will.
To strive, to seek, to find, and not to yield!


"Floret Silva Nobilis" from Carmina Burana, Carl Orff (1895-1982)

Floret silva nobilis
floribus et foliis.
Ubi est antiquus
meus amicus? Ah!
Hinc equitavit
Eia, quis me amabit? Ah!
Floret silva undique,
nah mime gesellen ist mir wê.
Gruonet der walt allenthalben,
swâ ist min geselle alse lange? Ah!
der ist geriten hinnen,
o wî, wer sol mich minnen? Ah!
The noble woods are blooming
with flowers and leaves.
Where is the old friend
I knew? Ah!
He has ridden off!
Oh! Who will love me? Ah!
The woods are blooming all around,
I am pining for my love.
The woods are turning green all over,
why is my lover away so long? Ah!
He has ridden off,
Alas, who will love me? Ah!
Ensemble
Nicole Aaberg
Shanice Aaron
Rita Barakat, PhD
Collin Boothby
Kelsey Cheng
Jimmy Deng
Helen Feng
Arthur Filppu, BS ('22)
Klo Garoute
Mallory Haney Loo
Annika Harusadangkul
C. Maxfield Hohn
Laura Hough, BS ('15)
Magdalen Yen Hron, M. Arch ('80)
Hsin-Yu Hung
Elaine Kong
Hanna Lee
Mandee Light
Jeneva M Lindsey
Libni Lopez
Lexi Melideo
Nina Moothedath
Sophia Mostowy
Aileen Pan
Rachel Ricci-Deeb
Daniela Santiago
Sarah Schornstein
Aviv Shai
Lily Ta
Nicholas Tham
Carolyn Tran
Duncan Tuomi
Eduardo Vences
Junnan Wang
Isabel Woods
Mengze Wu
Victoria Xie, MSc
Clara Yoshihara, MLA ('20)