USC Thornton Winds: Frank Ticheli Retirement Celebration Concert Program
February 10, 2023
7:30 p.m.
USC Thornton professor of composition Frank Ticheli guest conducts the USC Thornton Winds in a concert celebrating his illustrious career, joined by conductors Carl St.Clair and Sharon Lavery as well as the USC Thornton Chamber Singers. The program also features Thornton clarinetist Alex Chang performing Ticheli's Clarinet Concerto.
The evening includes many of Ticheli's celebrated compositions, including Shooting Stars; There Will Be Rest; Clarinet Concerto; Symphony No. 2, Mvmt. III, Apollo Unleashed; Angels in the Architecture; and Blue Shades.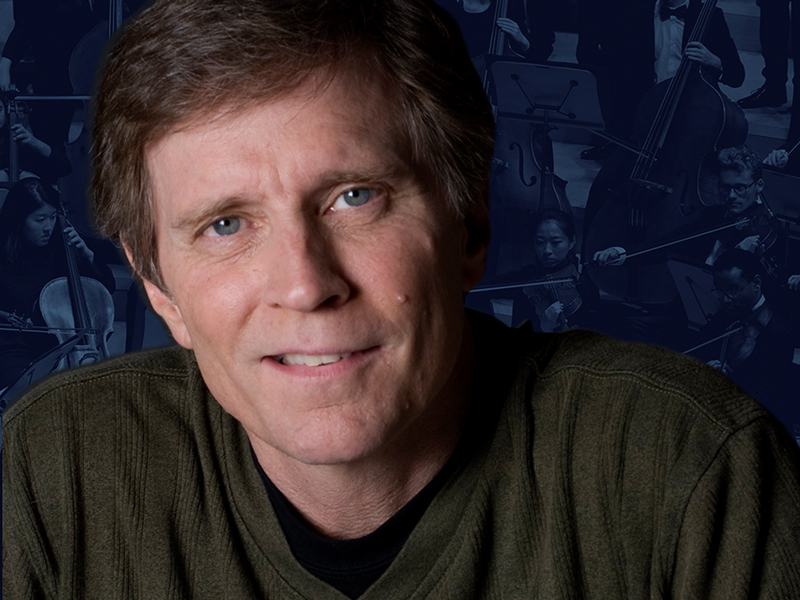 Program
Shooting Stars
   Carl St.Clair, conductor
There Will be Rest
   USC Thornton Chamber Singers
   Carl St.Clair, conductor
Clarinet Concerto
   Alex Chang, clarinet
   Sharon Lavery, conductor
Apollo Unleashed
   Sharon Lavery, conductor
Angels in the Architecture
   Michaela Kelly, soprano
   Frank Ticheli, conductor
Blue Shades
   Frank Ticheli, conductor
Composer Notes
As my 32 years at the USC Thornton School draw to a close, I'd like to thank all of my wonderful colleagues in the composition department and colleagues throughout the Thornton School for all you have taught me about music and life. To my students, both past and present, many of whom now have thriving professional careers, I am grateful to have had the privilege of sharing ideas with you watching your artistry blossom. I would also like to thank all who made this concert possible, with special thanks to Carl St. Clair, Sharon Lavery, and all of tonight's performers.
Frank Ticheli
USC Thornton School of Music
Professor – Composition
Program Notes
Shooting Stars (Movement I of Symphony No. 2)
Although the title, "Shooting Stars," came after its completion, I was imagining such quick flashes of color throughout the creative process. White-note clusters are sprinkled everywhere, like streaks of bright light. High above, the Eb clarinet shouts out the main theme, while underneath, the low brasses punch out staccatissimo chords that intensify the dance-like energy. Fleeting events of many kinds are cut and pasted at unexpected moments, keeping the ear on its toes. The movement burns quickly, and ends explosively, scarcely leaving a trail.

There Will Be Rest
There Will Be Rest was commissioned by The Pacific Chorale; it is dedicated to the memory of Cole Carsan St.Clair, the son of my dear friends, Carl and Susan St.Clair. The music embodies my long-standing love for the poetry of Sara Teasdale. "There Will Be Rest," one of her last poems, is a perfect summary of her lifelong reverence for the stars and their eternal promise of peace. I have striven to capture the poem's purity of spirit in this delicately lyrical choral setting.

Clarinet Concerto
I had been hoping to compose a clarinet concerto for years, and so I was delighted when a commission offer came my way from Swedish-American clarinetist Hakan Rosengren. His fiery virtuosity, combined with his poignantly beautiful sound, had a direct influence on my creative decisions throughout the work.
The concerto's three movements are composed as tributes to three 20th-century American icons: George Gershwin, Aaron Copland, and Leonard Bernstein.
The first movement, Rhapsody for George, (after a wink to the famous clarinet solo – with thanks to the Gershwin estate for approving this) is built largely from chromatic, jazzy flurries of 16th notes, volleyed back and forth between the soloist and the ensemble. This high-speed game is intensified by a walking bass line, jazzy syncopations, and heavy backbeats that come and go at will.
The second movement, Song for Aaron, evokes the gentle, open-aired quality sometimes heard in Copland's slow movements. If the listener notices a song-like quality here, it may be because it was originally composed for voice (An American Dream, for soprano and orchestra). Thus, this movement is an adaptation of my earlier work, but altered significantly to suit the unique lyrical traits of the clarinet.
While composing the final movement, Riffs for Lenny, I imagined Bernstein perched on a pulpit (a podium?), passionately preaching about Music as a powerful and necessary force for humanity. In a sense, I pay tribute to his lifelong enthusiasm, unleashed through his conducting, composing, performing, teaching, and in countless other ways. Like the opening movement, Riffs for Lenny is somewhat jazzy, but now in a more sultry, gospel-like manner. It swoons, sighs, seduces, and then suddenly takes off in double-time, dancing all the way.

Apollo Unleashed (Movement III of Symphony No. 2)
The image of Apollo, the powerful ancient god of the sun, inspired not only the piece's title but also its blazing energy. Bright sonorities, fast tempos, and galloping rhythms combine to give a sense of urgency, but its boisterous nature is also tempered and enriched by another, more sublime force, Bach's Chorale BWV 433 (Wer Gott vertraut, hat wohl gebaut). This chorale serves as a kind of spiritual anchor, giving a soul to the gregarious foreground events. In the first half of the movement, the chorale's first two phrases are stated nobly underneath faster paced music, while the final phrase is saved for the climactic ending, sounding against a flurry of 16th-notes.

Angels in the Architecture
Angels in the Architecture was commissioned by Kingsway International and received its premiere performance at the Sydney Opera House on July 6, 2008, by a massed band of young musicians from Australia and the United States. The work unfolds as a dramatic conflict between the two extremes of human existence — one divine, the other evil. The work's title is inspired by the Sydney Opera House itself, with its halo-shaped acoustical ornaments hanging directly above the performance stage.
Angels in the Architecture begins with a single voice singing a 19th-century Shaker song:
I am an angel of Light
I have soared from above
I am cloth'd with Mother's love.
I have come, I have come.
To protect my chosen band
And lead them to the promised land.
This "angel" — represented by the singer — frames the work, surrounding it with a protective wall of light and establishing the divine. Other representations of light, played by instruments rather than sung, include a traditional Hebrew song of peace ("Hevenu Shalom Aleichem") and the well-known 16th-century Genevan Psalter, Old Hundredth. These three borrowed songs, despite their varied religious origins, are meant to transcend any one religion, representing the more universal human ideals of peace, hope, and love. An original chorale, appearing twice in the work, represents my own personal expression of these aspirations.
Just as Charles Ives did more than a century ago, Angels in the Architecture poses the unanswered question of existence. It ends as it began: the angel reappears and sings the same comforting words. But deep below, a final shadow reappears — distantly, ominously.

Blue Shades
As its title suggests, the work alludes to the blues, and a jazz feeling is prevalent — however, it is not literally a blues piece. There is not a single 12-bar blues progression to be found, and except for a few isolated sections, the eighth-note is not swung.
The work, however, is heavily influenced by the blues: "Blue notes" (flatted 3rds, 5ths, and 7ths) are used constantly; blues harmonies, rhythms, and melodic idioms pervade the work; and many "shades of blue" are depicted, from bright blue, to dark, to dirty, to hot blue.
At times, Blue Shades burlesques some of the clichés from the Big Band era, not as a mockery of those conventions, but as a tribute. A slow and quiet middle section recalls the atmosphere of a dark, smoky blues haunt. An extended clarinet solo played near the end recalls Benny Goodman's hot playing style, and ushers in a series of "wailing" brass chords recalling the train whistle effects commonly used during that era.
Blue Shades was commissioned by a consortium of thirty university, community, and high school concert bands under the auspices of the Worldwide Concurrent Premieres and Commissioning Fund.
About the Artists
Sharon Lavery

Sharon Lavery's extensive career has led her to conduct in distinguished concert halls across the United States, including Carnegie Hall on several occasions. Currently, she serves as resident conductor of the University of Southern California Thornton Symphony, Chamber Orchestra and Wind Ensemble. She has led the Thornton ensembles in concert on countless occasions, and served as music director of the Thornton Concert Orchestra for seven years. In addition to these duties at USC, Lavery teaches instrumental conducting.
Outside of USC, Lavery enjoys a successful professional career. Since 2007 she has been music director of the Downey Symphony Orchestra, an ensemble hailed as one of the best metropolitan orchestras in Southern California. Ms. Lavery has appeared as guest conductor with the Vermont Symphony, Hollywood Chamber Orchestra, San Bernardino Symphony, La Jolla Symphony, La Brea Sinfonia of Los Angeles, and the Virginia Waring International Piano Competition Orchestra in Palm Springs, CA. For many years she held the post of cover conductor for the Pacific Symphony Orchestra, and has also served as cover conductor for the San Diego Symphony. She has been the assistant conductor of the Pasadena Symphony, the associate conductor of the Herbert Zipper Orchestra of Los Angeles, and has also served as music director of the MUSE International Music Day Festival in Chiba, Japan. In addition, she has made CD recordings with Delos Records, Inc. and at Warner Bros studio in Burbank, CA.
Lavery is also known as an advocate for music education. She has conducted the International Honors Performance Series Orchestra and Band, the Missouri All-State Orchestra, the California All-State High School Concert Band, and the Texas 4A All-State Band. Ms. Lavery has also served as a guest conductor for several district honor bands throughout California.
Hailing from Ossining, New York, Lavery received her bachelor of music education degree from Michigan State University and master of music in clarinet performance from the New England Conservatory of Music. She also earned a master of music in orchestral conducting from USC Thornton, receiving the Leonard Bernstein Memorial Scholarship for two consecutive years.

Carl St.Clair

Carl St.Clair is internationally recognized for his distinguished career as a professional conductor and master teacher. He has had a continuing relationship with the USC Thornton School of Music for over 25 years as conductor of the USC Thornton orchestras and a faculty lecturer in conducting. In 2012, he took on an expanded role as artistic leader and principal conductor of the USC Thornton orchestras.
The 2022-2023 season marks his thirty-third year as music director of the Pacific Symphony. He is one of the longest-tenured conductors of the major American orchestras. St.Clair's lengthy history solidifies the strong relationship he has forged with the musicians and the community. His continuing role also lends stability to the organization and continuity to his vision for the symphony's future. Few orchestras can claim such rapid artistic development as the Pacific Symphony—the largest-budgeted orchestra formed in the United States in the last 50 years—due in large part to St.Clair's leadership.
During his tenure, St.Clair has become widely recognized for his musically distinguished performances, his commitment to building outstanding educational programs and his innovative approaches to programming. In April 2018, St.Clair led the Pacific Symphony in its sold-out Carnegie Hall debut as the finale to the Carnegie's yearlong celebration of pre-eminent composer Philip Glass's eightieth birthday, ending in a standing ovation and with The New York Times calling the symphony "a major ensemble!" He led the Pacific Symphony on its first tour to China in May 2018, the orchestra's first international tour since touring Europe in 2006. The orchestra made its national PBS debut in June 2018 on Great Performances with Peter Boyer's "Ellis Island: The Dream of America," conducted by St.Clair. Among St.Clair's many creative endeavors are the highly acclaimed American Composers Festival, which began in 2000; and the opera initiative, "Symphonic Voices," which continues for the ninth season in 2019-20 with Verdi's Othello, following the concert-opera productions of Madame Butterfly, The Magic Flute, Aida, Turandot, Carmen, La Traviata, Tosca and La Bohème in previous seasons.
St.Clair's commitment to the development and performance of new works by composers is evident in the wealth of commissions and recordings by the Pacific Symphony. The 2016-17 season featured commissions by pianist/composer Conrad Tao and composer-in-residence Narong Prangcharoen, a follow-up to the recent slate of recordings of works commissioned and performed by the symphony in recent years. These include William Bolcom's Songs of Lorca and Prometheus (2015-16), Elliot Goldenthal's Symphony in G-sharp Minor (2014-15), Richard Danielpour's Toward a Season of Peace (2013-14), Philip Glass' The Passion of Ramakrishna (2012-13) and Michael Daugherty's Mount Rushmore and The Gospel According to Sister Aimee (2012-13). St.Clair has led the orchestra in other critically acclaimed albums including two piano concertos of Lukas Foss, Danielpour's An American Requiem and Goldenthal's Fire Water Paper: A Vietnam Oratorio with cellist Yo-Yo Ma. Other commissioned composers include James Newton Howard, Zhou Long, Tobias Picker, Frank Ticheli, Chen Yi, Curt Cacioppo, Stephen Scott, Jim Self (Pacific Symphony's principal tubist) and Christopher Theofanidis.
In 2006 and 2007, St.Clair led the orchestra's historic move into its home in the Renée and Henry Segerstrom Concert Hall at Segerstrom Center for the Arts. The move came on the heels of the landmark 2005-2006 season that included St.Clair leading the symphony on its first European tour—nine cities in three countries playing before capacity houses and receiving extraordinary responses and reviews.
From 2008-2010, St.Clair was general music director for the Komische Oper in Berlin. He also served as general music director and chief conductor of the German National Theater and Staatskapelle (GNTS) in Weimar, Germany, where he led Wagner's Ring Cycle to critical acclaim. He was the first non-European to hold his position at the GNTS; the role also gave him the distinction of simultaneously leading one of the newest orchestras in America and one of the oldest in Europe.
In 2014, St.Clair became the music director of the National Symphony Orchestra in Costa Rica. His international career also has him conducting abroad several months a year, and he has appeared with orchestras throughout the world. He was the principal guest conductor of the Radio Sinfonieorchester Stuttgart from 1998 to 2004, where he completed a three-year recording project of the Villa–Lobos symphonies. He has also appeared with orchestras in Israel, Hong Kong, Japan, Australia, New Zealand, South America, China, Thailand and Malaysia and in summer festivals worldwide. In North America, St.Clair has led the Boston Symphony Orchestra (where he served as assistant conductor for several years), New York Philharmonic, Philadelphia Orchestra, Los Angeles Philharmonic and the San Francisco, Seattle, Detroit, Atlanta, Houston, Indianapolis, Montreal, Toronto and Vancouver symphonies, among many.
Carl St.Clair is a strong advocate of music education for all ages and is internationally recognized for his distinguished career as a master teacher. He has been essential to the creation and implementation of the Pacific Symphony's education and community engagement programs including Pacific Symphony Youth Ensembles, Heartstrings, Sunday Matinées, OC Can You Play With Us?, arts-X-press and Class Act. In addition to his professional conducting career, St.Clair has worked with most major music schools across the country. In 2018, Chapman University President Danielle Struppa appointed St.Clair as a Presidential Fellow, working closely with the students of the College of the Performing Arts at Chapman University. St.Clair has been named "Distinguished Alumni in Residence" at the University of Texas Butler School of Music beginning 2019. And, for over 25 years, he has had a continuing relationship with the USC Thornton School of Music where he is artistic leader and principal conductor of the orchestral program.

Frank Ticheli

Frank Ticheli's music has been described as being "optimistic and thoughtful" (Los Angeles Times), "lean and muscular" (The New York Times), "brilliantly effective" (Miami Herald) and "powerful, deeply felt, crafted with impressive flair and an ear for striking instrumental colors" (South Florida Sun-Sentinel). Ticheli (b. 1958) joined the faculty of the University of Southern California's Thornton School of Music in 1991, where he is Professor of Composition. From 1991 to 1998, Ticheli was Composer in Residence of the Pacific Symphony.
Ticheli's orchestral works have received considerable recognition in the U.S. and Europe. Orchestral performances have come from the Philadelphia Orchestra, Atlanta Symphony, Detroit Symphony, Dallas Symphony, American Composers Orchestra, the radio orchestras of Stuttgart, Frankfurt, Saarbruecken and Austria and the orchestras of Austin, Bridgeport, Charlotte, Colorado, Haddonfield, Harrisburg, Hong Kong, Jacksonville, Lansing, Long Island, Louisville, Lubbock, Memphis, Nashville, Omaha, Phoenix, Portland, Richmond, San Antonio, San Jose, Wichita Falls and others.
Ticheli's flute concerto received its world premiere at the National Flute Association Convention in Minneapolis, with the composer conducting and Thornton colleague Jim Walker as soloist. In February 2018, Ticheli's third symphony, The Shore, received its East Coast premiere at New York's Carnegie Hall by NYChoral Society and Orchestra.
Ticheli is well-known for his works for concert band, many of which have become standards in the repertoire. In addition to composing, he has appeared as guest conductor of his music at Carnegie Hall, at many American universities and music festivals and in cities throughout the world, including Schladming (Austria), Beijing and Shanghai, London and Manchester, Singapore, Rome, Sydney and numerous cities in Japan.
He is the recipient of a 2012 Arts and Letters Award from the American Academy of Arts and Letters, his third award from that prestigious organization. His Symphony No. 2 was named winner of the 2006 NBA/William D. Revelli Memorial Band Composition Contest. Other awards include the Walter Beeler Memorial Prize and first prize awards in the Texas Sesquicentennial Orchestral Composition Competition, Britten-on-the-Bay Choral Composition Contest and Virginia CBDNA Symposium for New Band Music.
Ticheli was awarded national honorary membership to Phi Mu Alpha Sinfonia, "bestowed to individuals who have significantly contributed to the cause of music in America," and the A. Austin Harding Award by the American School Band Directors Association, "given to individuals who have made exceptional contributions to the school band movement in America." At USC, he has received the Virginia Ramo Award for excellence in teaching, and the Dean's Award for Professional Achievement.
Ticheli received his doctoral and master's degrees in composition from The University of Michigan. His works are published by Manhattan Beach, Southern, Hinshaw and Encore Music and are recorded on the labels of Albany, Chandos, Clarion, Klavier, Koch International, Mark and Naxos.
Ensemble
Flute
Alicia Kim
Alie Whaley
Ellen Cheng
Emily Harrington
Jenny An
Julia Kwon
Lindsay Bryden
Sylvia Ettinger

Oboe
Alex Changus
Chase Klein
Jingming Zhao
Liz Plescia
Neil Cole

Clarinet
Adam Floyd
Besnik Abrashi
Bram Schenck
Elad Navon
Heesoo Kim
Insoo Oh
Melissa Frisch
Ray Wyant
Victor Martinez Jara
Yan Liu

Bassoon
Daniel St. John
Emily Lazernik
Ingrid Hernandez
Taki Salameh

Saxophone
Aria Morgan
Christian Ross
Collin Juniper
Josh Hebert
Wyatt Grose

Horn
Abraham Murillo
Caleb Durant
Jan Erdos
Joe Oberholzer
Susannah Greenslit
Trumpet
Ben Gunnarson
Emily Nastelin
Jessica Farmer
Jorge Araujo Felix
Kobe Sampson-Davis
Logan Anderson
Lucca Cidale
Svend Lykkegaard

Trombone
Alex Melzer
Kevin Truong
Raymundo Vizcarra
Sean Cooney
Terry Cowley

Euphonium
Arisa Makita
Stephen Hannan

Tuba
Alan Lu
Neha Kudva

Percussion
Austin Cernosek
Dominic Grande
Jeremy Davis
Luciano Valdes
Preston Spisak
Zoe Beyler

String Bass
Ethan Moffitt

Piano
Seoyon MacDonald