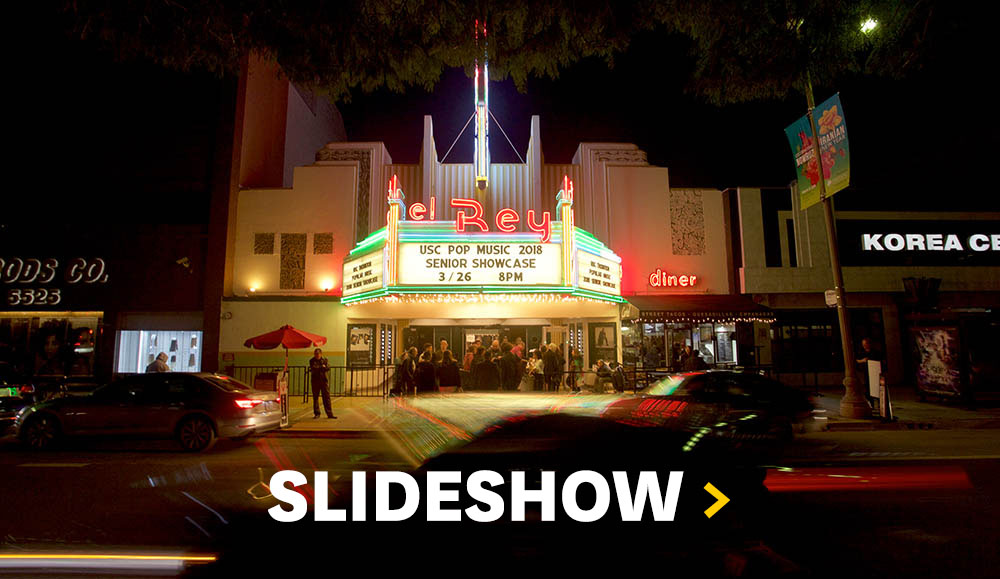 Photos of the 2018 Senior Showcase at the El Rey Theatre. (Photo by Dario Griffin/USC Thornton)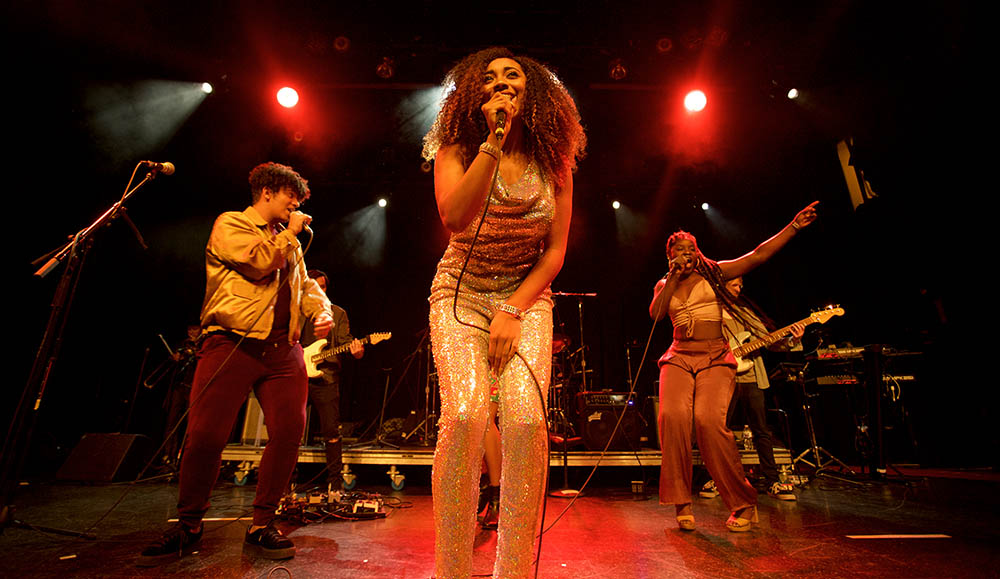 Celeste Butler (center) with Tiah Barnes and Nyallah Noah. (Photo by Dario Griffin/USC Thornton)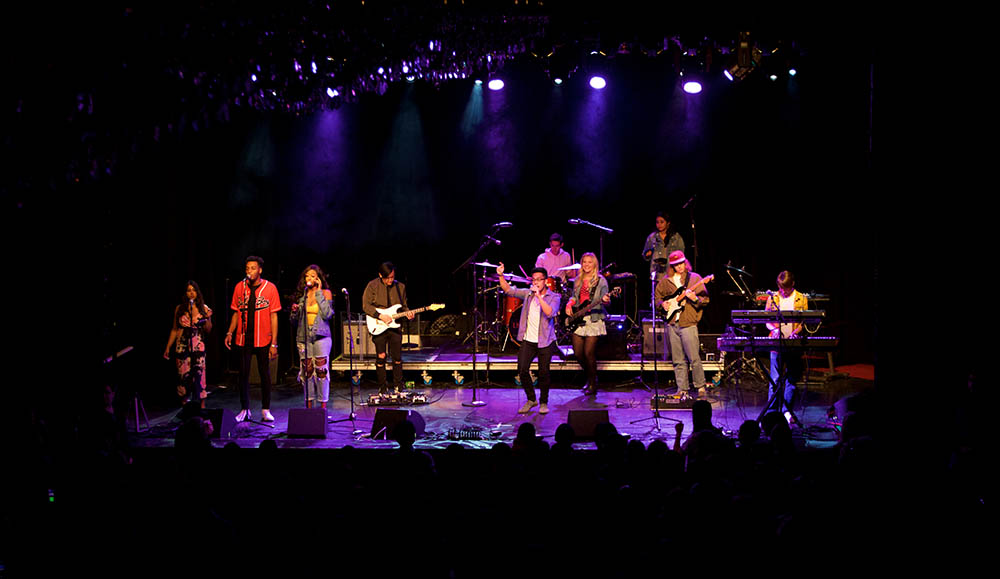 Jej Millanes, Kaylah Baker, Tabon Ward, Shilpa Sadagopan, Nathan Heldman, Sam Yun, Mike Gordon, Christine Meisenhelter, Kelly Cruz, Elliot Siegel, Adam Miller and Jarren Heidelberg. (Photo by Dario Griffin/USC Thornton)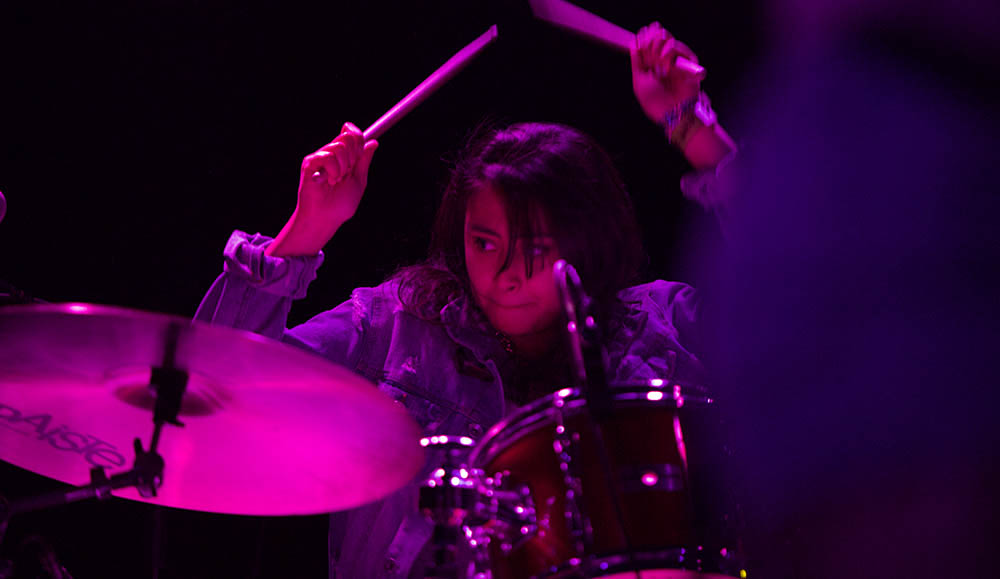 Kelly Cruz on drums. (Photo by Dario Griffin/USC Thornton)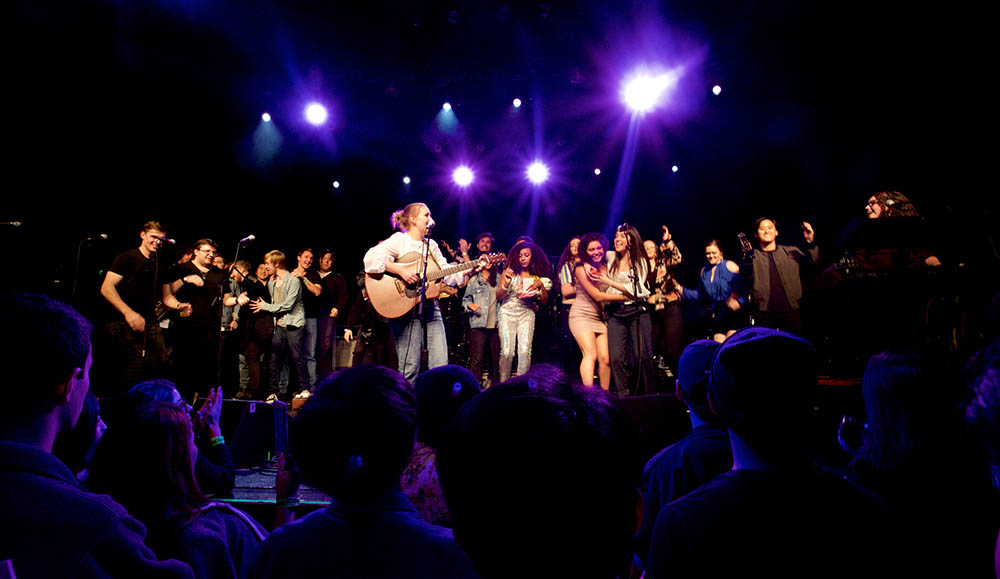 Student performers at the finale of the 2018 Popular Music Senior Showcase. (Photo by Dario Griffin/USC Thornton)
Last year's annual Popular Music Showcase was a standing-room-only affair. After turning away scores of audience members from its long-standing home, the legendary Troubadour, in 2017, USC Thornton moved the event to a significantly larger venue on Wilshire Boulevard, the iconic El Rey Theatre.
The result? They still sold it out.
On Friday, April 5, this year's graduating class will celebrate with another remarkable performance at the El Rey. It is where, in front of friends, family, and industry professionals, seniors will perform original songs they have dedicated themselves to as undergraduates.
One night only. USC Thornton celebrates another amazing class as they embark on professional music careers.
The Popular Music Senior Showcase
El Rey Theatre
Friday, April 5 at 8:00 PM
Admission is free, but RSVPs are required. RSVP now!
Can't make it? Don't worry! The concert will be live streamed starting at 8:00 PM.