On a Saturday in February, legendary recording engineer and record producer Al Schmitt sat at the massive mixing board in Studio A at Capitol Records in Hollywood. Schmitt has won 21 Grammy Awards and worked with everyone from Frank Sinatra and Elvis Presley to Michael Jackson and Madonna. He had recently engineered albums with Paul McCartney and Neil Young in that very room where artists like Sinatra recorded in the '50s, but on that day he was working with students from the USC Thornton School of Music.
Schmitt listened intently and tapped his foot to the beat as the entire Thornton Jazz Orchestra performed a composition written and conducted by a graduate student from the Scoring for Motion Pictures and Television (SMPTV) program in the studio. Students from the Music Technology program assisted in the control room where Daniel Carlin, chair of the SMPTV program, followed along with the charts, snapping his fingers, conducting and, at times, dancing in his seat.
After the first take, Schmitt suggested the piano solo would sound better if everyone else could drop down a notch. At the end of the next take, he nodded his head and smiled.
"It's a lot of fun working with the Thornton students," Schmitt said during a break. "I did it last year with the Popular Music program. It was so amazing how great their chops were. When you watch some of these kids, you realize that the music business is not dead. There is so much talent. Like today, some of the arrangements are good. Some of the arrangements are excellent. Some of the ideas are great. They all have something in them that is interesting."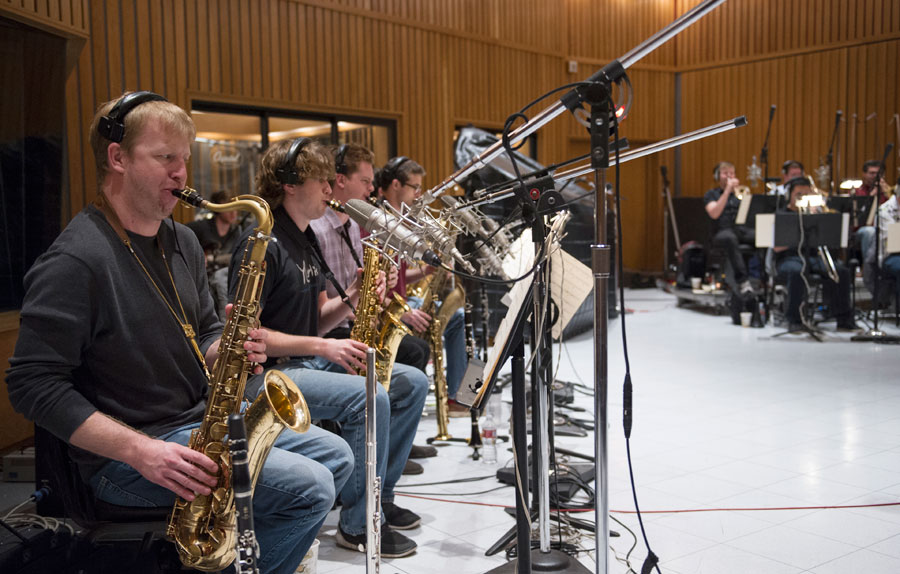 The USC Thornton Jazz Orchestra recording at Capital Records 'Studio A' (Photo/Chandler Golan)
The USC Thornton Jazz Orchestra recording at Capital Records 'Studio A' (Photo/Chandler Golan)
Al Schmitt and SMPTV director Daniel Carlin observe the USC Thornton Jazz Orchestra from the control room (Photo/Chandler Golan)
Al Schmitt and SMPTV director Daniel Carlin observe the USC Thornton Jazz Orchestra from the control room (Photo/Chandler Golan)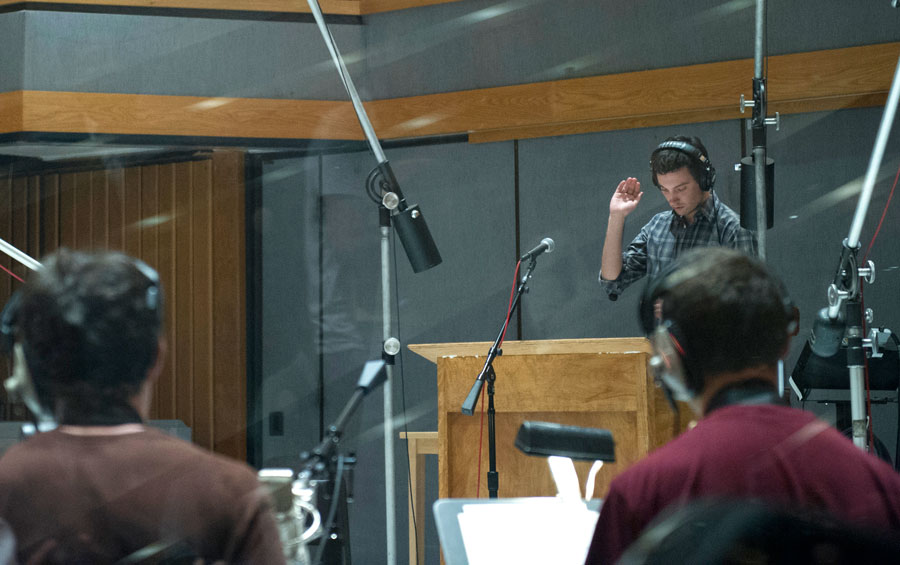 SMPTV student Toby Sherriff conducts the USC Thornton Jazz Orchestra in a recording session at Capital Records 'Studio A' (Photo/Chandler Golan)
SMPTV student Toby Sherriff conducts the USC Thornton Jazz Orchestra in a recording session at Capital Records 'Studio A' (Photo/Chandler Golan)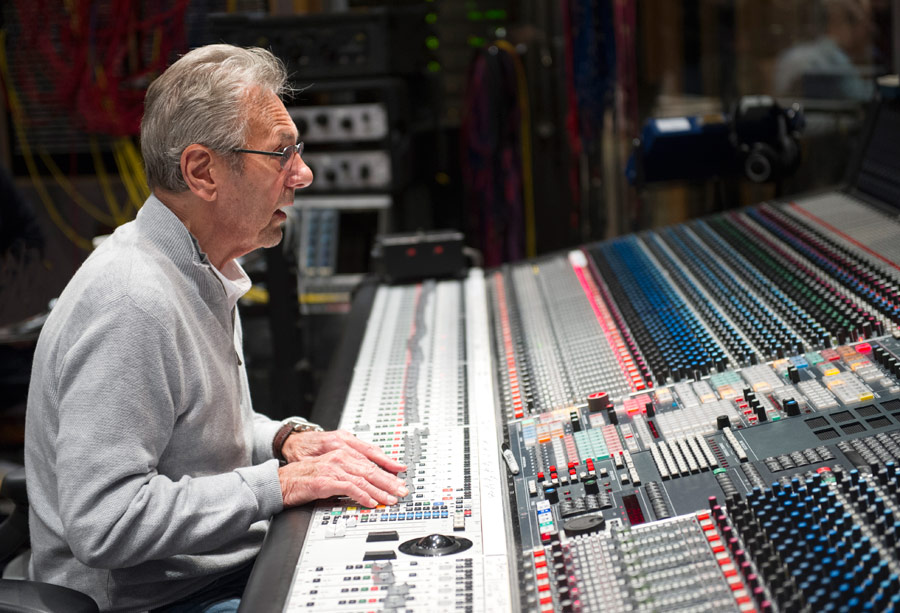 Veteran producer Al Schmitt records the USC Thornton Jazz Orchestra at Capital Records iconic 'Studio A' (Photo/Chandler Golan)
Veteran producer Al Schmitt records the USC Thornton Jazz Orchestra at Capital Records iconic 'Studio A' (Photo/Chandler Golan)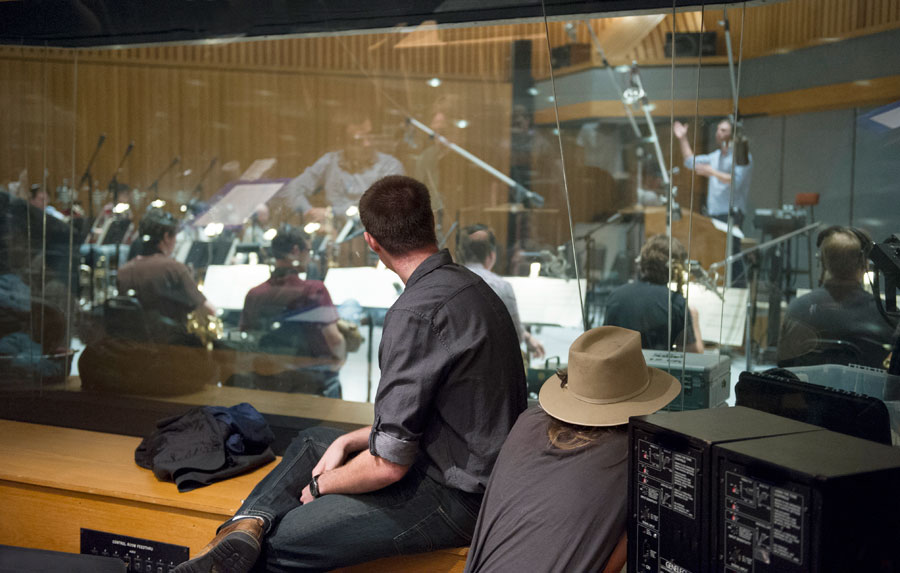 SMPTV students look on as the USC Thornton Jazz Orchestra records at Capital Records 'Studio A' (Photo/Chandler Golan)
SMPTV students look on as the USC Thornton Jazz Orchestra records at Capital Records 'Studio A' (Photo/Chandler Golan)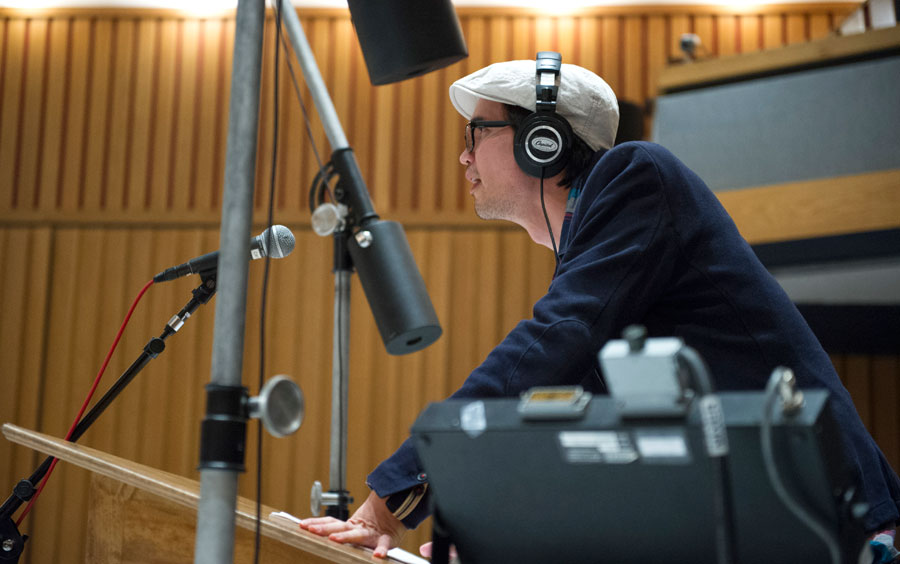 SMPTV student Varqa Buehrer leads the USC Thornton Jazz Orchestra at Capital Records iconic 'Studio A' (Photo/Chandler Golan)
SMPTV student Varqa Buehrer leads the USC Thornton Jazz Orchestra at Capital Records iconic 'Studio A' (Photo/Chandler Golan)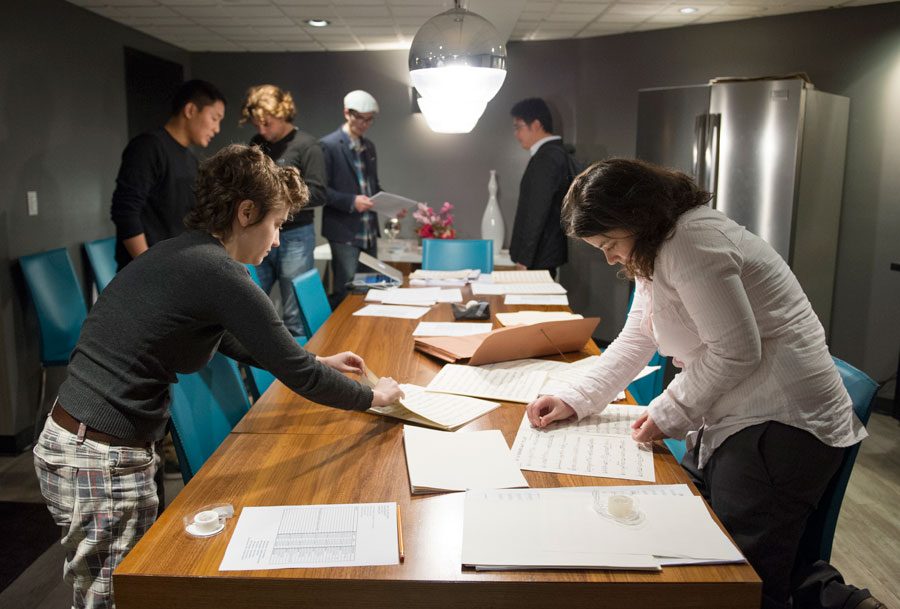 SMPTV students tape together parts and scores for the USC Thornton Jazz Orchestra (Photo/Chandler Golan)
SMPTV students tape together parts and scores for the USC Thornton Jazz Orchestra (Photo/Chandler Golan)


In preparation for the recording session, graduate SMPTV students learned how to write jazz charts with Jason Goldman, a senior lecturer in Jazz Studies who was the saxophonist and arranger on Michael Bublé's Come Fly With Me, and they got further mentoring with Thornton faculty. Schmitt had visited the USC campus the day before for a guest lecture with the Music Technology students about the technical aspects, like placing the 17 musicians in the room and setting up over 30 microphones.

The day was a demonstration of the talent and professionalism of the students. Twenty composers were each allowed just 14 minutes to conduct their short jazz cue, offer feedback to Schmitt and record a handful of takes.

"Good thing the band is so professional, or we'd never get through it," Carlin said.

"I have to confess that I use a lot of these players in my professional big band," said Bob Mintzer, leader of a Grammy-winning big band who is chair of Jazz Studies and director of the USC Thornton Jazz Orchestra. "These guys play on a very high level, and we've been working together through the whole year. That's another level when Al records with musicians who are in the studio together 100 days out of the year, but this is just shy of that."

The USC Thornton Jazz Orchestra focuses on the classic big band style, which was a change from the SMPTV students' usual classical fare. The players range from freshmen to graduate students.

Saxophonist Alex Hahn (MM '16) encapsulated the uniqueness of the experience when he said: "It's incredible to be here: there is so much history in this room, and we are working with Al Schmitt who is a legend. Also, I think it's really cool that the music technology, film scoring and jazz departments are doing something together. This will give me incentive to want to come back to Studio A and record something of my own or be in a band that records here."

Despite the scale of this collaborative creative project, it is not for a grade or credit.

"It's our mission as department chairs to get out into the professional community and create extracurricular events that make our program different from any other program in the country," said Rick Schmunk, chair of the Music Technology program, who pointed out another benefit of the Capitol Records session was the chance to hear so many musicians playing live together in the studio.

Each year Thornton arranges about 15 sessions with professional musicians and industry leaders like Schmitt.



"No other music program comes close," said Carlin. "That's the advantage of being in Los Angeles."

Another advantage is the Thornton faculty who are high-level professionals in the music industry. Carlin and Schmitt have worked together and been friends for years.

"Al has recorded classical, film scores, jazz, Steely Dan and Jefferson Airplane, Ray Charles and Sam Cooke," Carlin said. "When somebody with ears and skills like that can work with students, then they hear their music as best they will ever hear it. They are able to hear the potential they have as writers."

Schmitt said it feels good to give back by helping students.

"This is a learning experience," he said. "Students will be able to listen to what they did and realize what they could have done better. We need to thank [studio manager] Paula Salvatore for allowing everyone to come into this amazing studio."

At the end of the day, the students took home tracks to work with and mix.

"That's the way you learn how to write — by writing and hearing a recording of what you've written," said Mintzer, who is also a 20-year member of the Grammy-winning Yellowjackets jazz group.

SMPTV student Toby Sherriff agreed: "When you're writing a score, you are so much more intimate with the harmonies, you know what they sound like and you know what you're going for, but to be able to hear what you had in your head is much more educational."