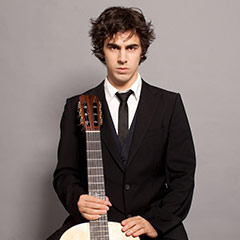 A relaxing summer vacation with Mak Grgić
USC Thornton alumnus Mak Grgić (MM '12, DMA '16) is a very busy man. The Slovenian-born classical guitarist (recently profiled here) is artistic director of both the Zagreb Music Festival and the Biljke i Svirke Interactive Music Festival, director of the Elemental Guitar Program at Elemental Music, an adjunct faculty member at Mount Saint Mary's University, one half of the Duo Deloro with Thornton faculty member Adam del Monte, and plays in FretX with Dan Lippel, in addition to his solo career.
Grgić averages some 85 gigs each year. And when he was recently pressed with a friendly, "How was your summer?," in the Thornton break room, Grgić presented the following, dizzyingly-detailed breakdown of his summer schedule:
May: 2 & 3: Masterclasses and Recital at University of Minho, Braga, Portugal
May 4: Masterclasses and Recital at Conservatory for Music, Salamanca, Spain
May 5: Masterclasses at Municipal School for Music and Dance, Bejar, Spain
May 6: Recital at Contreras Guitar Salon, Madrid, Spain
May 8: Masterclasses at Professional Conservatory for Music, Espinho, Portugal
May 9: Performance with Lina Bahn, violin, and Gal Faganel, cello, at the Academy of Music, Ljubljana, Slovenia
May 10: Premiere of 4 new works for solo guitar by Slovenian composers along with Berio's Sequenza for Guitar for Slovenian Composers Society, Ljubljana, Slovenia
May 12: Recital at Friends of Guitar Hour, Spokane, Washington
May 13: Masterclasses for Friends of Guitar Hour, Spokane, Washington
May 28: Jeunesse muscicales (Wien)
June 2: Concluding Concert for Elemental Music, Santa Monica, California
July 7: Recital at the House of Marin Drzic, Dubrovnik, Croatia
July 10 & 11: Masterclasses and Recital at International Guitar Festival, Postojna, Slovenia
July 13: Recital at the House of Joze Plecnik, Ljubljana, Slovenia
July 14-16: Gitarastra Summer School, Stari Grad, Island Hvar, Croatia
July 17-22: Lancaster Music Festival, Lancaster, Ohio with Gary Sheldon (Principal conductor of the Miami City Ballet)
July 24: Recital at Arsana Festival, Ptuj, Slovenia
August 1-7: Outreach activities for Kapok Guitar Company, Guangzhou and surroundings, China
August 8-12: International Guitar Festival and Symposium, Hong Kong
August 13 & 14: Masterclasses and Recital, Shenyang, China
August 16: Masterclasses and Recital, Jiangsu, China
August 18: Recital in Wenzhou, China
August 21: Recital in Shunde, China
As if he weren't busy enough, Grgić will also be launching several albums in the next year: MAKrotonal with MicroFest Records, Balkanisms on the Naxos Music Label, and a debut Duo Deloro album with Adam del Monte.
Stay tuned for more adventures from the road with Mak Grgić!