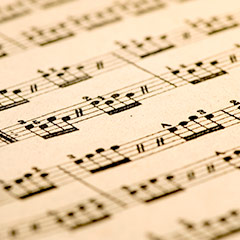 Adan Fernandez studies the musicological and theological aspects of hymns
Adan Fernandez, a doctoral candidate in the USC Thornton Choral & Sacred Music program, has recently presented at several conferences on the musicological and theological dimensions of religious hymns, including the Eureka Musical Minds Conference at CSU Fullerton, the Hymn Society Conference in Waterloo, Canada, and the American Academy of Religion Western Conference. Fernandez' articles, "Developing a Culture of Singing" and "Racial Identity in Music Education," have been published in ChorTeach and Reformed Worship.
Fernandez currently serves as director of music and organist at Holy Family Catholic Church, as well as harpsichordist for the early music ensemble Concerto NoHo. He is a Kodály instructor for the National Children's Choir and serves on the boards of the Kodaly Association of SoCal and the local chapter of the American Guild of Organists.