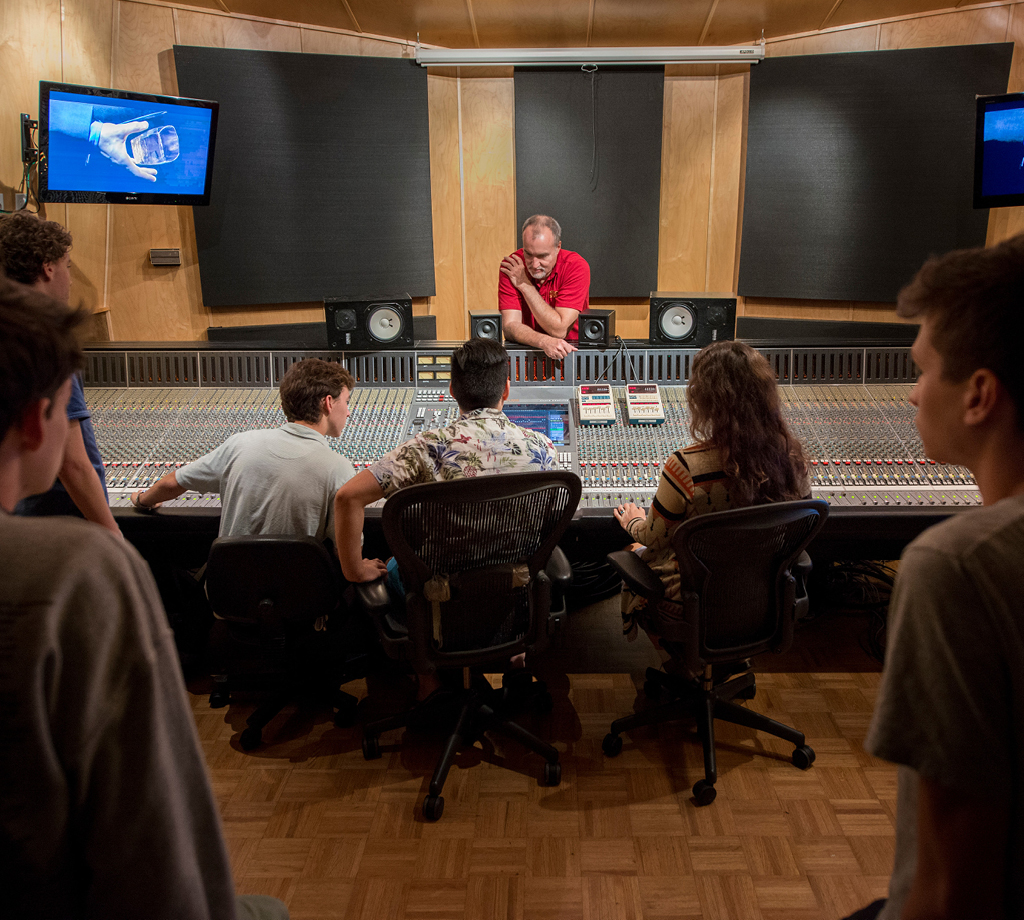 Music Production
Undergraduate Application Deadline
December 1st (First-year and Transfer)
Undergraduate Application Requirements
This section is for all first-year and transfer applicants from outside of USC applying to the Bachelor of Music (BM) Music Production program for the fall semester. USC does not accept applications for spring admission unless you are already a current USC student.
Note: This information applies only to Music Production applicants. Current USC students should follow the change/addition of major application process.
The total application fee is $110 ($85 for the Common Application and $25 for the Thornton Portfolio in SlideRoom). All required materials must be submitted by December 1.
Recordings/materials must be submitted online through the SlideRoom Portfolio by the December 1st deadline and will not be accepted via mail or email for any program. We cannot guarantee the review of any material received after December 1. Any application not complete by December 1st may be removed from consideration.
Applicants experiencing hardship or extenuating circumstances due to natural disaster or public health concerns in their local area that may affect their ability to satisfy application requirements may contact the Thornton Office of Admission at uscmusic@usc.edu to explore possible accommodations. Though we cannot guarantee that accommodations/exceptions will be possible, applicants are encouraged to contact the Admission Office as soon as possible to allow the maximum amount of time to consider the options.
Applying For
Fall Admission
Auditions Required?
Yes, 2 rounds
Questions?
Email: uscmusic@usc.edu | Phone: (213)740-8986
Complete the USC Application
All applicants must complete the USC Undergraduate Application and submit all other application materials required by USC Admission by the December 1st deadline: First-year applicants, Transfer applicants, International applicants.
Note: Undergraduate applicants to the Thornton School are only permitted to select one Thornton major through the Common Application and it must be selected as the first-choice major. Applicants who would like to be considered for admission to a second Thornton major must complete the Second Major Request process.
Complete the SlideRoom Portfolio
All applicants must complete the Thornton SlideRoom portfolio by the December 1st deadline. All Thornton supplemental materials must be uploaded through SlideRoom, which you will access through the link provided in the "Portfolio Instructions" section in the Common Application (see details below). Thornton supplemental materials will not be accepted via mail or email.
All first-year applicants: By selecting a Thornton program in the first-choice major field, the Common Application will automatically populate with the following text: "Because of the major you selected above, you will need to submit a Portfolio for your program to complete your application". Select "Yes, I understand." and refer to the Portfolio Instructions in the left hand column.
All transfer applicants: By selecting a Thornton program in the first-choice major field, the Common Application will automatically populate with the following text: "Because of the major you selected above, you will need to submit a Portfolio for your program to complete your application". Select "Yes, I understand." and refer to the "USC Thornton School of Music" SlideRoom link that will automatically populate below the portfolio question.
Applicants will be asked to provide the following materials in the SlideRoom portfolio:
SlideRoom Requirements
Prescreen Recorded Audition
Applicants to Music Production must submit prescreen audition materials for review by the faculty. The results of this prescreen will determine whether an applicant will be invited to a live audition and interview.
The prescreen audition recordings should contain:
A 1-3 minute video

introduction of yourself at your work-station. On this video, please tell us about your prior experience with musical instruments and music technology; provide a description of your private studio work-space; and relate your experience, if any, of producing recordings.

A 2-3 minute video of a performance of a song from existing popular music repertoire. The video performance may be self-accompanied, accompanied by other musician(s) or by a band (as long as the applicant is prominently featured). Pre-recorded accompaniment is acceptable. If the applicant does not play a conventional instrument, a performance where the applicant manipulates sound in real time using a controller or other similar device is acceptable.
2-3 audio recordings, of which at least one is an original work, which demonstrate the applicant's audio recording, MIDI sequencing and production skills. In the "Additional details" section of your SlideRoom media upload, please indicate how your work is represented in the production of each audio submission. (for example: songwriter, arranger, singer, instrumentalist, MIDI sequencer, engineer, audio/MIDI editor, or mixer, ect.)
The prescreen video and audio recordings should best demonstrate the applicant's performance, artistic and creative abilities. Videos or recordings do not need to be highly produced and should accurately represent the candidate's abilities – avoid using corrective studio effects such as AutoTune. Applicants should not buy or borrow gear for this prescreen, but rather use the equipment they already have.
Introductory Video for All Undergraduate Applicants
All applicants to undergraduate Thornton programs are required to submit a single-take, unedited, and preferably unrehearsed 1-2 minute video that offers a brief personal introduction and answers the following question: How do you envision using your USC Thornton education to become a force for positive change in the evolution of the music profession and music as an art form?
Résumé
The résumé should list musical, professional, and academic experience and is generally 1-2 pages in length.
Repertoire List
This list should include works studied and performed. Etudes, scale studies, arias, art songs, chamber music, solo pieces, and original compositions are all examples of what could be included in this list.
Transcripts
First-year applicants

are not required to upload transcripts in SlideRoom but must submit official transcripts to USC Admission, as required.

Transfer applicants are required to upload a copy of all college transcripts in SlideRoom in addition to the official transcripts that must be submitted to USC Admission.

Note: USC Admission also requires official high school transcripts (with date of graduation) and official college transcripts of any and all college coursework completed through the fall term for all transfer applicants.
Letters of Recommendation (Optional)
In addition to the recommendation letters required by USC Admission submitted via the Common Application, undergraduate applicants may submit optional letters of recommendation via the SlideRoom Portfolio "References" section. Important notes for optional letters of recommendation:
Any optional letters of recommendation you want reviewed by the Thornton faculty must be submitted via the Thornton SlideRoom "References" section by December 1. We cannot guarantee the review of any material received after December 1.
Required letters of recommendation submitted to USC Admission through the appropriate Common Application avenues will automatically be included with the Thornton SlideRoom application for review by Thornton Faculty for first-year/freshman applicants.
USC Admission will not receive any optional letter of recommendation submitted through the Thornton SlideRoom "References" section.
Any recommendation sent via mail or email will not be reviewed by the Thornton faculty.
Perform Audition if Invited
The results of the prescreen will determine whether an applicant will be invited to perform a live audition. Notice of the results of the prescreen audition will be sent to applicants via email in late December, which will include the date and time of the live audition, if invited. Live auditions typically occur in late January and early February. Please do not make travel plans to audition at USC Thornton until you have received confirmation of your audition appointment.
Prospective students are strongly encouraged to visit our campus and live audition events can be the ideal opportunity for this kind of visit. We therefore encourage applicants to perform their live auditions in person on the USC campus. Applicants who live more than 100 miles from the USC campus and are unable to travel to Los Angeles for their live audition can indicate their preference for an online audition on their Thornton application in SlideRoom. Applicants who live within a 100 mile radius of the USC campus are required to perform their live audition in-person.
Live Audition Requirements
The live audition will consist of two parts, (1) an interview (approximately 15 minutes long) and (2) a sequencing exercise. For part two, applicants will be given 2 hours to create a MIDI sequence for a provided lead sheet and vocal audio file. Applicants should plan to bring their own laptop computers, software, and headphones to use for the sequencing exercise. We will provide audio interfaces and MIDI keyboards for those doing their live audition in-person on the USC campus that want to use them (both connect via USB).
Undergraduate Theory Exam
All undergraduate applicants (except in Composition and Music Industry) are required to complete a music theory examination as part of the live audition requirements. The exam will measure proficiency in basic music theory. Further details about how and when the exam will be administered will be provided in the audition confirmation sent to applicants invited for a live audition. Exam results alone will not prevent a student from being admitted to USC or the Thornton School. The Thornton Admission office cannot release exam details in advance of the exam. Inquiries regarding the content of the exam will not be answered.