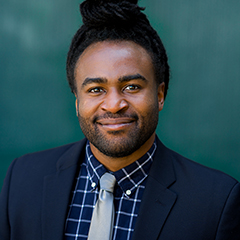 Alexander Lloyd Blake featured in The New York Times
Choral & Sacred Music alum Alexander Lloyd Blake (DMA '19), was recently featured in an article in The New York Times discussing Tonality, the Los Angeles-based choral ensemble he founded. The article highlights seven music organizations like Tonality that have been working toward racial equity in the classical music industry.
The article shares what inspired Blake to launch Tonality, and his work as one of the writers of the Black Voices Matter pledge, a pledge of anti-racism in choral practice. "I wanted to start a choir about intentional respect," he says.
Of the lessons he's learned, Blake adds: "Make room for underrepresented voices in places of agency within organizations. Honorary titles and temporary positions do not allow for systems to change, and those who need to be at 'the table' should be able to make brave statements and give solutions without feeling like their job is at risk or their work is only considered as a suggestion."