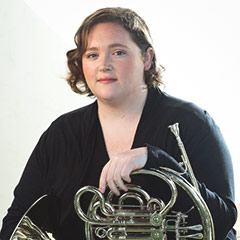 Alumna Carrie Rexroat joins South Dakota Symphony
USC Thornton Winds & Percussion alumna Carrie Rexroat (MM '15, horn) will be joining the South Dakota Symphony Orchestra as a second horn. The orchestra's 2016-2017 season began October 8 under the direction of Delta David Gier.
Before her most recent appointment, Rexroat performed in the Dearborn Symphony, the American Youth Symphony, and the Debut Symphony Orchestra. She regularly performs with the Hollywood Chamber Orchestra, the Santa Monica Symphony, and the Santa Barbara Choral Society.