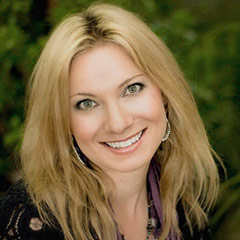 Alumna Julia Newmann's "Bones Orchestral Suite" performed live
A work by Composition alumna Julia Newmann (BM '03) was recently performed by a 55-piece orchestra as part of "The Women Who Score: Soundtracks Live." A collaboration between Grand Performances and The Alliance for Women Film Composers, the event was a celebration of 21 film, television, and videogame scores by female composers.
Newmann, who has received acclaim for scoring the past eight seasons of the television show "Bones," presented the Bones Orchestral Suite, which highlighted themes from the show. The suite was arranged for orchestra by Newmann's husband, fellow Thornton alumnus Cody Westheimer (BM '01, composition).
"The Women Who Score" event was hosted by Gail Eichenthal, Executive Producer at Classical KUSC.