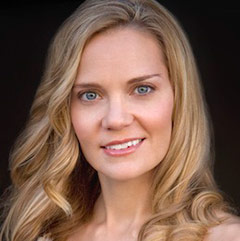 Alumna Tricia Oney to serve as artist-in-residence with the U.S. Army Band
Vocal Arts alumna and jazz vocalist Tricia Oney (DMA '07) will join the U.S. Army Band's "Pershing's Own" as Artist-In-Residence and Composer-In-Residence from October 19th to 22nd. Oney will present workshops, masterclasses and vocal jazz clinics for Army Voices during the week, culminating in a performance with both ensembles on Sunday, October 22nd at Arlington National Cemetery.
During the concert, Oney will perform in three sets: as a guest soloist with selections from her nationally touring big band show; with the Army Blues combo in an all-original set of Oney's compositions; and as a guest soloist in a set of vocal jazz arrangements from The Manhattan Transfer and New York Voices.