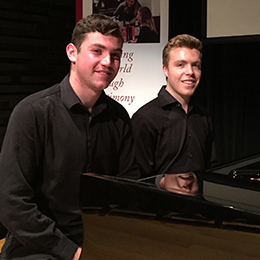 Alex Biniaz-Harris and Ambrose Soehn to perform in Cambodia
USC Thornton alum Alex Biniaz-Harris '15 and Ambrose Soehn, who graduated in 2015 with a neuroscience degree at the USC Dornsife College of Letters, Arts and Sciences while minoring at USC Thornton, ran a successful crowdfunding campaign to perform in two Cambodian cities – Phnom Penh and Siem Reap – early next year.
The duo composed a series of piano pieces based on traditional and popular melodies from Cambodia featuring electric guitar, voice, and other native instruments to tell the story of Cambodia's music and culture from before, during, and after the Khmer Rouge. The composition, titled Garuda's Song, aims to share the vibrant Cambodian musical culture with the world.
Biniaz-Harris and Soehn are also slated to create and distribute an audio recording and documentary short film with Cambodian filmmaker, Sa Fatily.