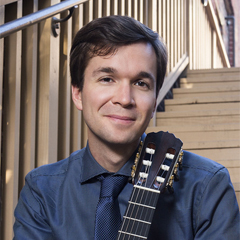 Alumnus Cameron O'Connor wins Frances Walton Competition
This past summer, classical guitarist and alumnus Cameron O'Connor (DMA '14) was one of four soloist award winners of the Frances Walton Competition in Seattle, WA. The competition is open to classical performers of piano, voice, strings and wind instruments, who are residents or students in Washington, Oregon, Montana, Idaho, California or Alaska. Soloist winners receive a cash prize of $3,000 in addition to the recognition.
In September, O'Connor returned to Washington in a performance tour with another soloist winner and was featured on Seattle's Classical 98.1 FM.