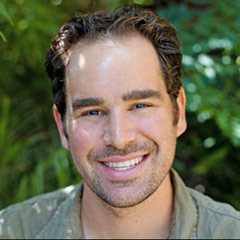 Alumnus Cody Westheimer scores new IMAX film
USC Thornton alumnus Cody Westheimer (BM '01, composition) scored the music for the new IMAX film, "Journey to Space 3D," which premiered at the California Science Center in Los Angeles last week. For the premiere event, Westheimer conducted student members of the USC Thornton Symphony in sections of the film score, in the shadow of the Space Shuttle Endeavor, which is on display at the museum.
Wetheimer is well regarded for his scores for films, television, and games, particularly in sports and nature genres. His Hollywood-inspired theme for the Tour de France airs on television annually and Westheimer has scored programming for Major League Soccer, Sports Dash, Meet the Press, and the 2012 London Olympic Games.
"Journey to Space 3D," which is narrated by actor Patrick Stewart, takes audiences on a behind-the-scenes tour of international efforts to send astronauts to Mars. The IMAX film plays at the California Science Center through May 8, 2016.