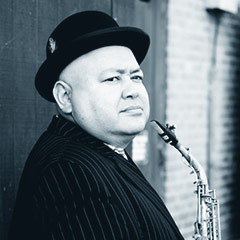 Alumnus Ray Zepeda presents a Milton Babbitt tribute concert
Saxophonist Ray Zepeda (MM '98, Jazz Studies), founder and artistic director of the Bakersfield New Music Collective, recently organized a tribute concert for the serial composer, Milton Babbitt. The free event, entitled "Re-Imagining Milton Babbitt: A Centennial Celebration for an Exceptional American," took place at The Mark in downtown Bakersfield and featured seminal pieces by Babbitt, as well as original pieces by Zepeda and other members of the Collective. Performances ranged from solo DJ sets to an 11-piece ensemble.
Zepeda, who performs with jazz ensembles throughout Southern and Central California, plans to feature members of the Bakersfield New Music Collective on his upcoming album release.