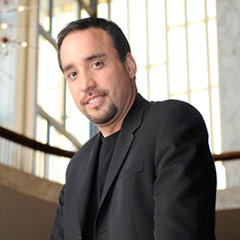 Alumnus Richard Bernstein receives Metropolitan Opera Service Award
Each year, the Metropolitan Opera convenes an event to honor those individuals who have reached milestones in their careers with the venerable New York City institution. Operatic bass and USC Thornton alumnus Richard Bernstein ('89, Vocal Arts) has completed his 20th year as a solo artist with company and was recognized at the Met Service Awards Ceremony on March 31. The company's general manager, Peter Gelb, highlighted Bernstein's achievements and presented him with a custom-made Baume & Mercier watch. With the award, Bernstein joins the ranks of celebrated singers who have performed at the Met for decades.
The Service Awards Ceremony is a decidedly private event in which members of the Met's community can honor their own. Nevertheless, several high-profile guests were in attendance, including Placido Domingo, who has performed with Bernstein on many occasions and with whom Bernstein debuted in Los Angeles 26 years prior. Domingo, who came as Bernstein's personal guest, was preparing to perform the title role in Verdi's Simon Boccanegra the next day.
"[Placido Domingo] has been a mentor to me," said Bernstein. "I was most honored that he came, especially the day before an opening night for him!"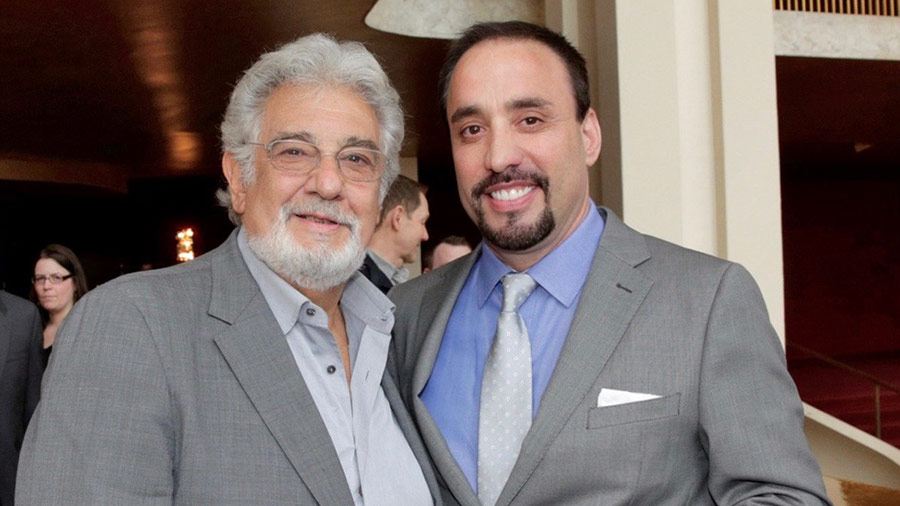 Tenor Placido Domingo with bass Richard Bernstein at the March 31st event. (Ken Howard)
In addition to his on-stage work with the Met (which, in the 2015-2016 season alone, included the roles of Angelotti in Tosca, the Captain in Manon Lescaut and Pietro in Simon Boccanegra), Bernstein also adjudicates for the Met's National Council Auditions, presents masterclasses and teaches voice.
Reflecting on the culture of an institution that would honor him in this manner, Bernstein said, "I feel incredibly grateful that I'm treated as if I'm a family member. The Met really is my second home."