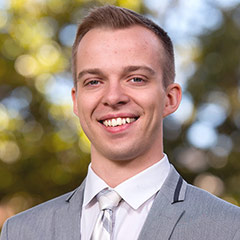 American Composers Orchestra to perform work by Ryan Lindveit
USC Thornton alumnus Ryan Lindveit (BM '16) is one of six emerging composers whose works will be performed by the American Composers Orchestra (ACO) during the organization's Underwood New Music Readings on June 21st and 22nd in New York City. Lindveit, who was USC's Salutatorian and a Thornton Outstanding Graduate in 2016, will present his orchestral work, Like an Altar with 9,000 Robot Attendants, which was premiered by the USC Thornton Symphony in 2015.
The ACO is dedicated to reading and performing new contemporary classical music. In previous years, the ensemble has performed works by Thornton alumni Sarah Gibson (MM '10, DMA '15), Saad Haddad (BM '14), and Jules Pegram (BM '13).