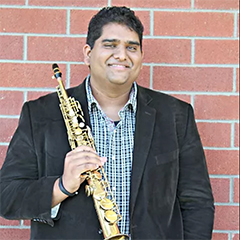 Andrew Harrison to launch new online concert series
USC Thornton alum and saxophonist Andrew Harrison (DMA '15) will launch a new online concert series, Concert Cast, on Tues., Sept. 1. An advocate for contemporary saxophone music, Harrison will perform with pianist Jason Lo (MM '12, DMA '16) in a program that features works by Bozza, Eiunaudi, Rachmaninoff, Ravel, and more. The event will be streamed on Facebook.
Last fall, in Oct. 2019, Harrison was selected as a 2019-2020 Beverly Hills National Audition winner. Previously, Harrison was also a finalist in the 3rd Annual Berliner International Music Competition and is a featured clinician for the Prince George County Public School District.