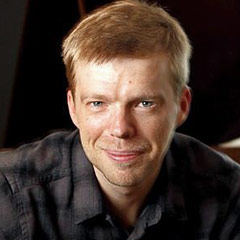 Andrew Norman premieres new children's opera with Berlin Philharmoniker
Composer Andrew Norman, a USC Thornton faculty member who has emerged as one of the most distinctive musical voices of his generation, recently premiered a new children's opera with the renowned Berlin Philharmoniker Orchestra. A Trip to the Moon opened June 17 under the baton of Sir Simon Rattle, with help from the Vocal Heroes Children's and Youth's Choir.
The opera draws inspiration from Georges Méliès' 1902 silent film of the same title and follows a group of astronomers as they explore the moon. Commissioned by the Berliner Philharmoniker, along with the London Symphony Orchestra and the Los Angeles Philharmonic, Norman's opera will be performed in London this July and at Walt Disney Concert Hall in Los Angeles in March.