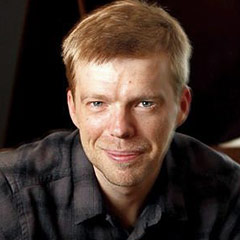 Andrew Norman premieres work with Gustavo Dudamel and the LA Phil
Andrew Norman, a member of the USC Thornton Composition faculty, premiered a work with the Los Angeles Philharmonic (LA Phil), under conductor Gustavo Dudamel, last week. Norman's Play: Level 1 is adapted from his 2013 orchestral cycle, Play, which echoes the exuberantly frenetic, startlingly disjointed experience of video game-play, and which was recorded on CD by the Boston Modern Orchestra Project last year.
Play: Level 1 will be performed on the LA Phil's upcoming tour to New York City (David Geffen Hall, Mar. 13-14), Amsterdam (Concertgebouw, Mar. 17), Paris (Philharmonie, Mar 20-21), Luxembourg (Grand Duchesse Concert Hall, Mar. 21), and London (Barbican Center, Mar. 22-24).
Of the work's premiere at Walt Disney Concert Hall, Los Angeles Times reviewer Mark Swed wrote, "Think of this as being to music what William Burroughs' cutups were to literature, except instead of juxtaposing other people's work, as Burroughs did, Norman's bits and pieces are his wacky own. But give yourself over to it and you emerge from a nerve-racking but fabulously exhilarating ride."
Elsewhere, Norman's 2008 orchestral work, Unstuck, was performed last week by the Florida Orchestra, under music director Michael Francis. The Tampa Bay Times, which noted that Norman drew inspiration from the fragmentary quality of Kurt Vonnegut's novel, Slaughterhouse-Five, called the work "something to behold."