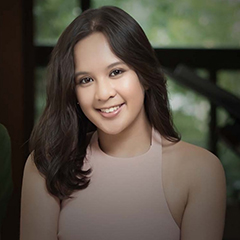 LACO to premiere Luna Lab work by Anya Lagman
On Thursday, Feb. 11, Los Angeles Chamber Orchestra (LACO) will present the world premiere of a piece by sophomore Composition student Anya Lagman in a special "Luna Lab Meets LACO" online concert presented in partnership with the Kaufman Music Center in New York City. Lagman's piece, "Unravel," will be performed by LACO's musicians alongside the works of seven fellow Luna Composition Lab members.
Lagman is a member of the 2019/20 "Luna Lab with LACO" cohort, a composition lab created in partnership between LACO and the Luna Composition Lab, which provides mentorship and performance opportunities to young composers who are female-identifying, non-binary or gender non-conforming.
The "Luna Lab Meets LACO" concert will premiere at 4:00 p.m. (PST), and is free to watch. Visit the orchestra's website for more information.