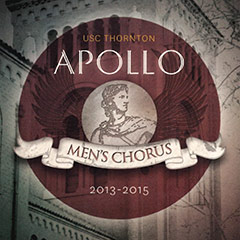 Apollo Men's Chorus releases new album
The USC Thornton Apollo Men's Chorus released an album in December, commemorating the ensemble's growth and success from 2013 to 2015. In the fall of 2013, the group consisted of just 12 artists, including former conductor Karsten Longhurst. Today, the ensemble has grown to over 50 singers and has become a tight knit group of musicians and friends.
The self-titled album memorializes all that the chorus created and represented over the two years under Longhurst's direction and includes pieces such as "Silent Noon" and "Brotherhood of Man" from the musical How to Succeed in Business Without Really Trying. Several tracks include featured soloists and each of the ensemble's six recent conductors are featured throughout. Says Longhurst, a Choral and Sacred Music DMA candidate and Director of Choral Studies at Northwestern Oklahoma State University, "We were working our tails off, and we were having the time of our lives. We wanted a way to remember and share that experience, and I think this album has done just that."
For information about purchasing the CD, email uschoral@usc.edu.